It's the time of year when flowers start blooming, the temperature rises, and baby animals are born. This can only mean one thing: spring is finally here! To celebrate the season, we've put together a collection of fun spring-themed writing prompts to help you shake off the cold air of winter.
With these fun spring writing prompts, your child can write some amazingly creative stories, poems, reports, and plays!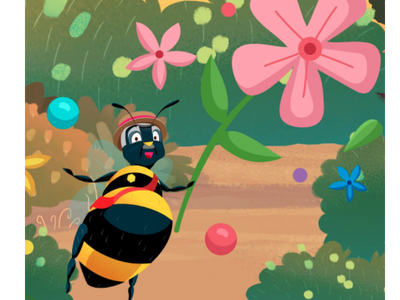 When you think of spring, what image comes to mind? Can you describe it?
If spring were a person, what would they look like and what would their job be?
Write a report about a magical animal that would love springtime!
What are the sounds of springtime? Is it the tweeting of birds, or falling rain? Write a descriptive poem about what spring sounds like.
Some people try to find four-leafed clovers to bring them good luck. Design your own good luck charm, and then write a report about what makes it special.
Write a poem describing what it is like to splash in a puddle.
Many hibernating animals wake up in the spring. Can you write an adventure story about an animal that emerges from its sleep to find the world outside has completely changed?
Many people look at spring as a representation of what makes our planet so special and beautiful. Write a persuasive essay about why it's important to be kind to our planet.
If you could grow a flower that smells like anything in the whole world, what would you make it smell like and why?
They say that April showers bring May flowers! Picture an animal in your head. How do they keep warm and dry when it starts to rain? Or do they love being caught in a downpour? Write a story about their attitude towards a rainy day.
Both Mother's Day and Father's Day are celebrated in the spring in the northern hemisphere. Write a letter to your parents about how much you appreciate and love them.
A baby duckling has gotten separated from its mother and has joined a family of magical creatures. Write a song about what happens next!
Write a play that is set in a gigantic garden, where the plants are so big they make you feel like an ant!
Can you write a newspaper article about your favorite baby animal? Tell us more about them!
Story Starter: One day, a young lamb is sitting beside a small pond. Suddenly the ground started to shake and right in front of the lamb, there was….
While you are spring cleaning in your room, you find a hidden door at the back of your closet. When you open it you are transported to a new world. Where have you gone? Write a short story about what happens next!
What would you do on the perfect rainy day? What would make this day so fun?
Many schools give their students a spring break. What did you do last spring break? Do you have any plans for this year?
What are some spring activities that you do every year?
When splashing in a puddle on a rainy spring day, you see a magical object! What did you find? Write us a story about the object.
Describe the perfect spring day.
There are many spring holidays including Easter, St. Patrick's Day, Earth Day, and many others. Which one is your favorite? Or is your favorite holiday in a different season? Tell us about it!
Journal Prompt: Can you tell us what makes spring different than other seasons? Why is it important?
Spring is a time of new beginnings. Do you have any goals for this spring?
There is a giant spring flower that is keeping it from raining! How are you going to help save the rest of the garden?
Write a poem about a piglet that doesn't like to play in the mud.
Where would a fairy live? Inside a mushroom or tulip or somewhere else? Describe what their home looks like.
You see a bird singing in the tree. If you could understand what that bird was saying, what would the song be about? Write that song!
During the spring, many people start planting flowers. Can you write us a step-by-step set of directions on how to plant flowers including: what you need, when is the best time to plant flowers, and how to take care of them?
In the northern hemisphere, Easter is commonly celebrated in the spring. While playing in a magical garden you find the Easter bunny trapped! How are you going to help the Easter bunny escape?
More Writing Prompts
Want to write even more? We have even more creative writing prompts for you to explore!
Your child's love for reading and writing will blossom even more this spring if they use our writing program for kids. Our gamified approach to learning will provide them with endless inspiration to write. Get started today with a 7-day free trial!
Share your child's creative writing with us on social media! Let us know which prompts sparked their imagination. Here are our channels: