In April, we have lots to celebrate, including Earth Day, April Fools' Day, World Penguin Day, and International Children's Book Day. It is also the first full month of Spring in the Northern Hemisphere and Autumn in the Southern Hemisphere. To kick-off the festivities and welcome April with open arms, we've gathered some fantastically fun April writing prompts that will inspire your child all month long!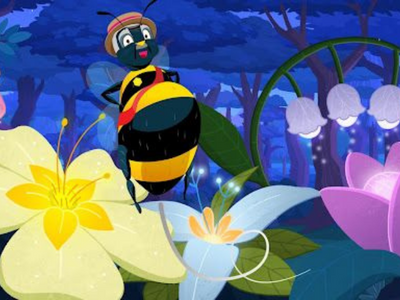 April 1st is April Fools' Day! Can you write a letter to a friend to convince them you saw a flying giraffe on your latest trip?
Write about a time that you could not stop laughing. What made you laugh so much?
Story Starter: One day while I was walking home from school some thunderclouds started to roll in. But instead of water, it started raining…. What did it start raining? Tell us what happens next!
Write a list of the top 10 things you want to accomplish during the month of April.
April 2nd is International Children's Book Day! What is your favorite book? Write a persuasive piece to tell us why we need to read this book.
Rewrite the ending of your favorite book. Is it a happy ending or a sad ending?
Can you write an acrostic poem using the word "April"? Want more help with acrostic poems? We have a free printable worksheet.
April 8th is "National Zoo Lovers Day"! Can you describe your perfect day at the zoo? Where is it? Who are you going with? What animal(s) are you most excited to see?
During the month of April, we celebrate all types of art. Can you draw a magical creature or place and then write an adventure story about it?
Happy Earth Day (22nd of April)! Could you write an inspirational speech about what humans need to do to make Earth a better place?
To celebrate World Penguin Day (April 25th), can you write a story about a penguin who dreams of living on a tropical island?
What is the best thing about April and why is it a beautiful month? Write an argumentative essay explaining your point of view.
April is Poetic Earth Month! Can you write a poem about the 3 best things about Earth? These can be your personal opinions or fun facts!
April Journal Prompt: Challenge yourself to do a daily writing prompt where you start each entry with "I am....". Fill in the blank to tell us about your day.
What do you think a mouse does during a rainy day? Write a short story about it.
Would you rather explore the ocean or outer space? Why?
Write a play that has the following characters: a very excited turtle, a bossy penguin, and a very silly bear.
Arbor Day (April 29th) encourages people to plant trees and to be kind to the Earth. Can you write a report about why trees are so important?
Write a story about a magical umbrella that can take you anywhere that you want to go. How did you get this umbrella and where are you going first?
Write a short story about a magical rabbit that teams up with a wise owl to help save the forest.
In April, it can be very cloudy. Imagine that every day during the month of April is a cloudy day. You are tired of not seeing the sun so you go on a quest to try and change the weather. Tell us about it.
You are playing a game of hide and seek in a park. As you are trying to find a place to hide, you find a door standing in the middle of some trees. What happens next?
Write about a pet that you have or would like to have. What is their name? What do they look like and what do you like to do together?
Imagine that you find an old journal in your attic. You look at the journal pages and everything is blank. You accidentally spill water on it and a message appears. What does it say and what do you do next?
Write a story about a magical pair of shoes. What happens when you put these shoes on?
Spring Writing Prompts
Make a writing checklist of everything that you would need for the perfect Spring Break vacation. Tell us a story about how you are going to accomplish the things on your checklist.
Imagine that you are on a Spring Break trip to a tropical beach. Write a short story about finding a magical seashell that sends you on a hunt for buried treasure.
What is something that you can only do during the Spring? Why can you only do it then?
Write a letter telling your friend about something that happened to you this Spring.
Write a poem about how Spring makes you feel.
More Spring Writing Prompts!
Autumn/Fall Writing Prompts
Write a story about a pumpkin that falls off the back of a truck. How is it going to make its way back to the pumpkin patch?
Write a poem about the different colors of Autumn.
What is your favorite Autumn memory? Tell us a story about it.
What is your favorite food to eat once it starts to get colder? Write us the recipe telling us how to make it.
If Autumn were a person, what would they look like and what would they do?
More Autumn/Fall Writing Prompts!
Encourage your child to get creative this April with these amazing writing prompts. Your child is set to improve their writing skills while feeling inspired to get in some great writing practice!
For more fun writing activities, try Nightzookeeper.com! Our reading and writing program includes amazing writing games that will keep your child so engaged, they won't even realize they're learning. Try it for free for 7 days!
Looking for more creative writing prompts? Check these out:
Try our April writing prompts and share your child's writing with us on social media using the hashtag #nzkwritingprompts! You can tag us on: