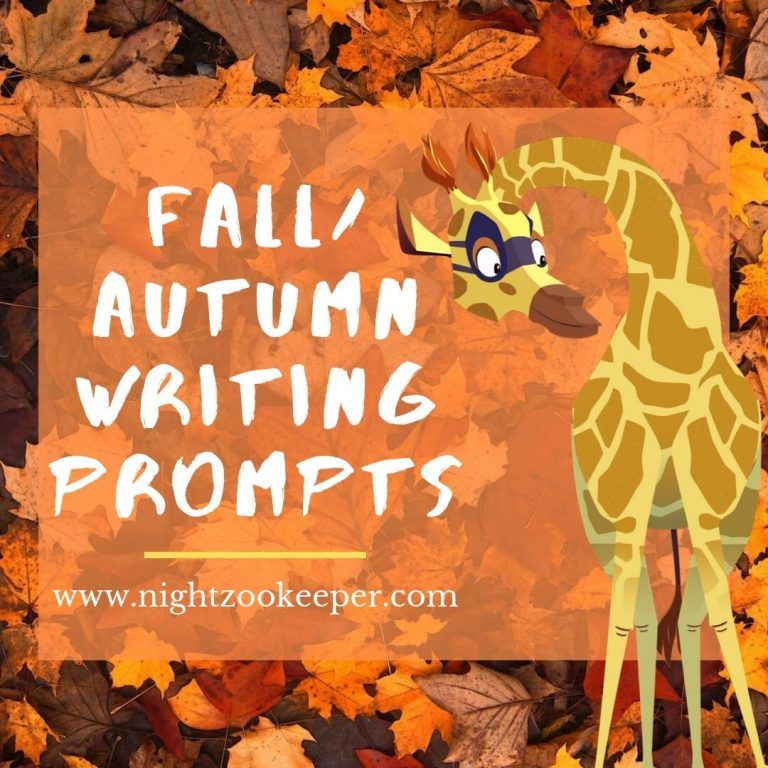 September 23rd marked the start of autumn! Here at Night Zookeeper, we couldn't be happier to celebrate this beautiful season. The leaves are changing into gorgeous colours and are soon getting ready to fall off the trees. For some, autumn (or fall!) symbolises harvest, and the beginning processes of hibernation before winter. For others, fall means that hay rides, Halloween and Thanksgiving are just around the corner. Trying to encourage your child to love creative writing? We've created a list of fun fall writing prompts to help spark your child's creativity.
Some of the autumn writing prompts listed below inspire kids to engage their imaginations and create a new poems, persuasive essays, adventure stories, reports and short stories. Please feel free to change the type of writing you would like your child to do; the idea is to get them comfortable and in the mood to write!
These prompts are designed to spark creativity and imagination within children. We encourage children to think about what they like about the season fall, but also ask them to create characters that would fit within a 'fall environment'. Other writing ideas encourage the child to write about a memory they have about fall or an opinion they might have about it.
With these fun fall prompts for young writers, your children will make great use of their imaginations and creative drive. Whatever your child decides to write about, we hope they will keep their writing fun and a little bit magical! 🍁
What colours and scents do you associate with fall? Write freely about everything that comes to mind.

What three words do you associate with autumn? Please write a short story including these words.

When you think of autumn what images come to mind? Can you describe the scenery? What happens to nature?

Write a report about magical animal that would love fall!

Write a short story about a magical pumpkin that comes to life!

Can you think of a nice memory you've shared with someone during fall? Write a letter to them reminding them of the memory.

Autumn can be a spooky season. Write a story about Halloween and think about what makes the holiday so spooky!

Can you write a play about a little ghost who got lost on his way back to his haunted mansion? Make sure to give him a name!

Did you know this season is called both "fall" and "autumn"? Write a persuasive essay about why you think it has both names!

Think about the sound leaves make when you step on them. Write a poem describing this.

What would your magical creature dress up as for Halloween? Write a story about their costume! What would they wear?

Think of your favourite Halloween candy. Can you create a brand new flavour and candy type?

Do you like autumn? What's your favourite season and why?

Autumn is usually associated with the colour red, orange and yellow. If you could pick a colour for leaves to turn, what would you pick and why?

Imagine you're going on a hay ride with your magical animal. Write an adventure story about what happens.

You're on your way to check on your animals in the Night Zoo and you run into a ghost! Write a conversation between the two of you.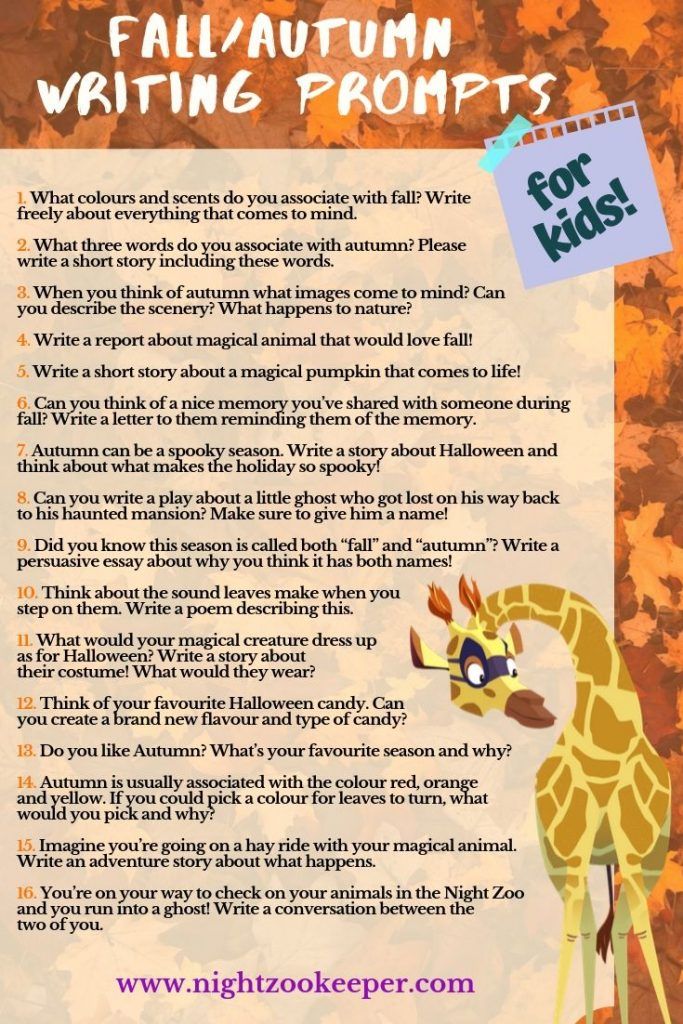 We encourage you to share any work produced from these prompts by your children with us on Facebook, Twitter, Instagram and Pinterest using the hashtag #nightzookeeper.
There are endless writing prompts available on nightzookeeper.com - start a free trial today!