Night Zookeeper is an online learning program created to transform children's reading and writing skills.
Our program teaches:
Spelling
Grammar
Vocabulary building
Reading comprehension
Writing and composition
Quick jump to dashboard section
Teacher? Visit our Teacher Quick Start Guide
Program Overview
How To Play
The aim for your child is to create and collect animal characters and grow their own Night Zoo by completing educational activities. Once they complete the tutorial in the Night Zoo, as shown in the video above, the activities menu will open to give your child access to all the educational activities.
Basic Game Loop
The program will guide them through an age-appropriate reading and writing curriculum. Any educational activity your child completes will power up their flashlight and the animals they create or collect. Each time the flashlight is fully powered up, they can uncover a new area of the Night Zoo. Night Zookeeper delivers this curriculum through different types of educational activities which are explained below.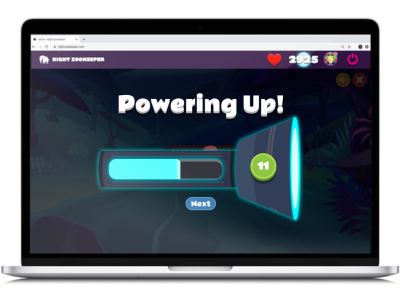 Creating An Animal
Your child can draw their animal freehand with the drawing tool or create it with stickers and then choose a name for it. For ages 7+, children will be asked to write a short report to describe their animal, and be offered helpful prompts to do this. All animal reports that your child completes will be sent to our team of tutors for feedback, helping your child improve their writing skills.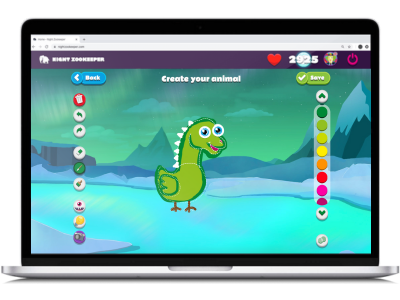 Curriculum Challenges
Our challenges teach reading, writing, spelling, vocabulary, grammar and punctuation in a variety of fun and effective ways. From multiple choice quizzes, matching and grouping challenges, to short writing pieces (depending on your child's age), the curriculum challenges take your child through a full reading and writing curriculum. Their accuracy scores are recorded in your dashboard so you can check their progress across the various learning areas.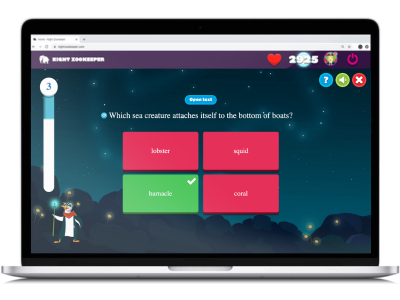 Interactive Lessons
For ages 7+, our lesson series help your child to develop their writing skills. Each series addresses a different theme, such as persuasive writing, or story writing, and provides a writing prompt at the end for your child to practice the skills they have just learned. All completed writing gets sent to our tutor team for feedback.
5-6 year olds can get access to the lessons if you switch off 'easy mode' on the child's profile in your dashboard.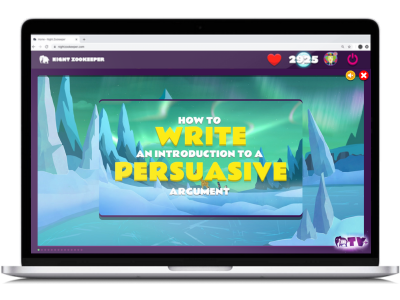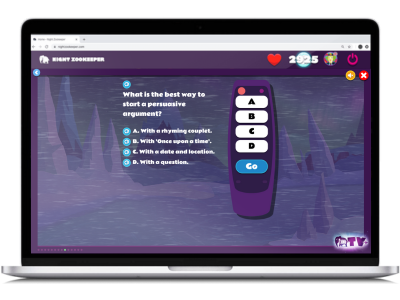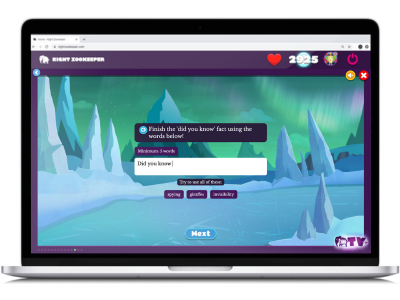 Skill Games
Our skill games are fun, arcade-style games that help your child practice a variety of spelling, reading, vocabulary acquisition and typing skills. In each game the aim is to achieve the highest score possible as your child practices the skills and reinforces the vocabulary, grammar concepts, and spelling they have been learning in the curriculum challenges and lessons.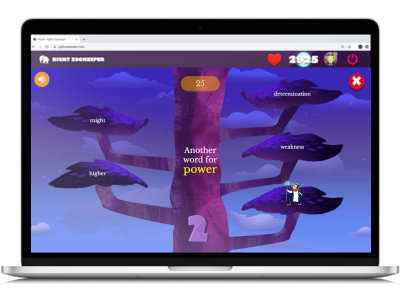 Writing Prompts
Children aged 7+ will also play through different writing prompts that feature the animal characters they have created. Each writing piece offers helpful prompts to ease your child into writing their story. Once completed, the piece will be sent to our tutor team for feedback.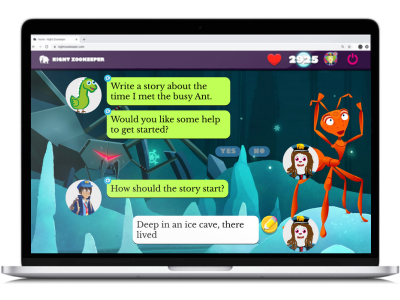 Battles
As your child progresses through the Night Zoo they will occasionally have to rescue a hero animal by battling the Voids (the bad guys!). Battles can also be triggered by the spinners on their Night Zoo. By powering up their animals as they complete the educational activities, they will easily be able to defeat the voids.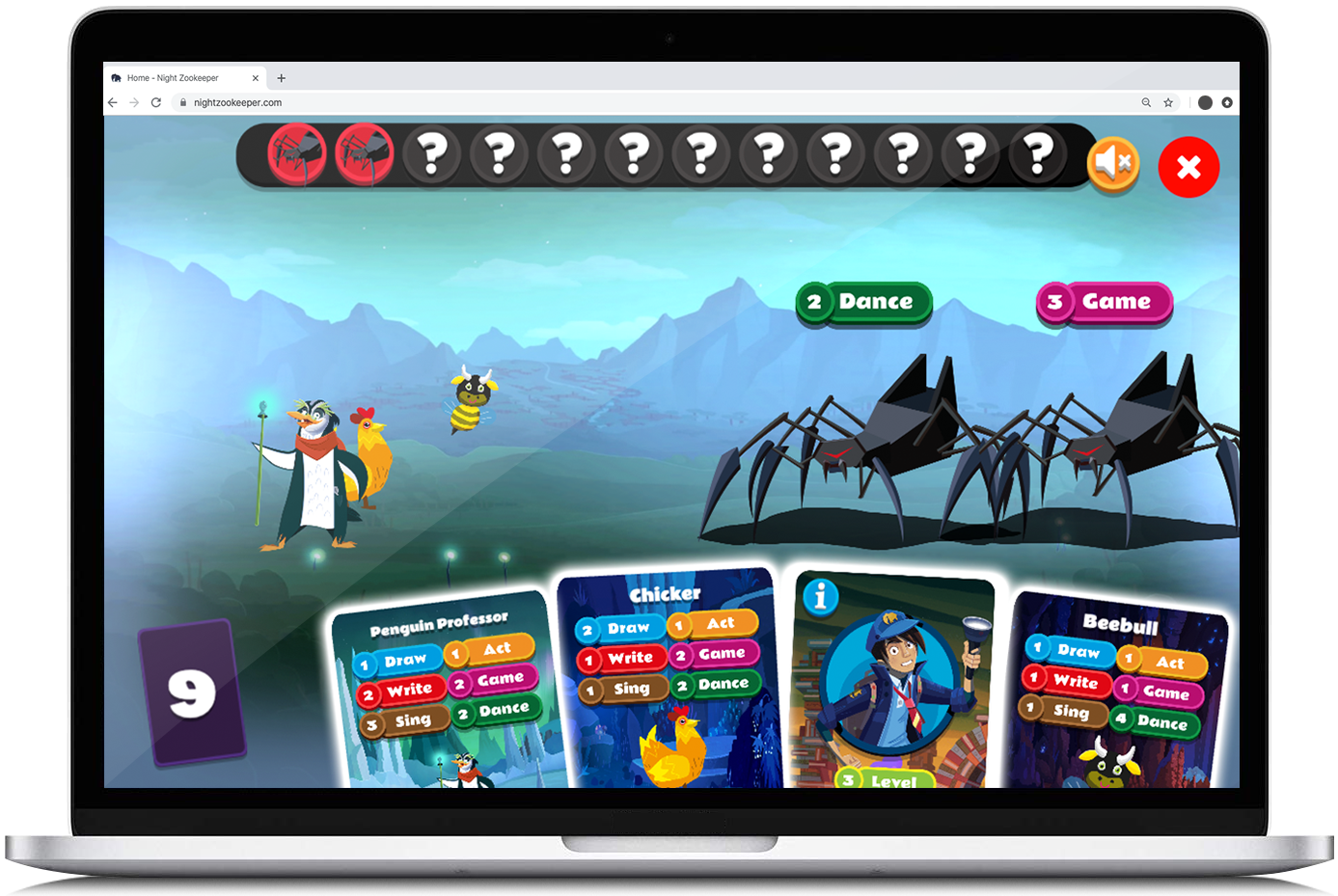 Activities Menu - Choose your own adventure
For 7+ year olds, once your child completes the tutorial, they will open up the activities menu which gives them access to more educational activities, as well as a different way to access curriculum challenges, lessons, games, and writing prompts.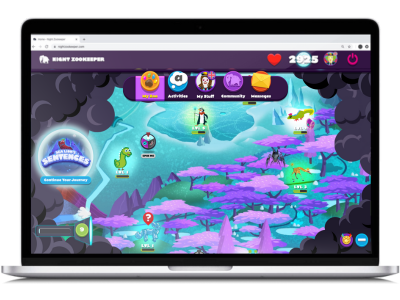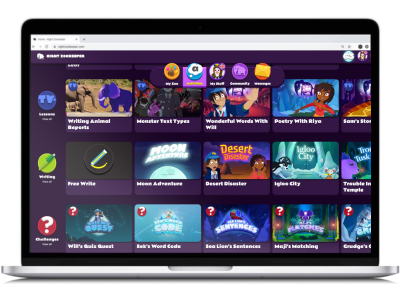 For You
In this section we recommend the latest lessons, writing prompts and games for your child, based on their activity on the program.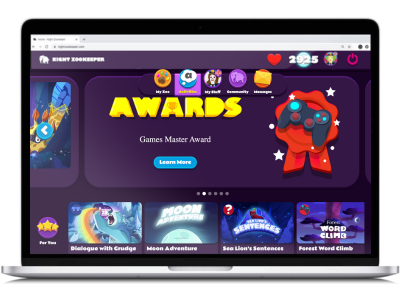 Lessons
From here, your child can access each lesson series.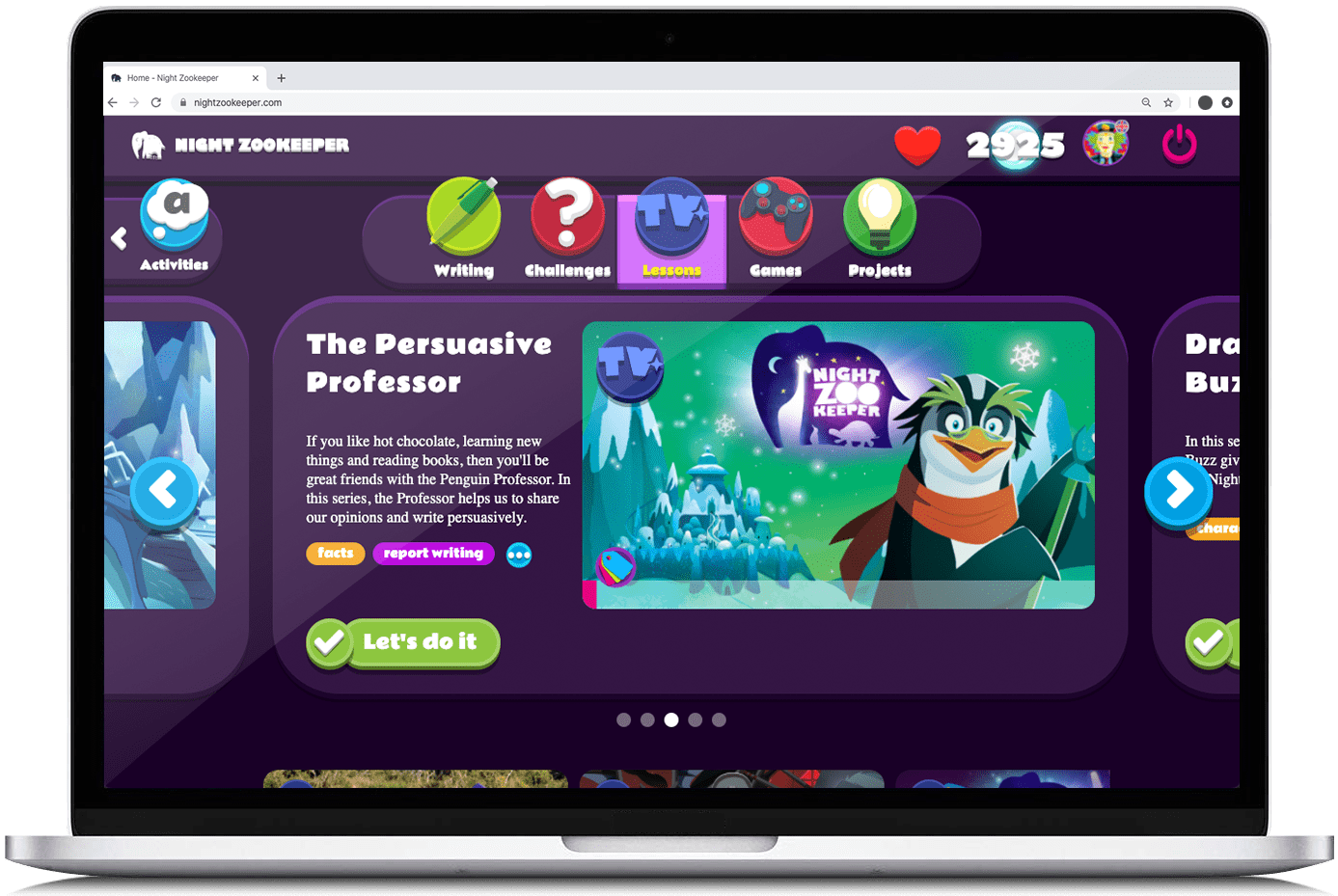 Writing
Your child can access all the writing prompts from this section, as well as 'free write' where they can write about any topic.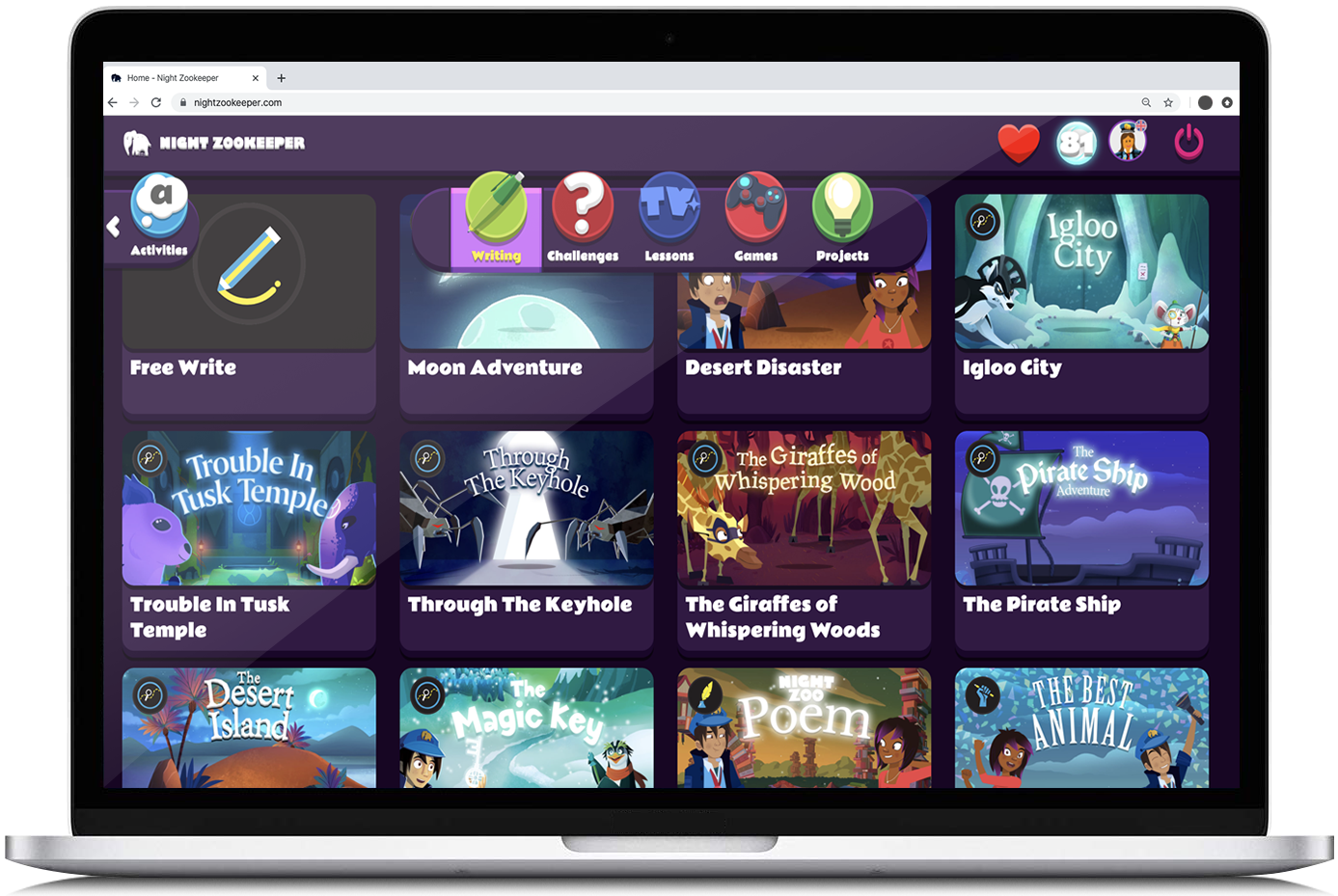 They can also access the two features below:
Star Writing
Star writing is our weekly writing competition with a different theme and writing challenge every week. Your child can take part each week and read all other children's entries.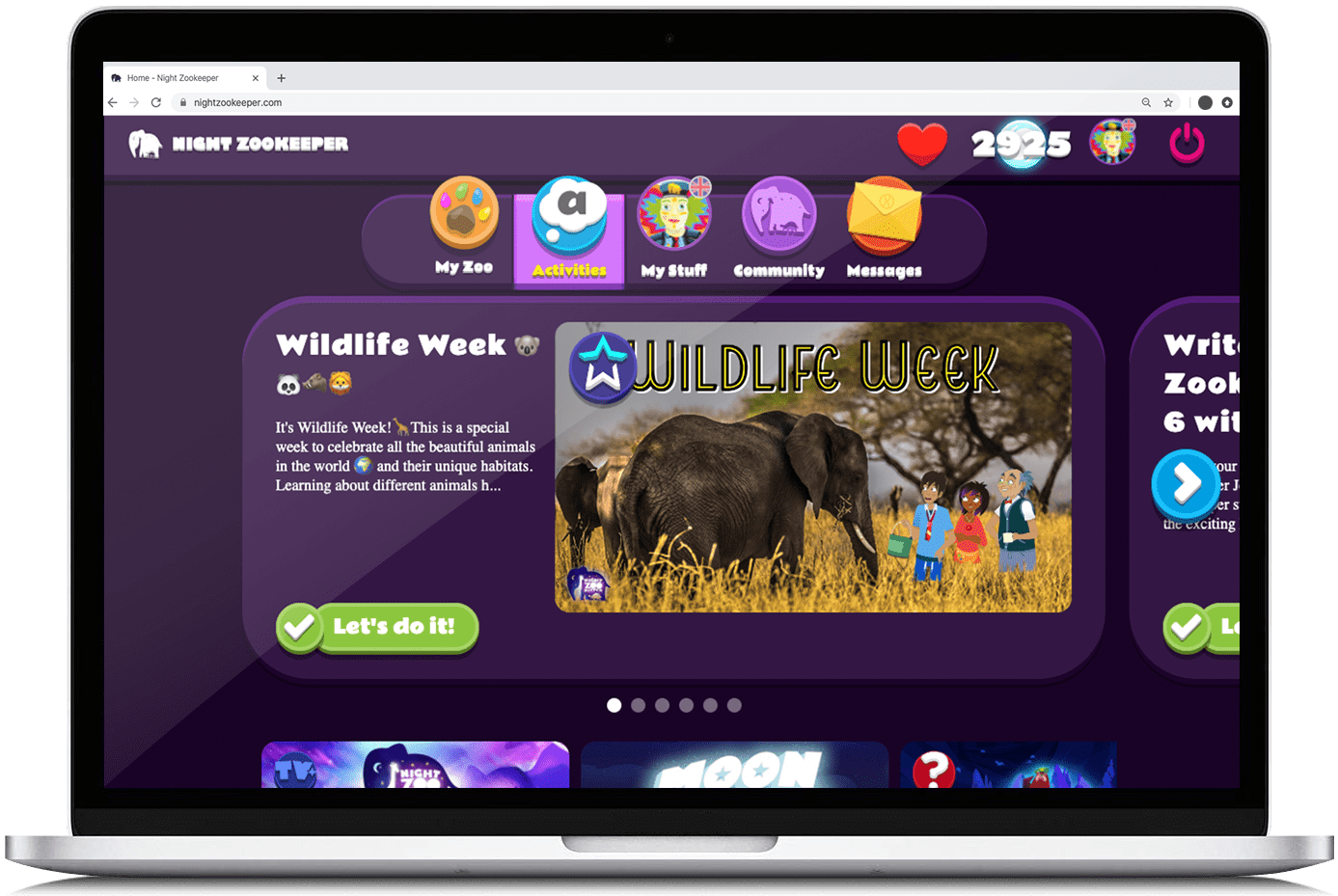 Reading Light
Here, your child can record and review the reading they have been doing and build up a bookshelf.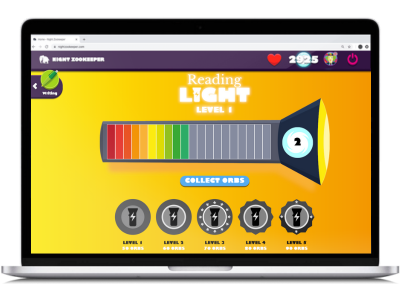 Challenges
From here, your child can access their curriculum challenge journey, or access challenges by type.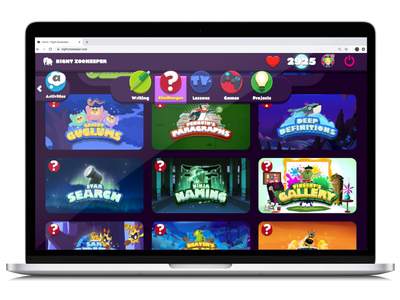 Games
In this section your child can access all the skill games. There are also two live games where your child can compete against others in educational quizzes; 'Sentence Dash' and 'Night Zoom'.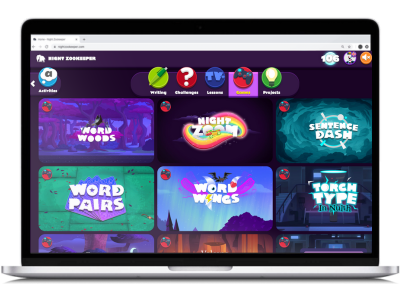 Projects
Is your child passionate about a specific topic? Projects provides a space for your child to share writing or drawings that interest them - they can either participate in existing Projects or start their own.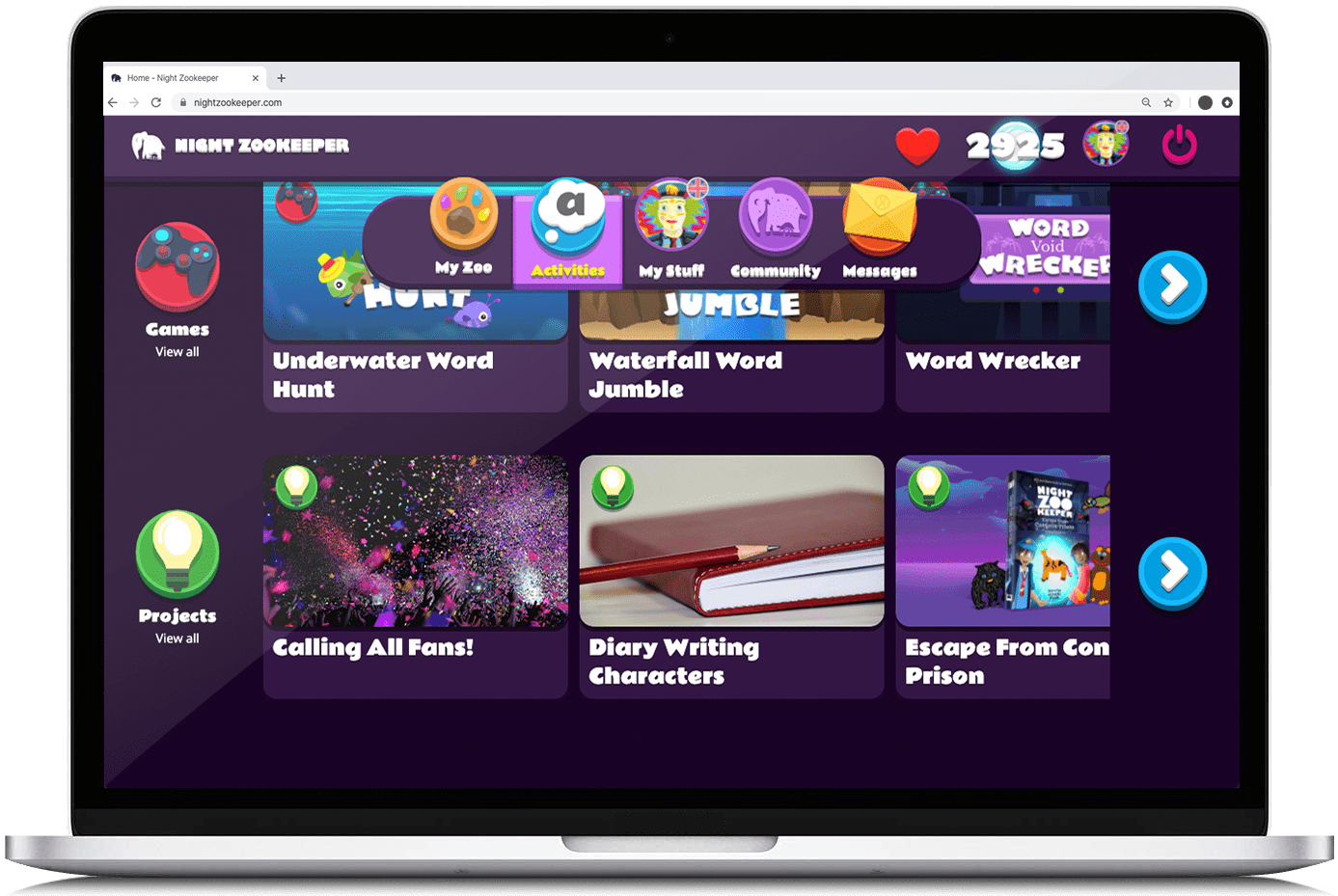 My Stuff
This is your child's profile, where they can see all the work they have done, as well as the awards and achievements they have won. They can also customize the design of their profile.
In the 'friends' section your child can see their followers and who they are following. By following another account on Night Zookeeper, your child can get notifications when their friend publishes a new piece of writing. All writing and comments are moderated by our team of tutors and there is no real time chat between users. This feature can be turned off in the dashboard.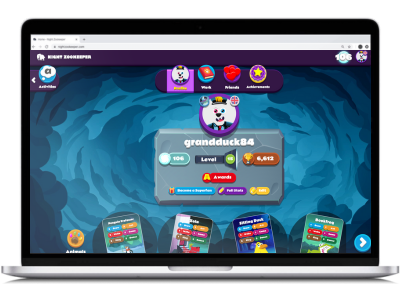 Community
In the Community section your child can read other children's writing and leave comments. Only the best and most unique writing is featured. This feature can be turned off in your dashboard.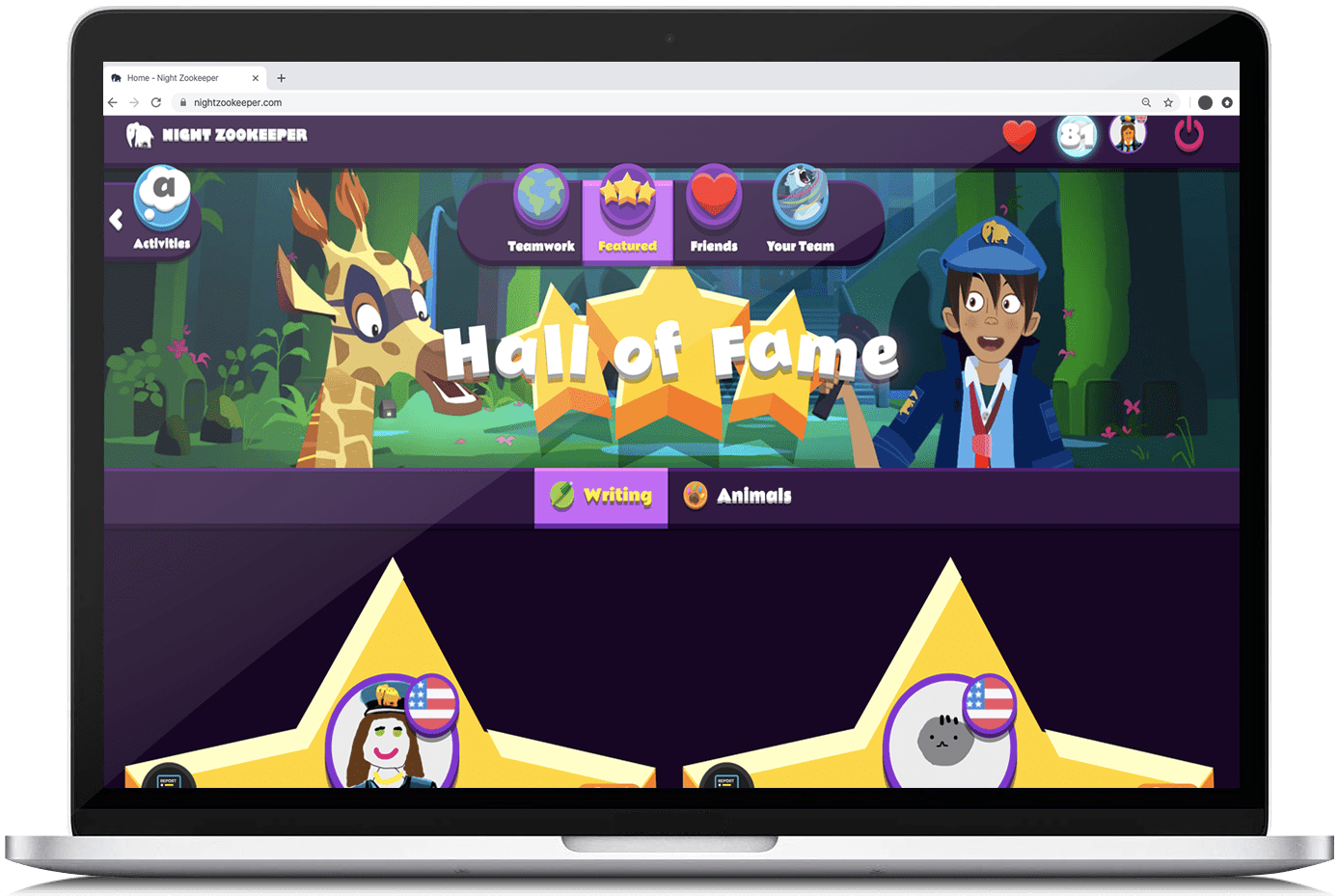 Messages
Here your child will receive notifications when they have new feedback from our tutors, have won an award, or if their friends have published a new piece of writing.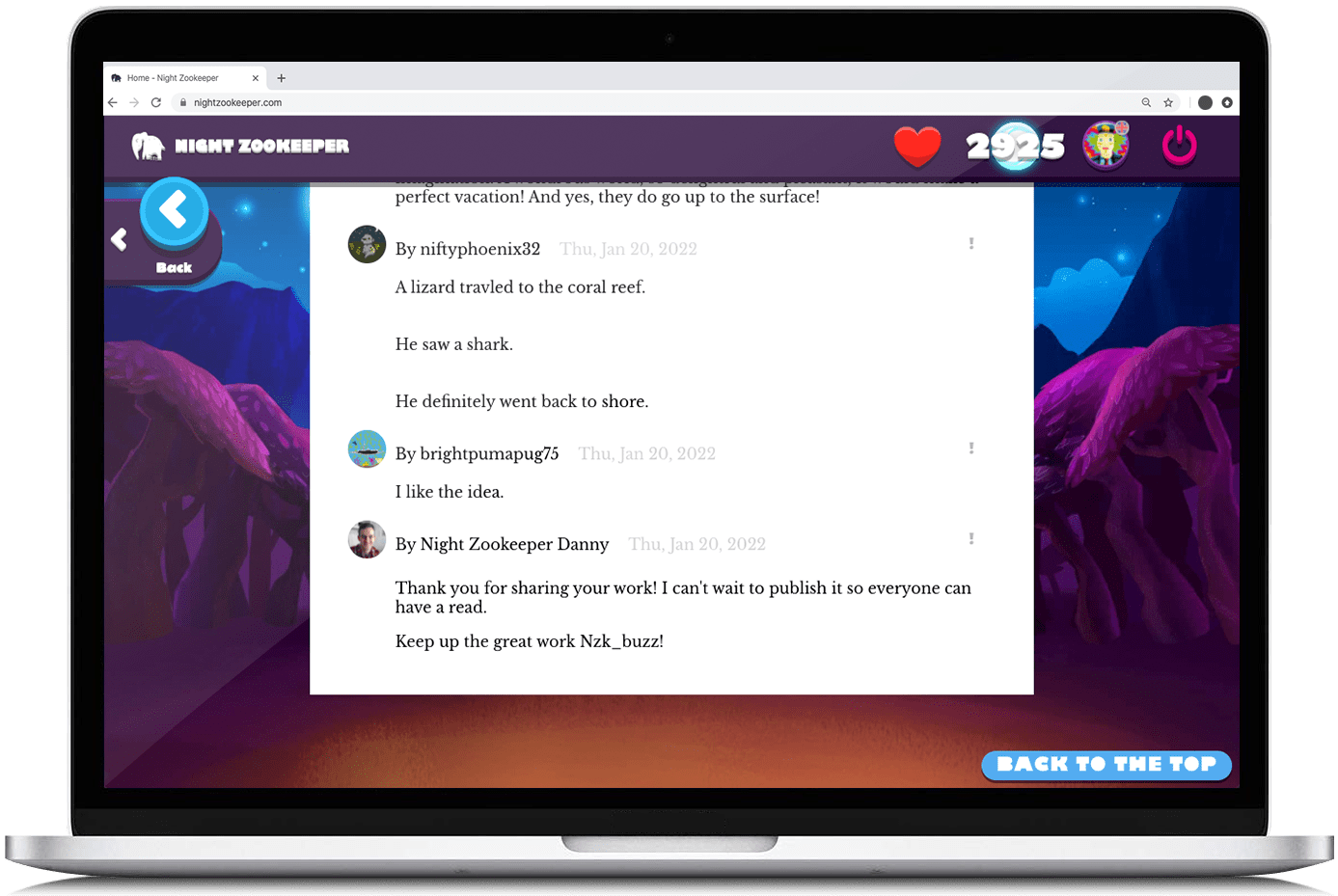 League table
Our monthly league tables compare how Night Zookeepers are doing based on their activity levels. To rank higher, your child must write more, play more games, progress through their curriculum challenges and complete more lessons.
Dashboard
The parent dashboard is where you can manage your account and your child's account. Its login credentials is the email address you used to sign up to the program, and the password you created immediately after starting your free trial. This is separate to the child login.
In your dashboard you turn certain features on or off, adjust difficulty levels, send assignments, and track your child's progress through the program.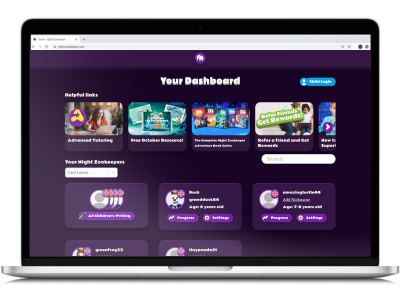 Settings
Here you can change your child's username, adjust passwords, and change difficulty settings.
In 'Features' you can turn off certain features of the program, such as the games, or the Night Zoo itself, if you would prefer your child to focus on particular parts of the program such as the lessons or writing prompts. It's completely customizable.
Privacy - here you can also turn off features such as friending, or having your child's work shared with other children on the program.
Easy Mode - Switching to easy mode will prioritize non-typing activities in your child's curriculum.
Spell Check Mode - You can turn spell check 'off' on your child's writing, 'light' to highlight some mistakes (the default mode), or 'full' to highlight all spelling mistakes.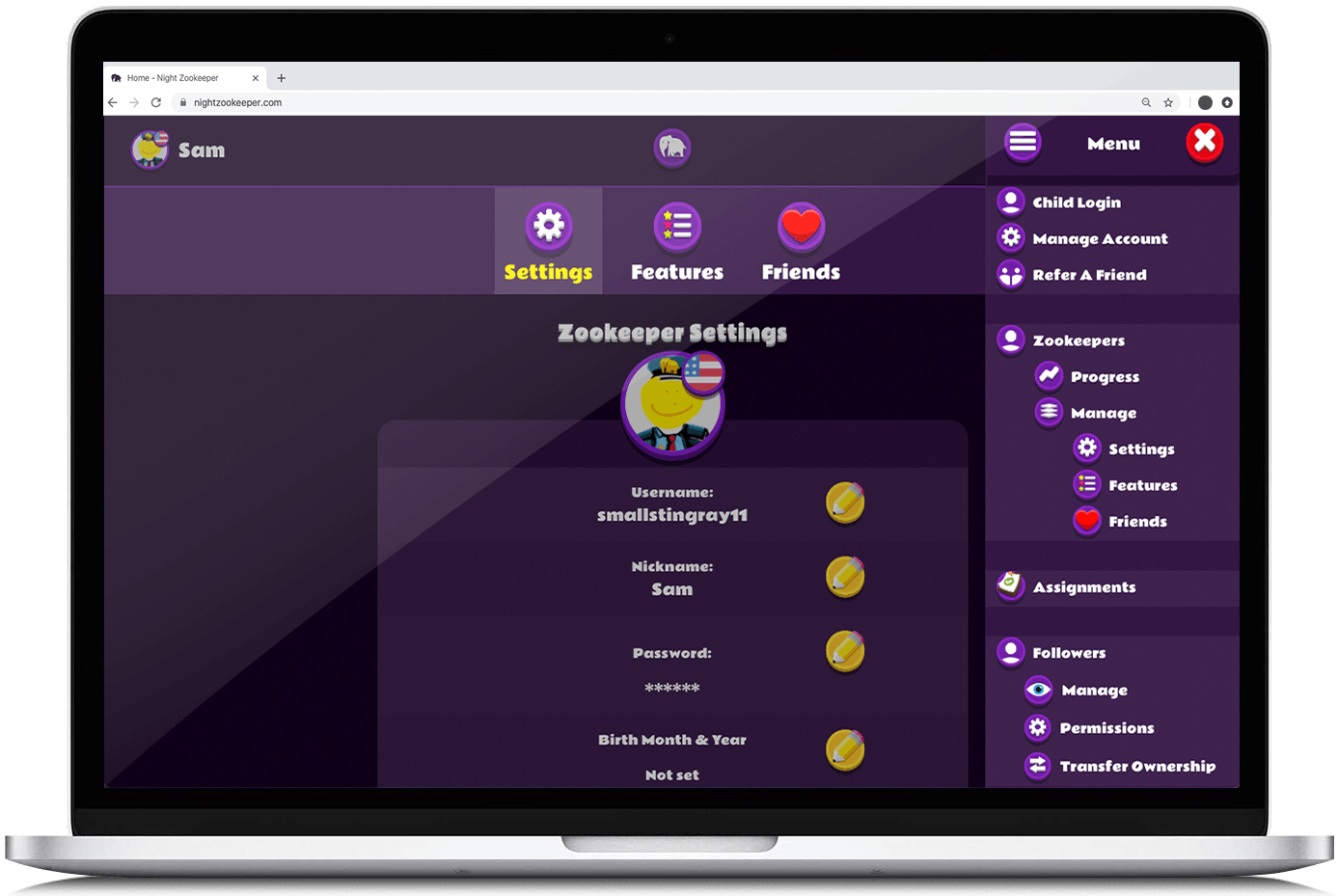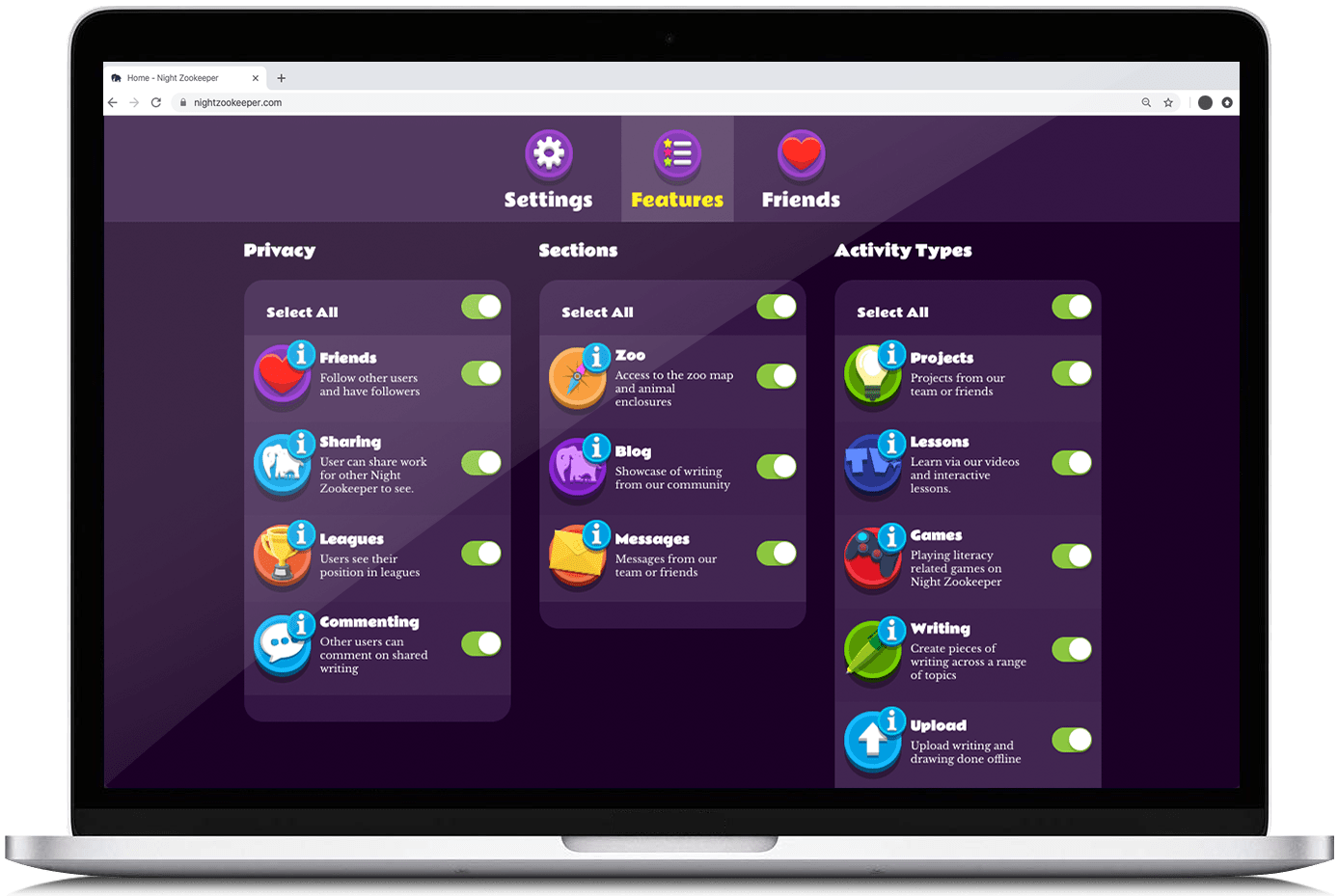 Progress Tracker
By pressing 'progress' on your child's account you can see an overview of the progress your child has achieved in the program. By visiting the individual sections such as 'challenges' you can see in detail what your child has been learning, as well as their accuracy across learning areas, and individual scores on certain topics. You can also see their highest game scores, the lessons they have completed, as well as all the writing they have completed alongside feedback from their tutor in the 'writing' section.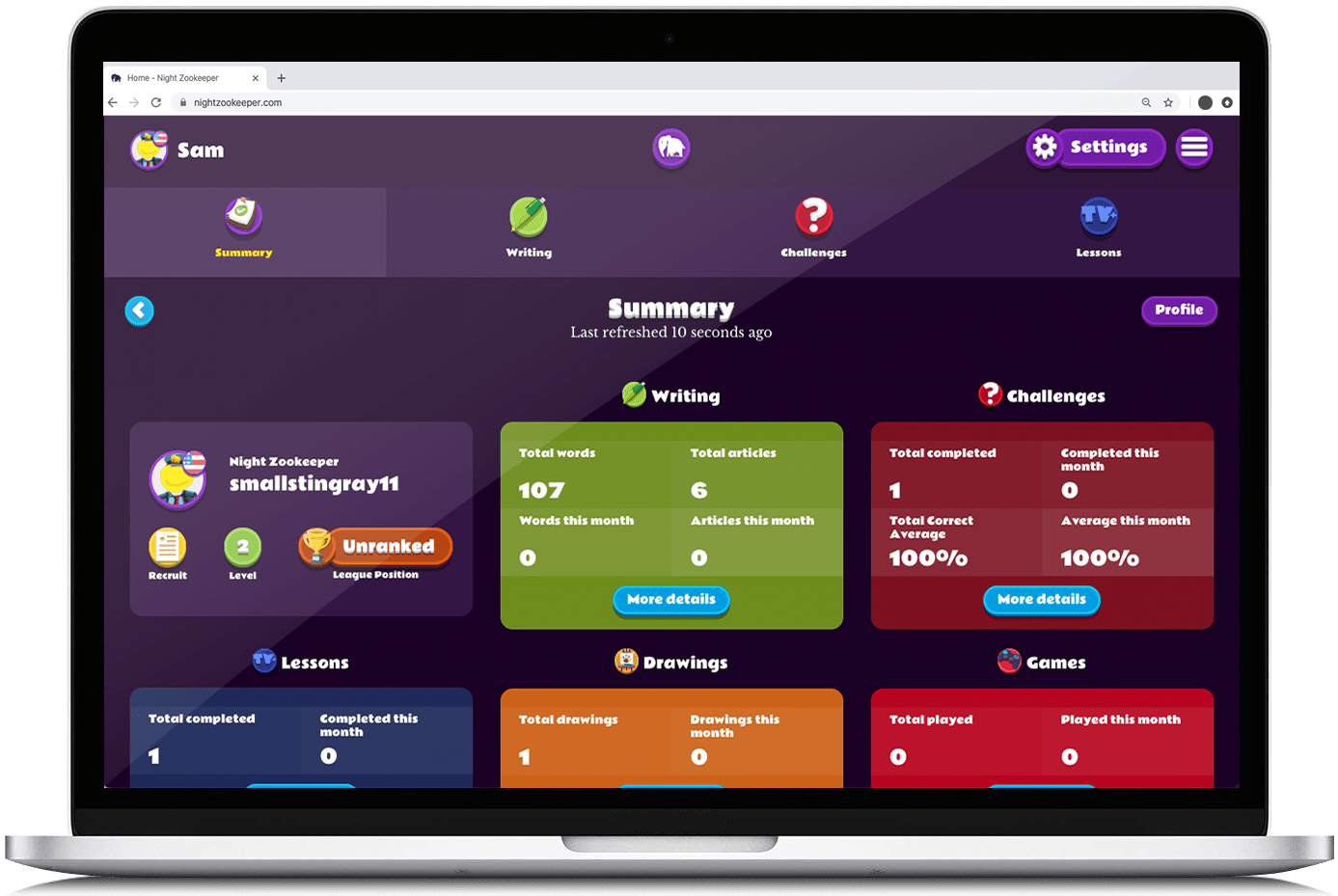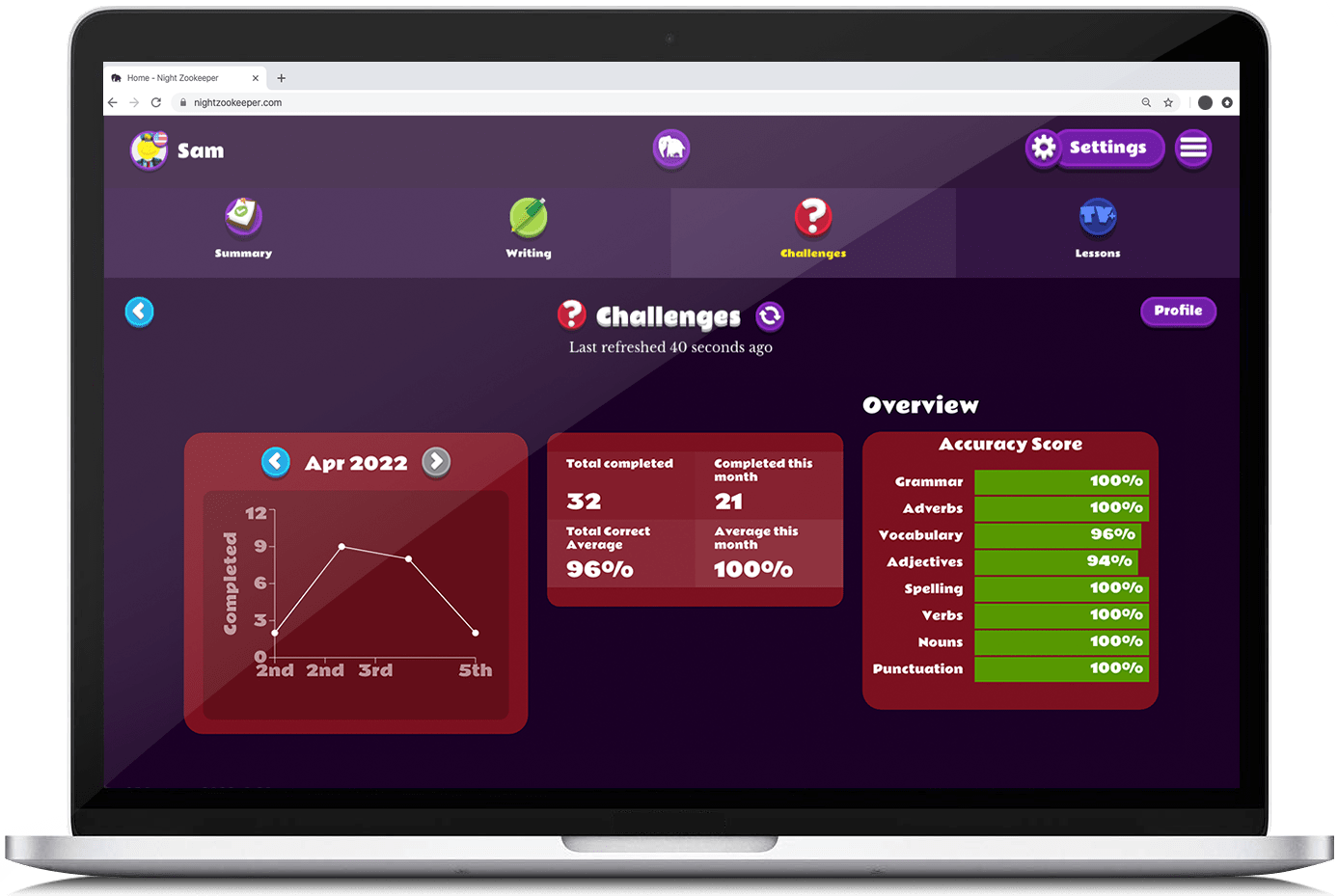 Tutor Feedback
Our tutor's feedback is designed to be encouraging and motivating for your child. Most of the tutor comments will highlight 2-3 areas your child could improve as well as questions to help them think more about their writing, alongside some praise to keep your child writing! From the 'Writing' section you can also send comments to your child.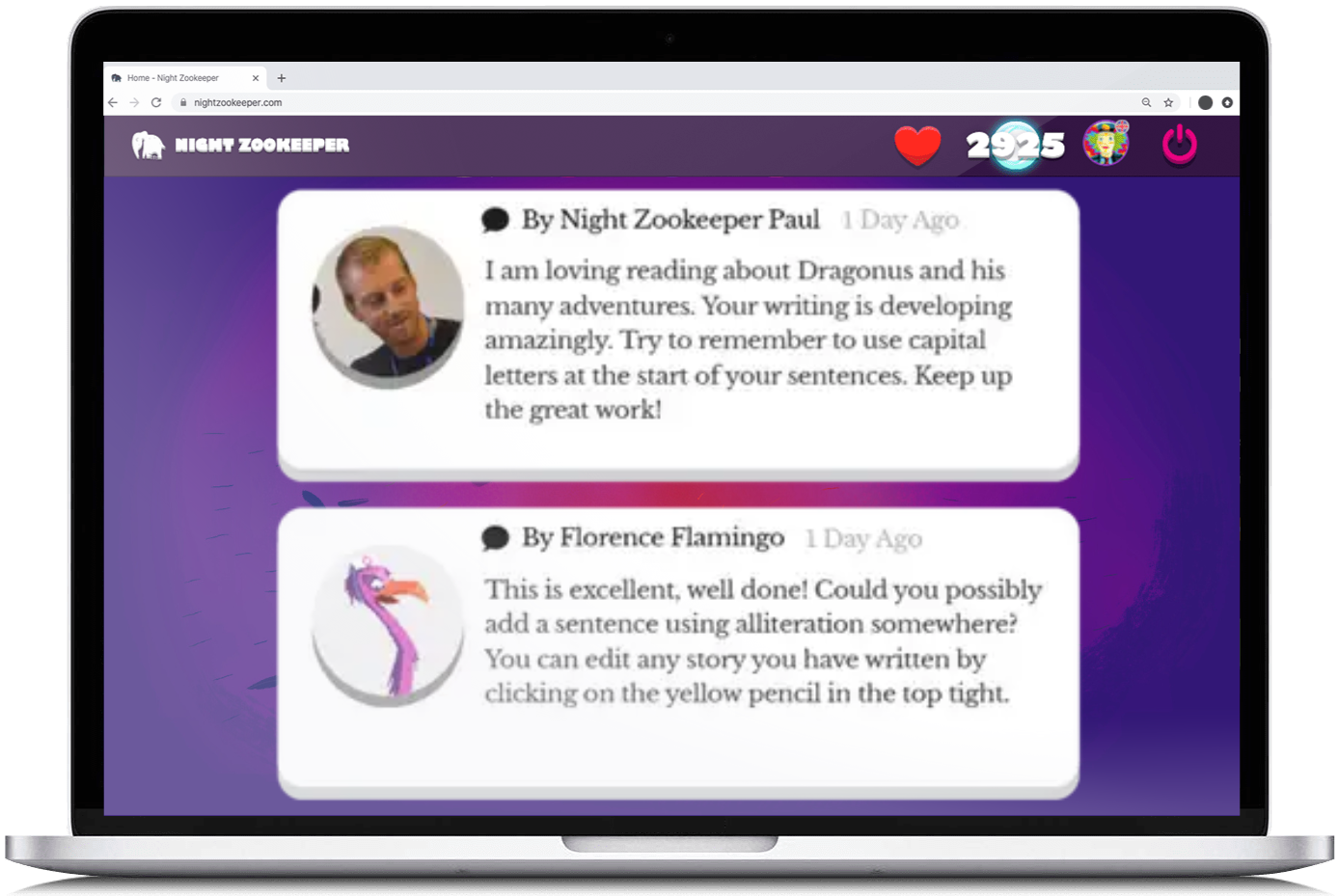 Set Assignments
By selecting the menu in the top right and then 'assignments', you can send any lesson from our lesson series to your child. The assignment will appear in the 'for you' section of their activities menu. You can also create a writing assignment yourself and send it to your child. Simply set a due date and choose the child or children you would like to send the assignment to.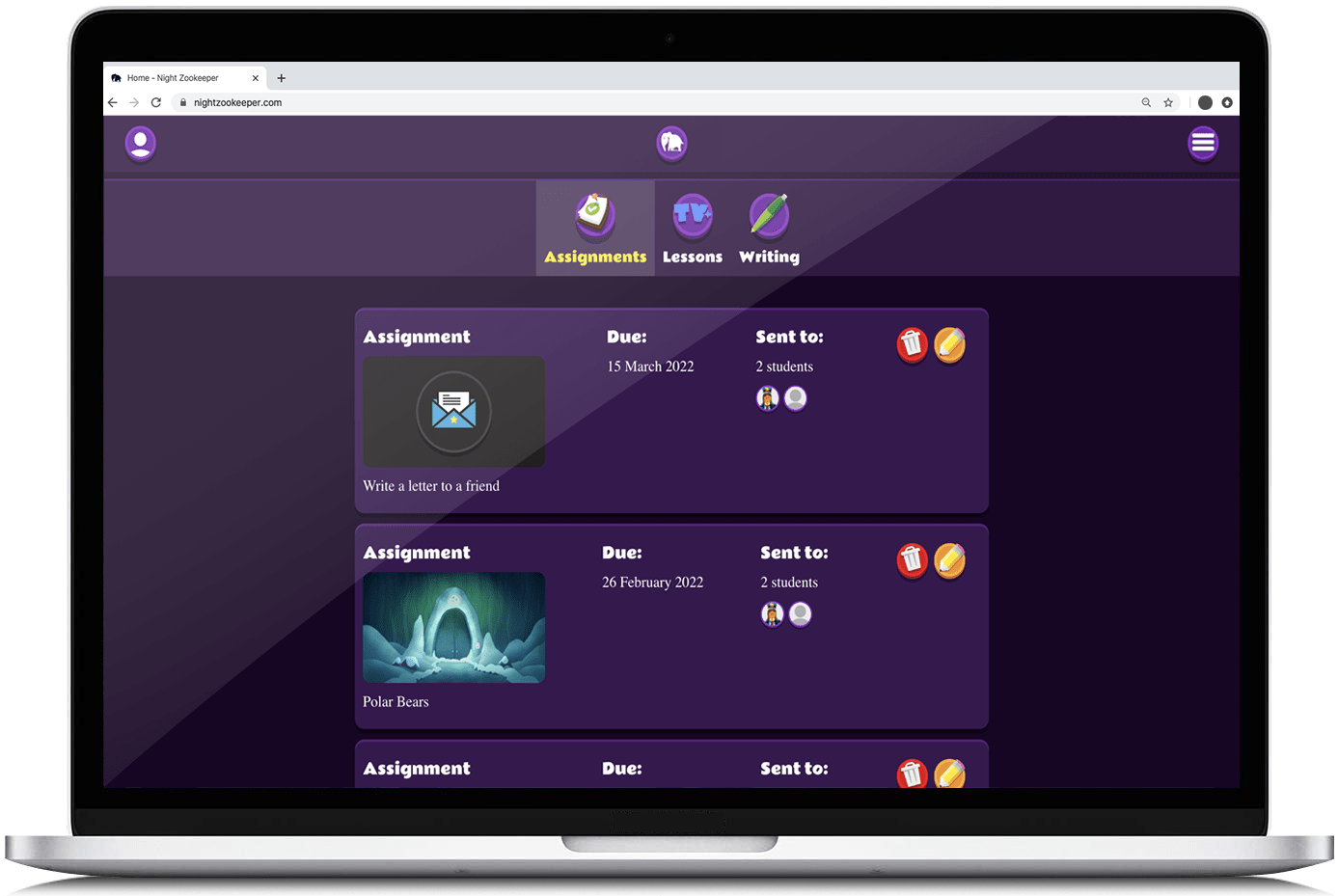 Helpful Links
At the top of the dashboard you will see a variety of icons - this is where you can download your monthly free printable resource, as well as any other resources that you unlock with your subscription.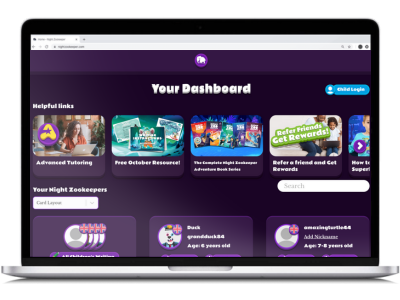 More Tips
Referral Scheme
Refer a friend and get rewards! Visit "refer a friend" in your dashboard to get a personal referral link and get money off your subscription for each friend that becomes a paid subscriber! Find out more about our referral program.
Become a Superfan
Can't get enough of Night Zookeeper? Become a Superfan! Being a Superfan is absolutely free and it comes with many awesome perks for you and your child! These include early access to new features, additional free resources, monthly Superfan newsletters and many other benefits.
Offline Resources
Keep an eye out for your free monthly downloadable resource in your dashboard.
Managing Your Night Zookeeper Account
Visit "Manage Account" in your dashboard to make changes to your payment details, modify your subscription plan or cancel your account. Cancellations and plan changes will only take effect from your next renewal date.
Moderation & Code of Conduct
All content produced by children on the Night Zookeeper program is carefully reviewed and approved by our tutors before publishing. If you or your child come across anything that you feel is inappropriate, please report it by clicking on the '!' next to every piece of writing, comment or drawing for us to re-review. We take children's safety very seriously and follow a strict code of conduct to ensure children's online safety.
Got any other questions? Please contact our customer support team for more information: [email protected]. We really care about our service and are keen to help!