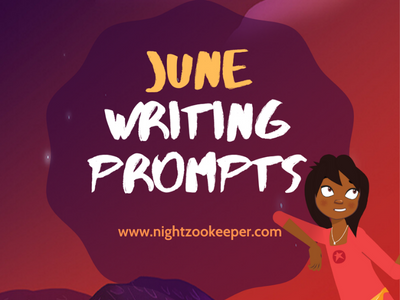 We've created some June writing prompts that will encourage your child to use their imagination and have lots of fun whilst writing! While the Northern Hemisphere is starting to see the first glimpses of summer, the Southern Hemisphere is starting to get closer to winter. No matter the season, we have some fun creative writing prompts that will spark your child's imagination!
What is your favorite thing about the month of June? Why is it so special to you?
June 3rd is World Bicycle Day! Can you write instructions on how you'd teach someone how to ride a bike?
June 5th is World Environment Day! What are 3 things you do to take care of our environment?
Would you rather be too hot or too cold? Why?
June 8th is World Oceans Day. In your opinion, what is the best thing about our oceans? Write an informative essay about an ocean of your choice.
On June 20th, we celebrate International Surfing Day! Have you tried surfing before?
Imagine that you are at the beach. As you look out into the surf, you see a friendly shark standing on top of a surfboard. They are really good! Can you write us a story about this surfing shark?
You plant a seedling. Write a short story about what happens next.
Think of a magical creature that is half animal, half plant! What do they look like? Write an animal report about them.
June 21st is World Giraffe Day (one of our favorite animals)! Can you write a set of instructions on how to take care of a giraffe?
Imagine a plant that could be any color and pattern. What would it look like?
Imagine a pirate ship. When you take a closer look, you notice that all of the pirates are actually monkeys! Write a story about the pirate monkeys and their quest to find treasure.
Write a story about being transported into your favorite video game, movie, book, or TV show!
Do some research on your favorite animal. After learning more about them, write an informative report telling us what you learned!
Would you rather spend time indoors or outdoors? Why?
Summer Writing Prompts:
Write a poem about summer. Use the words sunshine and thunder in your poem.
Does summer feel different from other seasons? Write a persuasive essay about why or why not.
Write a letter to a friend about a summer activity you'd like to do with them.
How is summer different from all the other seasons?
What's your favorite thing to do in the summer?
More Summer Writing Prompts!
Winter Writing Prompts:
What is your favorite thing to do during the winter? Why do you like it so much?
Do you have any goals or anything that you really want to do this winter? Tell us about it.
Write a letter to your favorite animal giving them advice on how to stay warm this winter.
Draw the best snow fort that you would like to build. After you are done drawing out your plans, write about how you are going to build your snow fort, what you need, and how you are going to keep it cold.
Tell us a story about the coldest day that you can remember! How did you stay warm when it got so cold?
More Winter Writing Prompts!
More creative writing prompts:
We'd love to read what your child comes up with! You can share your child's wonderful creations with us using the hashtag #nzkwritingprompts on:
Looking for more fun and engaging way to keep your child's mind active this June? Our writing curriculum is based on a gamified approach to learning that will keep your child excited to write.