Whether you've been homeschooling for years or are just beginning, Night Zookeeper is the perfect addition to your homeschooling toolkit. Our program takes the stress out of teaching language arts by making it genuinely fun for kids ages 6-12.
Night Zookeeper is ideal for homeschooling as it keeps children engaged and motivated whilst they're learning through fun skill games, interactive lessons, and helpful tutor feedback. Your child can use our online language arts program independently at their own pace, or with your guidance, to improve their reading and writing skills.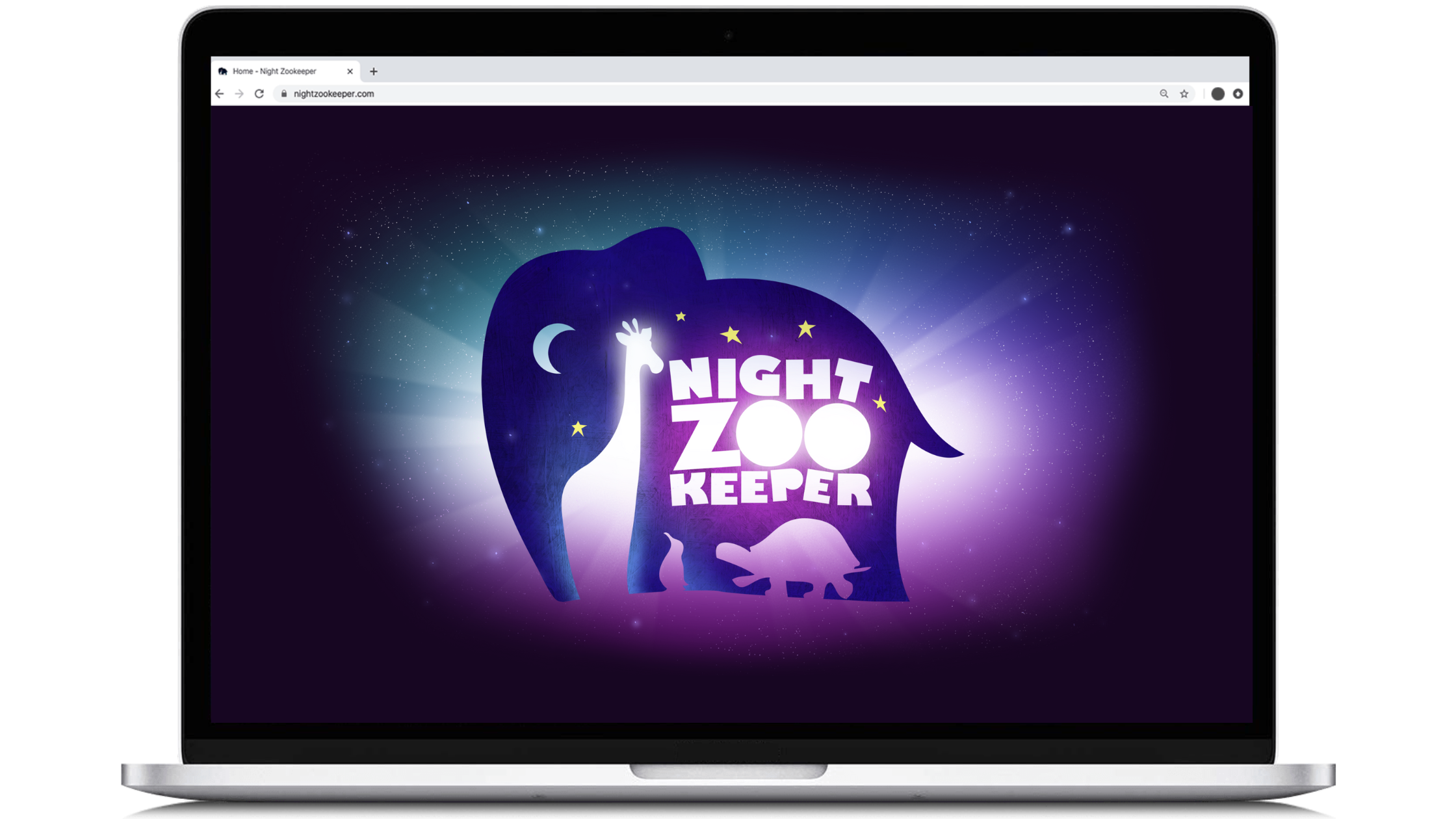 Why Night Zookeeper is a trusted homeschool program
Night Zookeeper is an award-winning language arts program trusted by homeschoolers worldwide, designed and developed by a team of certified teachers. Here are just a few of the homeschoolers who have had success with Night Zookeeper:
"My kids love playing Night Zookeeper. It's been a great way to extend their ELA curriculum without adding the workload for me as a homeschool teacher of three. I love the parent dashboard and ability to assign each kid individual assignments."
- Tam, homeschool parent, US
"We've tried many different apps and online learning resources as an add-on to my daughter's homeschool curriculum but Night Zookeeper has been a game changer! My daughter has struggled to make sense of writing and reading in the past but with this program, she's finding it very engaging and super fun!"
- Amy, homeschool parent, US
"This has been a great resource for our homeschool this year! It is great for all ages and abilities (our 10, 9, and 7-year-olds are currently using it). My kids are always begging to do more Night Zookeeper! It's fun for them and helps by prompting them to be creative!"
- Michelle, homeschool parent, US
Night Zookeeper has also earned awards and recognition from respected children's organizations and influential figures:
Recognized by the teaching community, awarded the Teacher Choice 2021 Award by EdTech Impact
BAFTA nomination at the first ever British Academy Children's Award for the 'Learning - Primary in 2015' category in 2016
Skills covered on Night Zookeeper
We understand that teaching language arts can be hard, so we've designed Night Zookeeper to be adaptable to any style of homeschooling. Night Zookeeper can be used as a homeschool language arts curriculum or a supplement alongside other resources.
If your child struggles with reading and/or writing, our program follows a rigorous curriculum for each skill. Our program can work as a homeschool writing curriculum and/or a homeschool reading curriculum. Children can use it on their own to boost their skills or as a fun way to apply their knowledge.
Using Night Zookeeper, your child will practice:
Night Zookeeper will help create a genuine desire to learn language arts in your homeschool.
What makes Night Zookeeper a fun homeschool program?
Our program makes learning language arts fun for kids with lots of exciting features, including creative assignments, interactive activities, and a community of young learners.
Homeschooled students can use our program to enhance their social skills by connecting, communicating, and sharing ideas with other children.
Creative assignments:
Creating animals:

Children get to create their own characters to populate their Night Zoo.

Drawing:

Children are encouraged to draw throughout the games, which may include their own animals, as well as letters and words.

Free writing:

Children are able to write freely in the program, as well as choose their own writing assignments.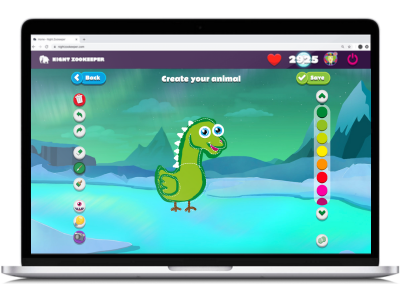 Activities & games:
Writing prompts:

Inspiring ideas and topics to spark your child's creativity.

Lessons:

Expertly crafted interactive lessons to build knowledge.

Challenges:

Curriculum-based challenges tailored to your child's grade level, covering all the core language arts skills.

Word games:

Games designed to improve vocabulary and spelling according to your child's grade level.

Battles:

Your child will use the animals they've created to fight off voids in skill-based games.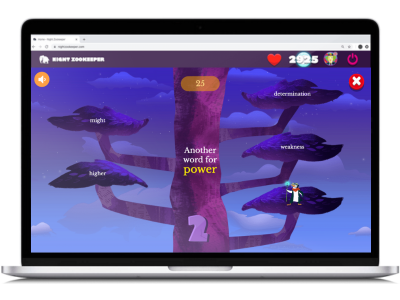 Community:
Community hub:

Encourages teamwork and collaboration by supporting and assessing their peers' work.

Projects:

Children can create or join projects about their interests.

Blog:

Each account includes a personal blog page for showcasing their work.

Comments:

Children can comment on each other's work in a supportive way.

Friends:

Create positive communication by encouraging children to follow each other's accounts to evaluate each other's work and form friendships.

Multiplayer games:

Promote friendly competition amongst other children.

League tables:

Motivate progress to achieve higher rankings.
Adapting to your child's learning needs with Night Zookeeper
Whether your child needs more help in language arts or is doing well for their grade level, it's essential to choose a program that can adjust to their specific needs. Homeschooling allows parents to create a personalized learning environment, and our program is designed to provide this flexibility through a variety of features:
Adjustable grade levels:

Parents can modify the grade level to match their child's abilities, making it suitable for elementary and early middle school students.

Special education services:

We provide a variety of options to ensure children with special education needs can comfortably learn at their own pace. This includes audio captions for all activities, the opportunity to install a speech-to-text extension, and an "Easy Mode" for 5 to 7-year-olds that focuses more on games instead of lessons.

Diverse learning opportunities:

The variety of educational activities in the program cater to different learning styles
"Absolutely in love with this game/curriculum! I have 2 special needs kids that are 8 and 9. They have diagnoses of autism, ADHD, apraxia of speech, dyslexia, language processing disorder, auditory processing disorder, dysgraphia, and the list can keep going. The point being, that this has helped my kids to learn without realizing that they are learning. We're all in love!"
- Samantha, homeschool parent, US
Tracking your child's progress with Night Zookeeper
While the program promotes independent learning, we recognize that many homeschooling families want to keep an eye on their child's progress. Parents have their own Night Zookeeper account for this reason, enabling them to give assignments, check progress, and make changes.
The parent dashboard is user-friendly and helps you see your child's achievements during the school year. This is handy for families with kids of different ages using the program, making it easier to keep track of all their work.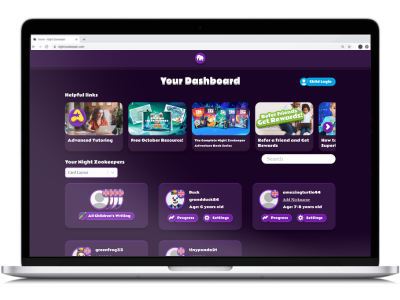 What makes Night Zookeeper so special?
Aside from being the only homeschool program to gamify learning language arts, Night Zookeeper is also a great support for parents. Creating and organizing homeschool lessons can be tough, but Night Zookeeper simplifies it with the following features:
*Please note that Advanced Tutoring is an additional cost.
"Night Zookeeper has been a wonderful addition to my son's reading and writing curriculum. He is so engaged and wants to do it. The feedback from the zookeepers is encouraging and it pushes my son to do more with his writing. I am so thankful I found this program. It is working so well for my son!"
- April, homeschool parent, US
Additional Night Zookeeper resources
In addition to our online program, we have a series of offline resources that can be used for homeschooling:
Whether you prefer online or offline learning, Night Zookeeper offers enjoyable ways to help your child learn language arts in your homeschool.
All our products revolve around the magical world of the "Night Zoo", where your child can join the main characters on fun adventures.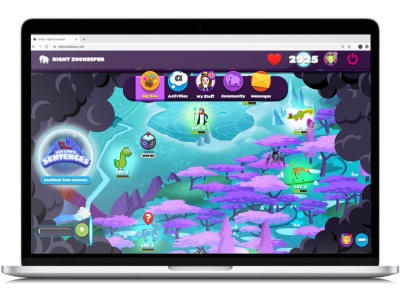 Try Night Zookeeper
Make learning language arts genuinely fun for your child in your homeschool. Through hundreds of interactive games and lessons, and personalized tutor feedback, Night Zookeeper will take the stress out of teaching reading & writing.
Explore the magical wonders of the Night Zoo and watch your child's confidence and love for learning grow!
Try it for free with our 7-day trial!