If you've been looking for engaging ways to teach or supplement your child's learning, the chances are you've come across terms "gamified learning", "gamification" and "gameschooling". But what actually is gamified learning? How can you successfully apply this method in order to help your child learn?
Gamified learning is defined as the process of applying various gaming features to traditional learning with the aim to provide children with a more interactive learning experience (further reading linked at the end of the article). This twist on education has become more popular with the rise of technology in education, but this learning method has been around for years, through card and boardgames. Some popular features commonly used in the gamified learning method include:
Implementation of "tasks" or "quests" with the objective to win points, rankings, character accessories
Encouragement of competition as motivation
Inspire teamwork through multiplayer games or group quests
Create a sense of community and increase social interaction for children who are homeschooled
Immediate feedback after the completion of a task (right or wrong / win or lose)
Ability to track your child's progress through their "gaming" history
Many believe that gamified learning can be extremely beneficial and even more successful than traditional forms of learning. This is because gamified learning takes educational topics, such as spelling, grammar or text structure, and transforms them into enjoyable content that children want to consume. While traditional teaching can be generally challenging to deliver and difficult to adjust to different students, gamified learning has proven to be a very effective approach!
From conducting primary and secondary research on this fascinating topic, we've gathered a list of ways in which gamified learning has succeeded in improving skills development. Some ways in which gamified learning can be effective are:
Generally, most children enjoy games.
Educators who've utilised gamified learning have pointed out that there is commonly an increase in overall focus, as games usually have a clear goal to achieve.
Competition can be a great motivator - who doesn't love winning?!
A lot of children have a hard time engaging in traditional learning methods, as they're deemed as "boring" or as a chore. Gamified learning eliminates the "boring" aspect of learning.
As gamified learning is a lot of the time conducted digitally, it can be argued that it allows for a lot more flexibility, as these resources are readily available anytime you wish to use them.
Online educational games can be accessed from anywhere, allowing children to connect with each other on a global scale and share a more diverse learning experience.
Games normally progress in regard to difficulty, which therefore provides all learners with personalized challenges based on individual aptitude, which differs from traditional learning methods in a classroom setting.
With the rise in homeschooling practices linked to the recent pandemic, it's really important to consider and try out different approaches to learning, to ensure that our children are challenged and motivated to thrive academically, regardless of socio-cultural and economic situations. Nightzookeeper.com continues to be a leading gamified learning program, which has helped thousands of children on an international scale to stay on track despite everything happening in the world right now. Are you curious to give gamified learning a go?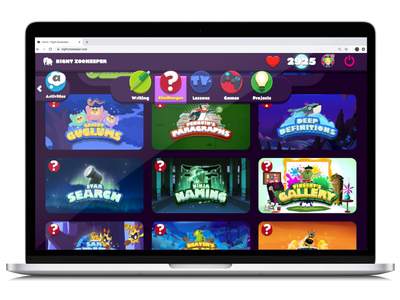 Our homeschool writing program is a wonderful way to have a stress-free introduction to this innovative learning style! We offer a 7-day free trial so you can explore our program and the approach of gamified learning with your children.
We'd love to hear about your gamified learning experience - has this method worked for your child? What are some of the benefits and challenges you've faced whilst implementing this style of teaching? Let us know by emailing us at [email protected] or by reaching out to us on social media:
For further information on gamified learning, please refer to the sources below:
Fadhli, Muhibuddin, Brick, Billy, Setyosari, Punaji, Ulfa, Saida and Kuswandi, Dedi (2020) A Meta-Analysis of Selected Studies on the Effectiveness of Gamification Method for Children. International Journal of Instruction, 13 (1). ISSN e-ISSN: 1308-1470 p-ISSN: 1694-609X http://e-iji.net/dosyalar/iji_2020_1_54.pdf
Landers, R. N. (2014) 'Developing a Theory of Gamified Learning: Linking Serious Games and Gamification of Learning', Simulation & Gaming, 45(6), pp. 752–768. doi: 10.1177/1046878114563660.
FutureLearn, 2021. What is gamification in education? - FutureLearn. [online] FutureLearn. Available at: <https://www.futurelearn.com/info/blog/general/gamification-in-education>
Wright, C., n.d. Game-based Learning vs Gamification: What's the Difference?. [online] Blog.mindresearch.org. Available at: <https://blog.mindresearch.org/blog/game-based-learning-vs-gamification>
Trueeducationpartnerships.com. n.d. [online] Available at: <https://www.trueeducationpartnerships.com/schools/gamification-in-education/>