Night Zookeeper is used by many homeschoolers as their homeschool writing curriculum. The program has been designed to inspire young writers and fuel their creativity. As writing is a crucial skill in any child's educational development, our mission is to ensure it is an enjoyable and engaging experience for children. Our language arts program motivates children to enhance their writing skills while they're having fun.
Our program can be used as either a full curriculum or as a supplemental resource. Night Zookeeper offers a variety of ways to cater to children of all writing levels, from those who struggle to those who have a passion for writing.
With many curricula and programs claiming to transform young writers into budding young authors, it becomes crucial to gather information about choosing a writing curriculum before reaching a decision.
What is a homeschool writing curriculum?
A homeschool writing curriculum can be a comprehensive program or a set of educational materials used to teach writing skills in a homeschool. These resources can be digital or physical and include lessons, activities, games, and exercises that cover different aspects of writing:
Composing sentences
Developing grammar skills
Building a rich vocabulary
Writing stories
Other creative writing (such as poetry)
Homeschool writing curricula are generally tailored to meet the specific needs and grade levels of students. Homeschool parents and guardians can manage this to find the best homeschool writing curriculum for their child, with the core focus on building strong writing skills in a home-based learning environment.
The role of a homeschool writing curriculum
Teaching writing to children can be a challenging task, but a homeschool writing curriculum will help simplify this process. Parents can often feel a lot of pressure to try and make writing engaging for their child, whilst also ensuring it is improving their skills. Having a curriculum on hand to offer this structure for you will ensure you feel supported when teaching writing.
By choosing a writing curriculum in your homeschool, you ensure that your child not only excels in writing, but also in reading, grammar, spelling, and vocabulary, as these skills are interconnected. Writing is also a necessary skill to study humanities subjects.
Writing plays a big role in a child's overall development, enhancing communication, critical thinking, and confidence from an early age. These skills are valuable academically, professionally, and personally. We understand that homeschool families enjoy the sense of freedom that homeschooling offers, but having a structured curriculum for a skill like writing can add a necessary element of organization to your child's learning journey.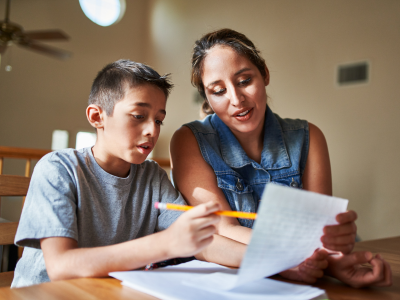 Benefits of a homeschool writing curriculum
A homeschool writing curriculum offers a range of benefits, not only improving a child's writing skills but also playing a crucial role in their overall educational and personal growth. There are a host of benefits to be had for the parent too!
Benefits for the child: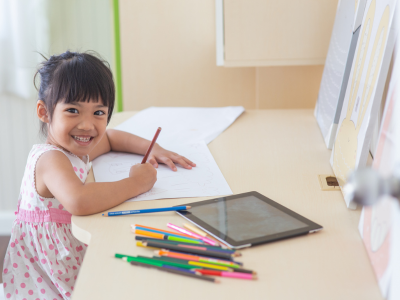 Benefits for the parent:
Structure:

It provides the option to have an organized framework for teaching writing, making it easier for homeschool parents to guide their child's learning effectively. You can also decide how and when you use this structure.

Consistency:

You'll be able to rely on the curriculum to bring consistency to your homeschool student's writing progress and will ensure all essentials are covered.

Versatility:

Choosing a curriculum that suits your child's learning requirements removes the need for you to create customized plans.

Clear objectives:

By following a curriculum, you can be confident that your child is working toward clear learning goals, and that the curriculum's content is designed to achieve those objectives.
"My kids love this writing curriculum!! They are very artistically inclined and this is right up their alley! They are learning how to write while drawing animals and making stories. I love the feedback from the zookeepers who help edit the kid's work! I just really think the program is really fun and well put together. The kids love all the games and they are learning language arts at the same time - yay!"
- Jennifer, homeschool parent, US
Challenges of a homeschool writing curriculum
Homeschooling often presents its own set of challenges, and implementing a homeschool writing curriculum can contribute to this. Many homeschooling families encounter common obstacles when selecting a writing program:
"My son has always struggled with writing due to some obstacles he has to work to overcome and LOATHED any writing assignments and even shorter practice assignments. Night Zookeeper has been the key to getting him engaged and excited to write. He will spend a good deal of time playing, and actually LOOKS FORWARD to the writing!"
- Lanie, homeschool parent, US
Why choose Night Zookeeper
Choosing a homeschool writing curriculum can be tough with so many options available. It's important to pick one that fits your needs and preferences. Keep in mind that if your child doesn't enjoy what they're learning, it can negatively affect their progress and make homeschooling more challenging and stressful for you as a homeschool parent.
Here's why Night Zookeeper is a great choice for your homeschool writing curriculum:
"Night Zookeeper is an excellent program that I am so glad to have found for my 7-year-old son. Before Night Zookeeper he was very intimidated by writing, now he plays Night Zookeeper almost every day. Thanks to Night Zookeeper he has learned about different types of writing as well as works on improving his spelling, grammar punctuation, and more. This game has blown us out of the water with how much he has been able to learn while having fun in the process."
- Noel, homeschool parent, US
Try Night Zookeeper
Writing doesn't have to be a tedious subject to teach in your homeschool. Night Zookeeper transforms the process of learning to write into an enjoyable experience for your child by making it genuinely fun. With numerous writing games designed to enhance your child's writing skills, you'll witness their love for writing blossom every day.
Try Night Zookeeper today with our 7-day free trial!