Happy November, folks! We can't believe how quickly this year has come and gone! We've created a list of fun November writing prompts to help spark your child's creativity this month. Whether you're homeschooling or simply looking for creative writing prompts to do after school during the month of November, here is a list of our favorites!
On November 1st, the US celebrates National Authors Day! Who is your favorite author and what is your favorite book or story written by them? Why do you love their work?
November 1st is also World Vegan Day. Have you ever had a vegan dish or meal? If so, what was the best part of the meal/dish?
On November 2nd we celebrate healthy eating - what are the benefits of having a healthy diet? Can you list 10 benefits?
Have you ever spent time looking at the stars? Write a story about stargazing and seeing something in the sky come to life.
If you had a magical writing journal, what special power would it have and how would you use it?
Write the middle and ending for this story starter: I couldn't believe my eyes when I walked into the kitchen this morning - my parents got me a pet turkey!
What's your favorite thing about the current season? Explain why.
What is your current favorite movie? Is it a brand new movie or an old one? Why is it your favorite?
On November 5th, the UK celebrates Guy Fawkes Day, also known as Bonfire Night. What do you know about this day?
"My favorite activity to do in November is..."
You are walking through the forest and discover a brand new plant. First, draw this plant, and then write about your discovery and describe the plant to the rest of the world. What have you learned about it? Why is it so special?
What do you most look forward to in November? Write a thought piece about this.
November 9th is World Freedom Day. In your opinion, what does it mean to be free?
November 11th is World Origami Day! For this writing prompt, choose a template online and create an animal using the art of Origami. Once you're done crafting your animal, write an adventure story in which they're the hero!
Do you eat different foods during this season? Can you write a recipe for one of your favorite seasonal foods?
What's your favorite season? Can you write a persuasive essay about why this season is your favorite? Is it fall/autumn, winter, spring, or summer? What do you love the most about it? What is your favorite thing to do during this season? Why should this season be everyone's favorite?
November 13th is World Kindness Day! What is a random act of kindness you've done in the past week?
Write an acrostic poem! Typically, the first letters of each line are used to spell the message. We'd like you to write an acrostic poem with the word NOVEMBER. The first line will start with a word that begins with N. The second will start with a word that begins with O. Keep writing these lines until you spell NOVEMBER.
If you were the owner of a zoo during the month of November, how would you care for your animals? Are there any specific things they would need during this month? Is it getting warmer or colder where you live?
What's your favorite book genre to read on a rainy November day? Do you prefer adventure books, fairy tales, poetry, ...? Tell us all about it!
November 19th is Play Monopoly Day. Have you ever played Monopoly? If so, who did you play with? What happened? Who won?
November 20th is Universal Children's Day! Write a persuasive text on why (or why not) you think children should rule the world!
November 21st is World Television Day! In your opinion, what is the best cartoon series? Why do you think it's a good show?
November 24th is Celebrate Your Unique Talent Day! What is your special talent?
Thanksgiving Writing Prompts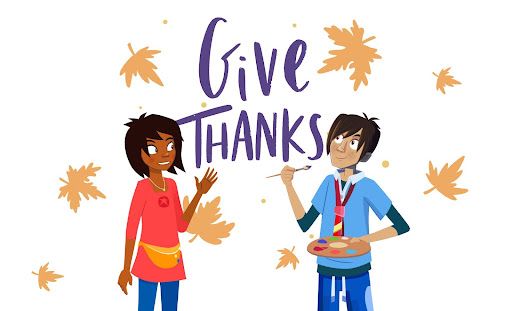 Journal prompt: at the end of November, the USA celebrates a holiday called Thanksgiving. Families and friends get together and say what they are thankful for. What are you thankful for this year?
Can you write about your Thanksgiving day routine? What time do you wake up? Do you have a special role or chore you must do? Do you host Thanksgiving at your house or do you go out? Who do you celebrate with?
Thanksgiving is an American holiday, which means that many countries don't know much about it. What advice would you give to someone trying to host their first Thanksgiving holiday?
The turkey has famously become the symbol for Thanksgiving. Can you write a story about a magical turkey with superpowers? Make sure to let us know what the superpowers are!
A Thanksgiving dinner isn't complete without ... Can you tell us your favorite Thanksgiving dish?
Inspire your child to keep writing:
Whether you use these writing prompts as a homeschool resource, a fun educational activity, or as a way to get your child to write on daily basis, we hope these fun November writing prompts have made this month even more exciting!
If you're looking for more creative writing prompts and other educational resources to improve your child's writing skills, be sure to check out our reading and writing program!
We love reading creative writing and encouraging children to love creative writing. If you enjoyed these writing prompt ideas for kids, please share them with us using the hashtag #nzkwritingprompts on: