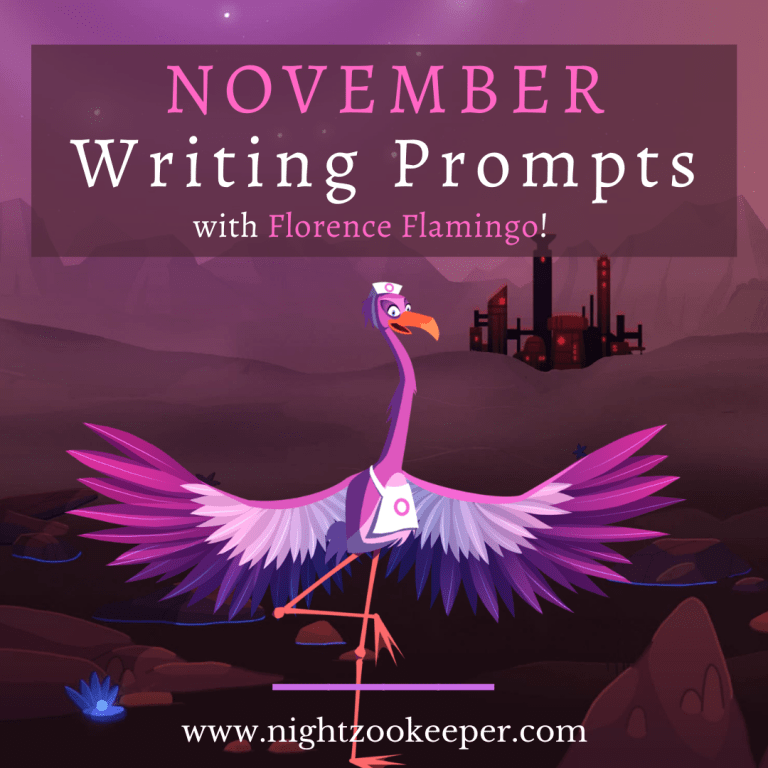 Happy November, folks! We can't believe how quickly this year has come and gone! We've created a list of fun November writing prompts to help spark your child's creativity this month.
Some of the November writing prompts listed below inspire kids to engage their imaginations and create a new poems, recipes, thought pieces and short stories. Please feel free to change the type of writing you would like your child to do; the idea is to get them comfortable and in the mood to write!
These prompts are designed to spark creativity and imagination within children. We encourage children to think about what they like (or dislike) about fall/autumn and November, but also ask them to think outside of the box about seasons changing.
With these fun November prompts for young writers, your children will make great use of their imaginations and creative drive. Whatever your child decides to write about, we hope they will keep their writing fun and a little bit magical!
Fun November Writing Prompts for Kids:
1. At the end of November, Americans celebrate a holiday called Thanksgiving. Families and friends get together and say what they are thankful for. What are you thankful for this year?
2. Believe it or not, winter doesn't start until December 21st. Can you write a poem all about autumn?
3. What's your favorite thing about fall/autumn weather? Explain why?
4. Leaves change color in autumn and fall off the trees. Can you write a story about a little leaf that changes color with the seasons?
5. Imagine that leaves could turn any other color besides green, yellow, orange, and red, which color would you choose?
6. What do you most look forward to in December? Write a thought piece about this.
7. Do you eat different foods in the fall than in the summer? Can you write a recipe for one of your favorite fall foods?
8. What's your favorite season? Can you write a persuasive essay about why this season is your favorite?
9. Write an acrostic poem! Typically, the first letters of each line are used to spell the message. We'd like you to write an acrostic poem with the word NOVEMBER. The first line will start with a word that begins with N. The second will start with a word that begins with O. Keep writing these lines until you spell NOVEMBER.
10. The turkey has famously become the symbol for Thanksgiving. Can you write a story about a magical turkey with superpowers? Make sure to let us know what the superpowers are!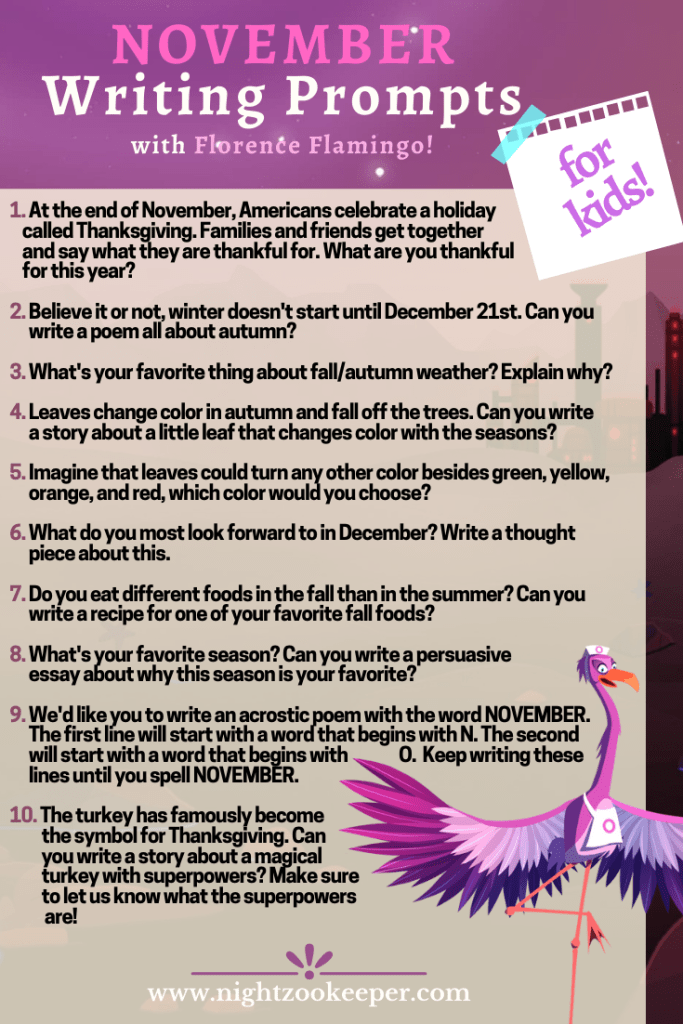 We encourage you to share any work produced from these prompts by your children! We love reading creative writing and encouraging children to love creative writing. If you enjoyed these fun November writing prompt ideas for kids, please share them on Facebook, Twitter, and/or Pinterest.
Are you a parent who wants to get your child started on Night Zookeeper? Sign up for our reading and writing program for kids!