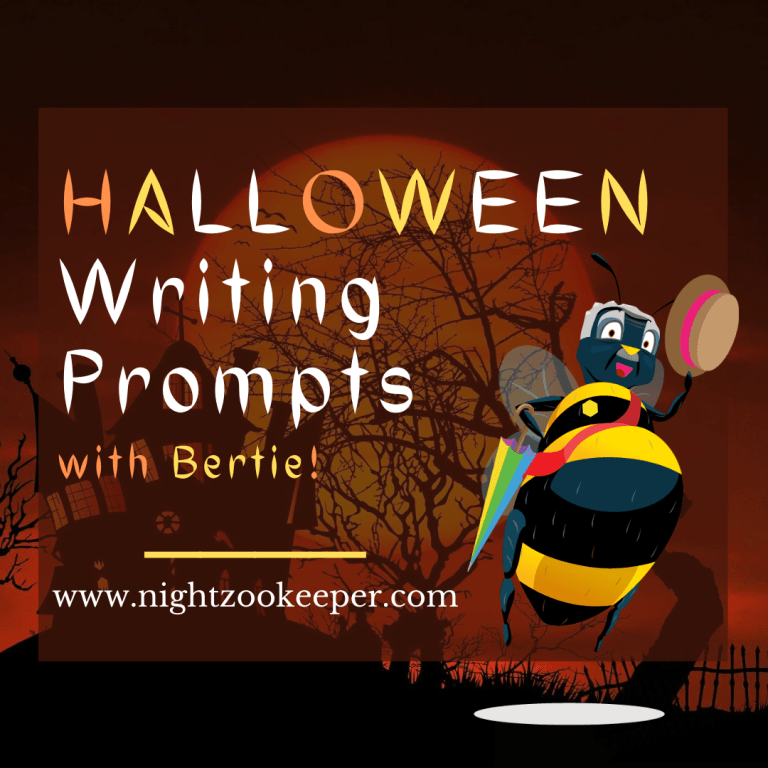 The end of October is just around the corner! That means that Halloween is almost here! 👻 At Night Zookeeper, we couldn't be happier to celebrate this fun and creative holiday. We love a holiday that encourages children to dress up as their favorite characters and use their imaginations!
Trying to encourage your child to love creative writing? We've created a list of fun Halloween writing prompts to help spark your child's creativity, presented by Bertie the Bumbling Bee. 🐝
Some of the Halloween writing prompts listed below inspire kids to engage their imaginations and create new poems, recipes, thought pieces and short stories. Please feel free to change the type of writing you would like your child to do; the idea is to get them comfortable and in the mood to write!
These prompts are designed to spark creativity and imagination within children. We encourage children to think about what they like (or dislike) about Halloween, but also ask them to create characters, thought pieces and descriptions that would fit within 'Halloween themes'. Other writing ideas encourage the child to write a new recipe as well as some poems.
With these fun Halloween prompts for young writers, your children will make great use of their imaginations and creative drive. Whatever your child decides to write about, we hope they will keep their writing fun and a little bit magical! 🎃
Write an acrostic poem with the word SPOOKY. The first line will start with a word that begins with S. The second will start with a word that begins with P, next O and so on. Keep writing these lines until you spell SPOOKY.
Write a spooky recipe for a witches' brew!
You're throwing a Halloween party! Write a list of Halloween-themed supplies you may need.
Do you like reading scary books or watching scary movies? Why or why not?
In your opinion, what's the best Halloween treat? Why is it your favorite?
Are you dressing up in a Halloween costume this year? If so, what character are you dressing up as, and why?
Your family takes you to a corn maze to celebrate Halloween and you get lost! Write a story about how you manage to find your way out.
A group of giant goblins are trying to break into your house! What happens next?
If you could dress up as any Night Zookeeper character, who would you pick and why?
What's your favorite Halloween night activity? Do you usually go trick-or-treating, or stay in and enjoy a scary film with your family? 🍿
Draw a picture of your perfect haunted house! Then write a paragraph describing it.
Write a spooky poem all about Halloween! Make sure to use the word "haunted".
Do you consider trick-or-treating a Halloween tradition? Why or why not?
Imagine you have just carved a jack-o-lantern, and it started to speak! What does it say?
Write a spooky story about a black cat that has been created by a mad scientist to defeat their scariest creation - Frankenstein!
Imagine that you met a friendly ghost. Write what this ghost's name is, what they look like and why they are friendly!
Write a Halloween story mentioning as many common Halloween costumes as you can.
As always, we'd love to read the scary stories your child comes up with - be sure to share them with us on social media with the hashtag #nzkwritingprompts!
If you enjoyed these fun Halloween writing prompt ideas for kids, share them with fellow parents, homeschoolers and teachers on:
Try out our writing game for kids and other educational activities to keep your child inspired this season.
Check out our printable Halloween Resource for offline fun, and our awesome October Writing Prompts to keep your child's creativity flowing!