Gameschooling is a teaching style that uses both tabletop games (board and card games) and video games to help kids learn a variety of skills. The idea behind gameschooling is that kids learn best when they're interested in what they're learning, and games let them choose what they want to learn.
Gameschooling creates a judgement-free environment, where young learners can explore, make mistakes, and retry without fear. This method is popular with homeschooling families and teachers, as it blends education with the children's interests, turning popular games into effective teaching tools.
Gameschooling makes learning fun and engaging for all ages, from preschoolers to high school students. Gameplay is a safe way to develop skills in a safe space without the stress of formal learning.
Different types of games for gameschooling:
Like the sound of gameschooling but not sure what types of games can be used? Good news, there are thousands to choose from! There are lots of ways to add gameplay to your homeschool plan, and they don't have to be "educational games".
You can tailor your approach to suit the learning needs of your child through a range of individual and cooperative games:
Board games
Card games
Dice games
Video games
Tile-based games
Construction-focused games
Gameschooling can offer lots of valuable learning opportunities. It's a flexible and inclusive educational strategy that your child will want to do in their homeschool day. Specific games will focus more on academic skills, but others will just be a great way to have fun!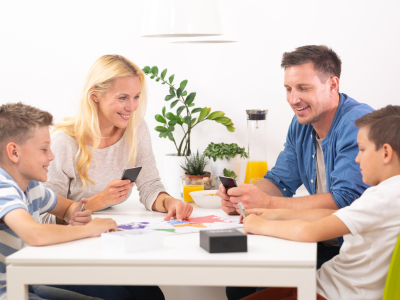 What are the benefits of gameschooling?
Gameschooling is an engaging approach to education that suits many topics, ages, and skill levels. It helps kids learn while having fun and builds important new skills for real life and school, such as:
Communication skills:

Speaking and writing well are important for both school and personal growth.

Self-regulation:

Gives kids confidence to work on their own.

Creativity:

Allows kids to explore what interests them and get the best results.

Critical thinking:

Encourages kids to develop their ideas and reach their full potential.

Problem-solving:

An important skill for school, personal life, and work.

Turn-taking & sharing:

Teaches kids to cooperate and work with others.

Listening & focusing:

Important for following instructions and understanding tasks.
Games help kids learn and understand difficult subjects, making learning more fun. They can follow their interests, become confident thinkers, improve their social skills, and learn how to handle both winning and losing gracefully!
With countless educational games to choose from, you can easily include gameschooling in your homeschool plan and use the power of play to make learning fun for your kids.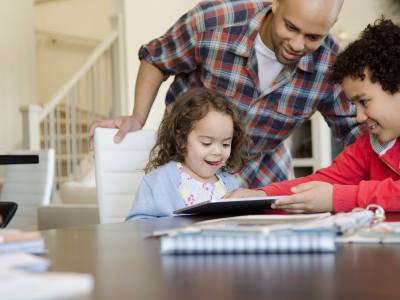 What are the disadvantages of gameschooling?
While gameschooling offers multiple benefits, it's important to acknowledge that it comes with its own set of challenges and drawbacks. These disadvantages include:
Financial constraints:

Some games could cost more compared to traditional learning resources (like printables), and may require investments. However, there are plenty of opportunities to buy these second-hand, borrow from other gameschoolers, use free online resources, and sign up for free trials before committing to purchase.

Potential conflicts:

Playing games can sometimes lead to frustrations or arguments, but it's a helpful way to encourage kids to embrace losses and competition as opportunities for growth and learning.

Suitability for the whole family:

Not all games fit every family's environment, but that's okay. It's important to play to the strengths of everyone involved. This can sometimes mean that family game night will need to include individual games.

Reduced in-person socialization:

Gameschooling can lead to less social interaction, especially when it involves video games. Concerns about screen time are commonly associated with this, but there is a lot of research to support the cognitive benefits of video gaming, which can enhance visual processing and attention. Striking a balance between video games and non-screen activities is essential in gameschooling.
How to include gameschooling in your homeschool
Gameschooling is flexible and can work with your other teaching methods. It fits your family's preferences and learning styles, blending easily into your homeschooling day. Here are some ways to do it:
Who can take part:

It's completely up to you! If you want the whole family involved to promote teamwork or would prefer your child to work independently, there are games to suit all types.

What to do:

Games can either be a supplement to regular lessons or as the main way you teach. They can be adjusted to make tough topics easier to learn and keep students interested all year long. There are also lots of Facebook groups within the gameschool community that share helpful insights and advice about adopting a gameschooling strategy. It's the perfect way to discover people's favorite board games and learn about new games for the first time.

When can we do it:

You can start your day with a "morning basket" that includes games, or include them throughout the day. You can also make it a part of your "Fun Friday" schedule or use them seasonally to avoid the "Summer Slide" or as a part of your Christmas break.

Where do we do it:

Anywhere and everywhere, as there are games that can be played indoors, outdoors, or on the go. The versatility of gameschooling adds a sense of freedom to your homeschool day that can otherwise be limited with textbooks and worksheets.

Why gameschool:

Well, why not?! If gameschooling inspires your child to have fun and learn at the same time, then that makes the teaching process a whole lot easier for you!
Whether you follow a structured homeschool curriculum or not, games can work well with other teaching methods. This flexibility makes gameschooling a versatile and enjoyable way to homeschool.
How Night Zookeeper can help
Night Zookeeper is used by thousands of homeschoolers and gameschoolers to develop their child's skills in English language arts.
Our award-winning reading & writing program turns learning into a game, helping your child grow their writing and reading skills in a fantastically fun way! You'll have access to thousands of different activities, including word games and exciting reading and writing challenges. We also encourage children to play and learn together with our multiplayer, collaborative learning games.
Sign up today to get a FREE 7-day trial!
Got any questions? Reach out to us via email at [email protected], and follow us on social media: