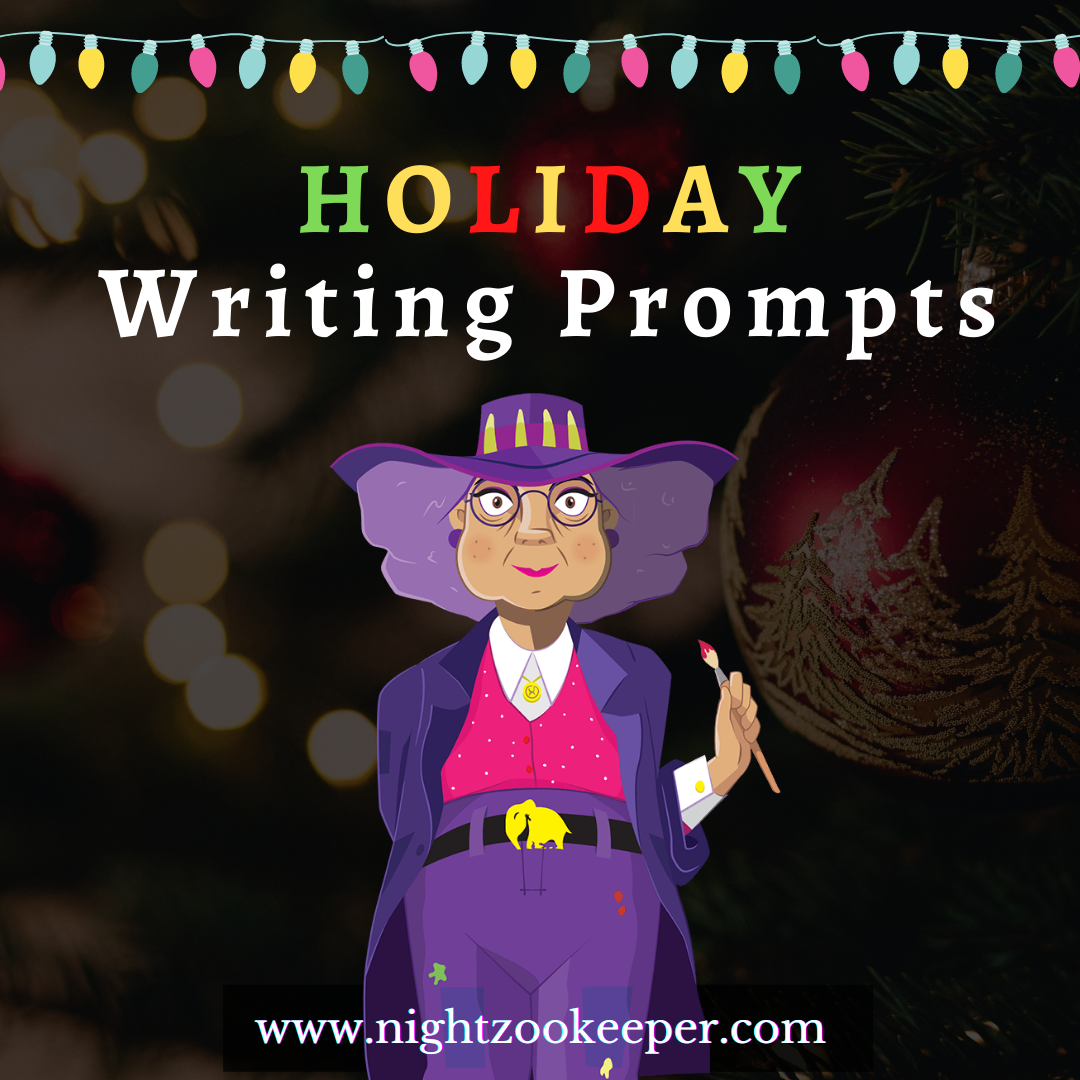 Can you believe it's already December? Candles are being lit, trees decorated and snowfall has even touched down in some places! The holiday season is upon us!
December is a magical time of year where people have many reasons to come together and celebrate. Whether your holiday traditions are to bundle up and play in the snow, or have a summer barbecue, these holiday writing prompts are sure to get your child reflecting on the best parts of this time of year.
These prompts are designed to spark creativity and imagination within children. We encourage children to think about what they like (or dislike) about the holiday season, but also ask them to think outside of the box about what the holidays mean to them.
With these fun holiday writing prompts for kids, your children will make great use of their imaginations and creative drive. Whatever your child decides to write about, we hope they will keep their writing fun and a little bit magical!
Holiday Writing Prompts!
What's your favorite winter holiday? Why?
During December is it usually cold for you or is it warm? What activities do you usually participate in?
Hot chocolate is a tasty drink! ☕️ Do you love having hot chocolate during the colder months?
Do you have any traditions in your family during the winter holidays? A tradition is the handing down of information, beliefs, or customs from one generation to another. Share them here!
What do you like best about December? Write about it here!
Gift Giving! 🎁 Winter Holidays in December often mean that presents are shared with friends and family. Saying something nice about another person could be considered a form of present! Can you say something nice about a family member or friend?
What's your favorite holiday movie? 🎥 Can you explain what it is and why it's your favorite?
Do you eat anything special during the holidays? What's your favorite thing to eat? What's something unique that you might have during the holidays?
The end of December signifies the end of the year. 🎉 Sometimes, with the start of a new year, people make New Year's Resolutions. A New Year's Resolution is a promise to do something differently in the new year. Perhaps your resolution is to read for 30 minutes before bed instead of watching TV. Or maybe, you'd like to help clean your bedroom once a week. Please tell us your New Year's Resolution and explain why it's important to you.
Which holiday has the most meaning for you?
If you could invent your own holiday, what would it be called and what would you celebrate? Write a diary entry about this.
Can you write instructions on how to build the perfect snowman? ☃️
When it's cold out, what's your favorite item of clothing to wear? Is it a hat? Perhaps a scarf? Why do you love this item?
What's the most meaningful present you ever received? Why was this gift important to you?
Write an acrostic poem with the word SNOW. An acrostic poem is a poem where certain letters in each line spell out a word or phrase. The first line will start with a word that begins with S. The second will start with a word that begins with N. Keep writing these lines until you spell SNOW.
Describe what it would be like to have a penguin as a pet! 🐧
Imagine you are a snowflake ❄️ falling gently from the sky. Write a poem about this.
Do you think it's more fun to give or receive gifts? Why?
Write a short story about a gingerbread man who came to life! What's his name? What adventures does he go on?
Imagine that you meet a reindeer with a glowing red nose! Where do you think this reindeer is headed?
Letter writing time! 💌 Write a thank you note to a family member who has given you a present.
Finish this sentence: This December, I am thankful because...
Think about last December. How was your life different then? How is it the same?
Pretend you are one of Santa's elves! 🎅 What presents would you be in charge of making?
What's your favorite holiday treat? 🍪 Can you write a recipe explaining how to make it?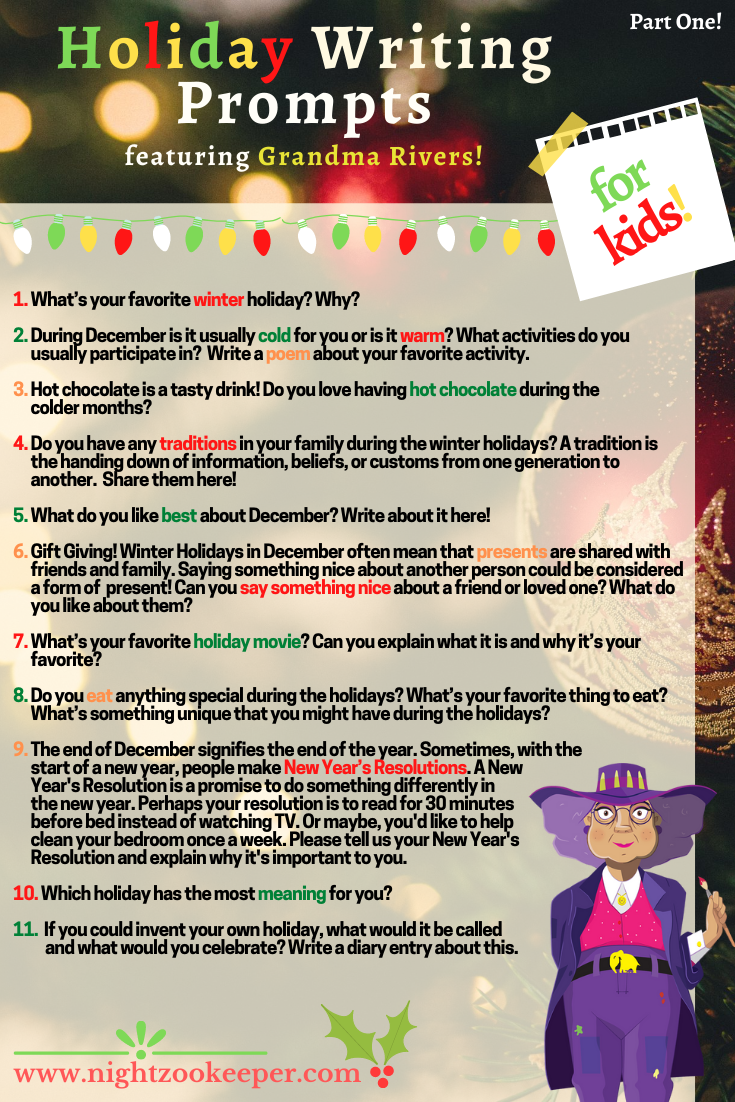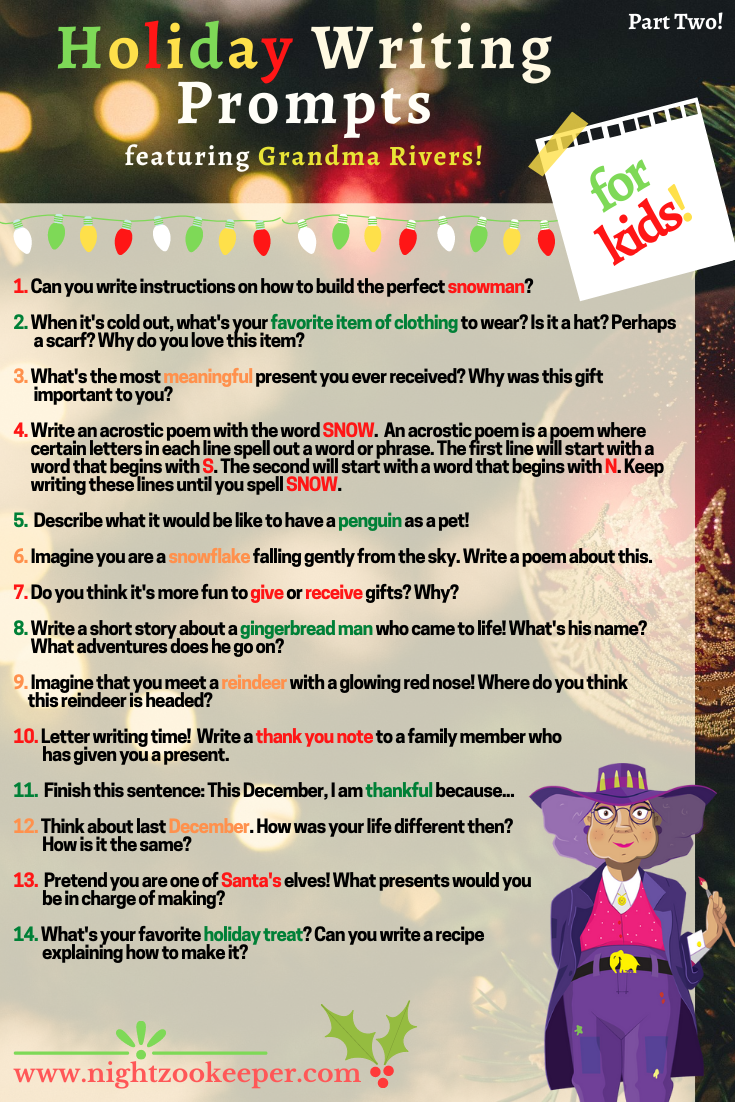 In case you didn't know - we want to see your child's writing! Please share any work produced from these prompts by your kiddos! We love reading creative writing and encouraging children to love this art form. If you enjoyed these fun holiday writing prompt ideas for kids, please share them on Facebook, Twitter, and/or Pinterest.
Are you a parent who wants to get your child started on Night Zookeeper? Sign up for our reading and writing program!
Follow us on social media: