It can sometimes be difficult to make your stories feel cohesive when you first start writing. There are many different types of connectives to help your child make their writing flow better and feel connected. Without them, sentences can feel disconnected from one another, making the story feel fragmented and lacking flow. This lesson will review when to use connectives and what they are.
What are connectives?
Connectives are exactly what they sound like: connecting words! They connect words within a sentence or can connect sentences together. They help writing sound complete and flow nicely together. Without them, your writing would feel like a bunch of random sentences put together, with no connection! We can break down connectives into three types: time, cause/effect, and difference. All three of these types of connectives have different uses.
Types of connectives & when to use them
Time Connectives
Time connectives help your readers understand the order of events or things. They help readers understand what you're saying chronologically. Time connectives include:
Example: First, Night Zookeeper Will Rivers helped Riya with her math homework. Then, he worked on his English assignment.
Cause/effect Connectives
Cause/effect connectives are used to explain why something happened via its cause and effect. These connectives help your reader understand what caused a specific event. Examples of cause/effect connectives include:
because of this
as a result of
consequently
Example: Maji the Time-Traveling Elephant felt sad today. As a result of this, she stayed home.
Compare/Contrast Connectives
Compare/Contrast connectives are used to bring up differences and similarities among the ideas in your writing. These connectives are used when bringing up an idea that either contrasts what you had just written about or illustrates a similarity. Examples of these connectives include:
however
alternatively
on the other hand
Example: Eek the Eskimouse was excited that it was Friday and finally the weekend! However, he was also dreading that it would soon come to an end.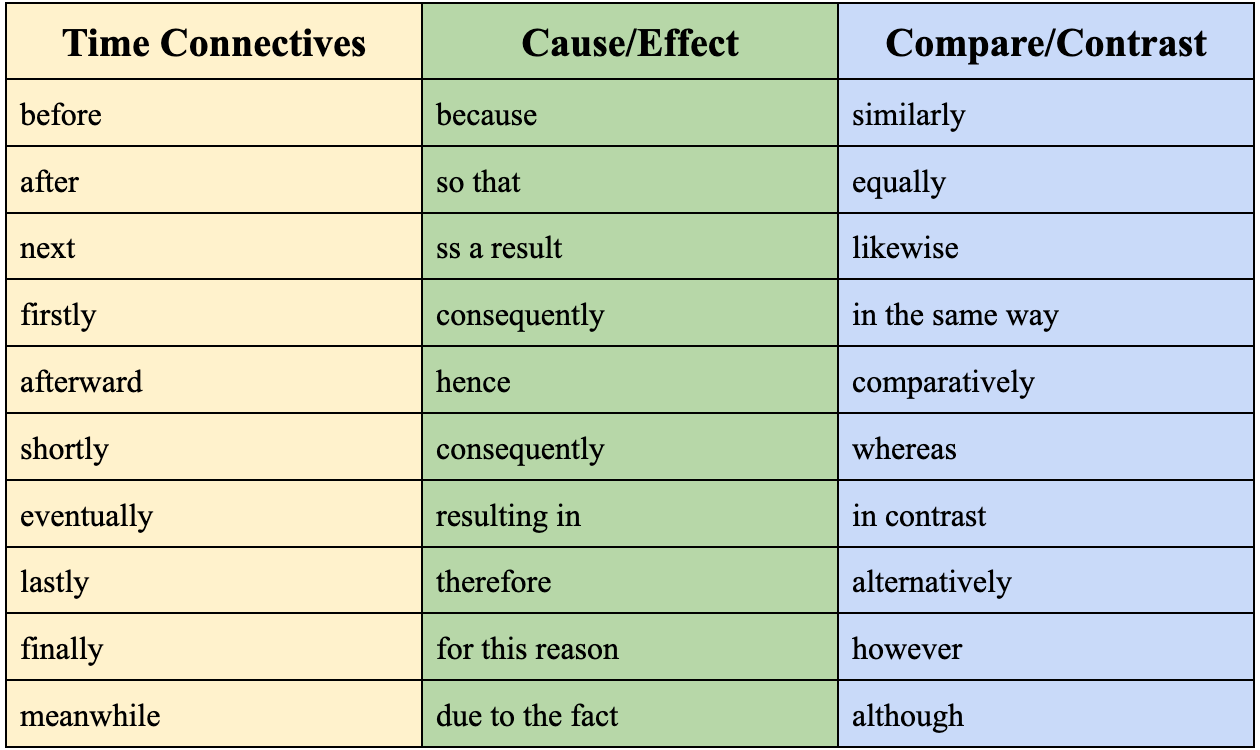 Activity & Resource
Now that your child knows the three main types of connectives, they can get started with the activities we've prepared for them! The first page is a review of this lesson and will be helpful to reference if your child starts to forget what they learned about connectives. The second resource helps them test their knowledge about the three types of connectives. Good luck!