Often, young writers struggle to come up with different adjectives to use in their story writing. They are sometimes guilty of using the same simple adjectives to describe things, like "good" or "bad". To help them come up with alternatives to basic adjectives, it can be helpful for children to group adjectives together into categories based on their similarities. This type of activity can also help children understand the meaning of more complex adjectives, making it more likely they will use them in the future. Let's talk about categorising, or grouping, adjectives!
What does it mean to group adjectives?
Adjectives can be grouped based on their meaning! This activity will help your child better understand more complex adjectives, which will help them use them in their own writing. The common meaning of adjectives can be encompassed by one simple adjective. When helping your child group adjectives, the base word should be a simple one they understand the meaning of.
Example of Grouping Adjectives
Grouping adjectives can be done based on several characteristics. This table provides adjectives that describe a villain versus adjectives that describe a hero. They are grouped on the basis of whether they are describing a villain or hero! Other ways that children can group adjectives can be based on feelings and appearances or setting and characters.

Activity & Resource
Download the resource below to help your child grow their range of adjectives!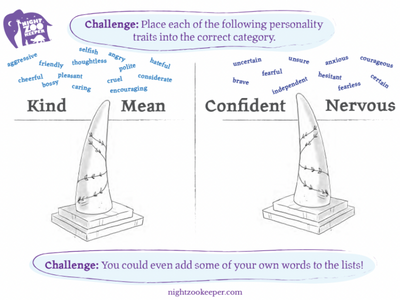 Get this resource as a PDF
Download