Report writing is a key writing style for children to learn at elementary/primary school level. Report writing is a more formal style of writing with some specific attributes. Let's look at how to write a report!
What is report writing?
Report writing is a formal writing style that elaborates on a specific topic. It is often fact and research-based, so it's very different from opinion writing. Reports are mainly written about events, topics, or issues.
What do good reports have?
Good reports have a number of important aspects included. To write a good report, you should consider the following things:
An eye-catching title
An introductory paragraph
Written in the present tense
Different topics broken up into paragraphs
Subheadings for each paragraph
Pictures of the subject
Captions to explain what's in each picture
Lists of facts using bullet points
Tips for report writing
Now that we've discussed what report writing is and what makes a good report, we wanted to also provide some tips to help set your child up for success when they write a report themselves. Here are some tips we have for elementary report writing:
Pick a topic you're interested in! Reports require a lot of information, so it needs to be a topic you would want to write a lot about.
Do your research on that topic. What facts or information should you definitely include?
Are there topics within your topic that you can break into paragraphs?
What pictures would be helpful for your readers to understand your topic better? Include those in your report. Make sure to caption your pictures so your readers know why you're including each one!
Using bullet points and lists with facts can be helpful if there are a lot of facts you need to include about your topic.
Interesting topics to write a report about
If your child is struggling to come up with a topic they feel inspired to write a report about, no need to fret! We've come up with a list of 5 topics your child writer can choose from to write a report about:
What's your favorite animal? Research and write a report about that animal, making sure to include a lot of information and facts.
Choose one planet in our solar system, besides Earth. Research and write a report about your chosen planet!
Pick a holiday you would like to know more about. Research its history and write a report about why people celebrate that holiday!
Research the author of your favorite book. Write a report on their life and career!
Pick a natural disaster to write about. Research your chosen natural disaster and write a report on it!
Free Resource!
Report writing is a useful writing tool for all children writers. Now that we've discussed the basics of report writing, your child may feel inclined to write a report of their own on a topic of interest! We've made a reference sheet for your child to review when they decide to write their own report. Happy reporting!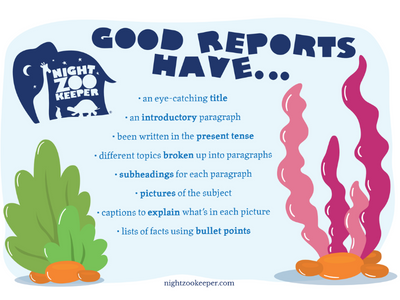 Get this resource as a PDF
Download