Correct capitalization doesn't always come naturally to children, but we're here to help!
A capital letter is an uppercase letter used at the start of a word in various circumstances.
There are many capitalization rules your child must follow when writing. The most simple rule is that a complete sentence always begins with a capital letter, but there are many others your child should be familiar with as they start writing!
Here's a list of when capital letters should be used:
The first letter of the first word of a sentence
Acronyms / abbreviations (NASA, UN, USA)
Headings
Days of the week & months of the year
Titles of books and films
Proper nouns
People's names and surnames
Names of continents, countries, and nationalities (Europe, New York City, England, France, French, British, Spanish)
Holidays (Christmas, Halloween, Thanksgiving)
The word "I" anywhere in the sentence (When it rains, I love to stay inside to read!)
Fun fact: the four seasons (spring, summer, fall, and winter) can be started with a lowercase or uppercase letter!
Activity & resource
Get your child to practice their capital letters knowledge by completing this free resource: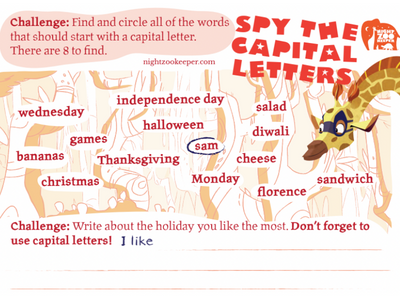 Download
How Night Zookeeper can help
Night Zookeeper makes reading & writing fantastically fun for children aged six to twelve!
Our reading & writing program includes thousands of award-winning activities and resources, including lessons on proper names, games on the correct use of capital letters, and much more.
Sign up today to get a FREE 7-day trial!
More resources
Related Content