The best way to improve your child's writing skills is to expose them to many different types of writing. One of which is persuasive letter writing! The goal of this article is to teach your child how to write a persuasive letter. Writing persuasive letters is an important skill to have, so your child can learn how to convince their audience of something. This can also translate into other writing styles because writing in a convincing way is required in many different forms of writing. Let's talk about how to write a persuasive letter!
What is persuasive writing?
Persuasive writing is used to try and convince your readers of something, like an opinion or idea. In order to be successful, this writing style often uses strategic word choice, compelling supporting ideas/evidence, and logic. Persuasive writing must employ several techniques to be convincing to readers. Learning to write persuasively can help improve a child's creative writing skills as well, as both creative and persuasive writing require a lot of detail and description.
Tips for writing persuasive letters
Introduction: state your main point clearly.
Provide supporting evidence/details for your main point.
Convince your reader through other means: appeal to their emotions, prove your credibility, etc.
Conclusion: restate your main point.
Example:
Dear Night Zookeeper Will,
Do you think the animals of the Night Zoo feel safe and happy? The Night Zoo is our home. It's also home to over 5 million other animals. If the Lord of Nulth destroys the Night Zoo, then none of us will have a home. Did you know, forty acres of the Night Zoo have already been poisoned by the Lord of Nulth's monsters? This is bad news for us! However, we can stop him if we work together. Finally, I believe with teamwork and creativity, we can save the Night Zoo!
Yours faithfully,
The Penguin Professor
Activity & Resource
Now that we've reviewed what persuasive writing is and provided some tips for writing persuasive letters, we have an activity to help your child write their first persuasive letter! If they're having trouble introducing their topic, have them reference our introduction tips that you can find on the page. Happy persuading!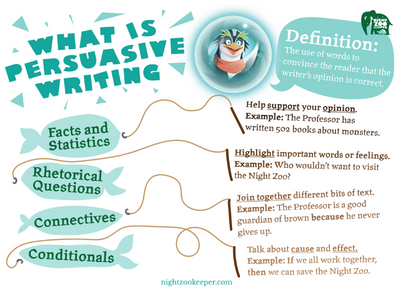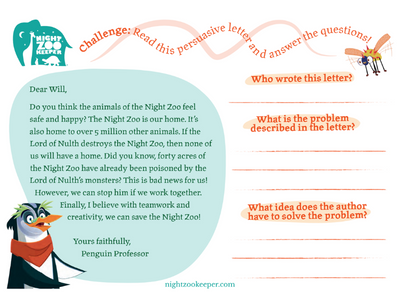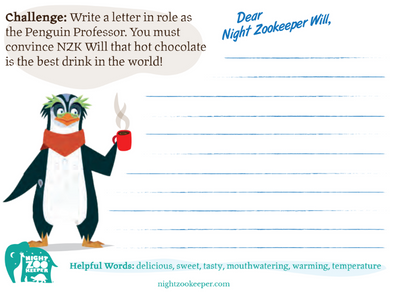 Get this resource as a PDF
Download