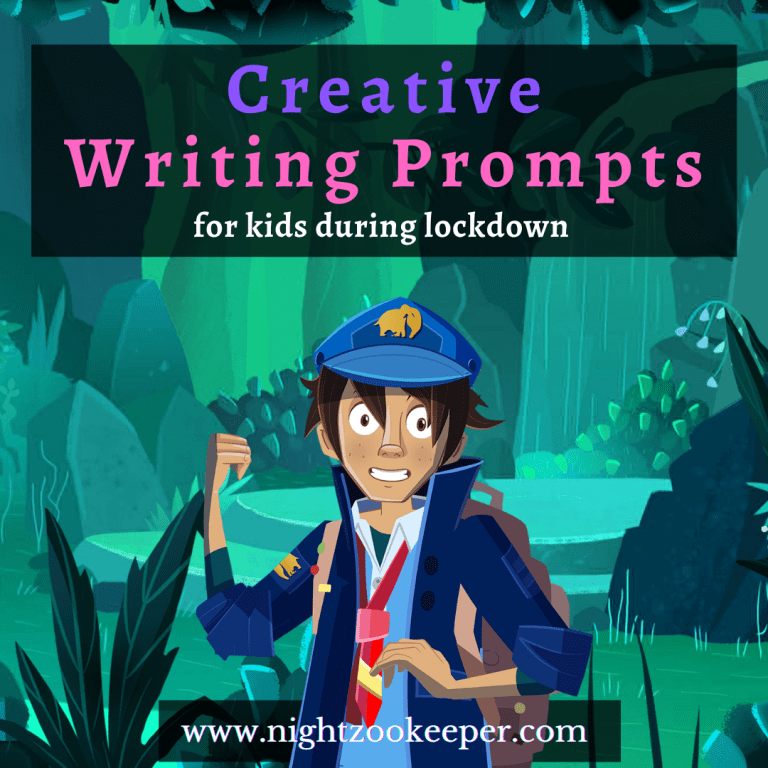 With an increase in the rise of coronavirus cases and many countries going into lockdowns many of your children might be facing remote learning for the foreseeable future.
Are you someone who is now newly homeschooling or remote learning due to new lockdown restrictions? Never fear! Night Zookeeper can help! 💕
We know that change can be abrupt and alarming, however there are some great things that can come out of spending more time at home, particularly if your child tunes into their creative side. Turning to creative writing, drawing and reading can provide numerous benefits for your child.
In fact, our most recent article highlights how creative writing can actually provide vital support for children's wellbeing in lockdown. 🏡
While we provide countless writing prompts on the Night Zookeeper program, we wanted to prepare some extra special writing prompts during this current lockdown period for you to explore with your children.
These prompts encourage reflection, positivity, introspection and empathy, helping your child to express themselves and unpack their feelings.
With these fun writing prompts for young writers, your children will make great use of their imaginations and creative drive. Whatever your child decides to write about, we hope they will keep their writing fun and a little bit magical!
1. Write a New Year's Resolution. A New Year's Resolution is a promise to do something differently in the new year. Perhaps your resolution is to read for 30 minutes before bed instead of watching TV. Or maybe, you'd like to help clean your bedroom once a week. Explain why your New Year's Resolution is important to you.
2. We know that there is a lot going on in the world, currently. Some of it might be confusing or scary. It is a time to stay inside and, in a way, a time for reflection. Write a diary entry about what you're grateful for and why!
3. What has lockdown taught you?
4. Have you taken up any new hobbies while in lockdown? What's your favorite thing about this new hobby?
5. Write a poem about washing your hands! Try to use the words, bubble, splash and dry in your poem.
6. Have you been reading more while staying home? What's one of your favorite new books? Write a short book report about it.
7. Write a letter to a family member or friend! During lockdown, seeing friends and family might be more restricted. There's nothing like receiving a fresh hand written letter in the mail! This will not only let someone know that you're thinking about them, but also give them a memento to keep!
8. What's your favorite thing to do indoors? What are you looking to do more of once you can go to more places again?
9. Create a short rhyming poem about staying positive and spreading love and hope.
10. Write a letter to a Key Worker, thanking them for all the wonderful things that they have done for other people. Key Workers are Doctors, Nurses, Police Officers, Farmers, Teachers, Janitors and many other people that provide essential services for others.
11. Once travel is allowed again, where would you like to travel to? Why?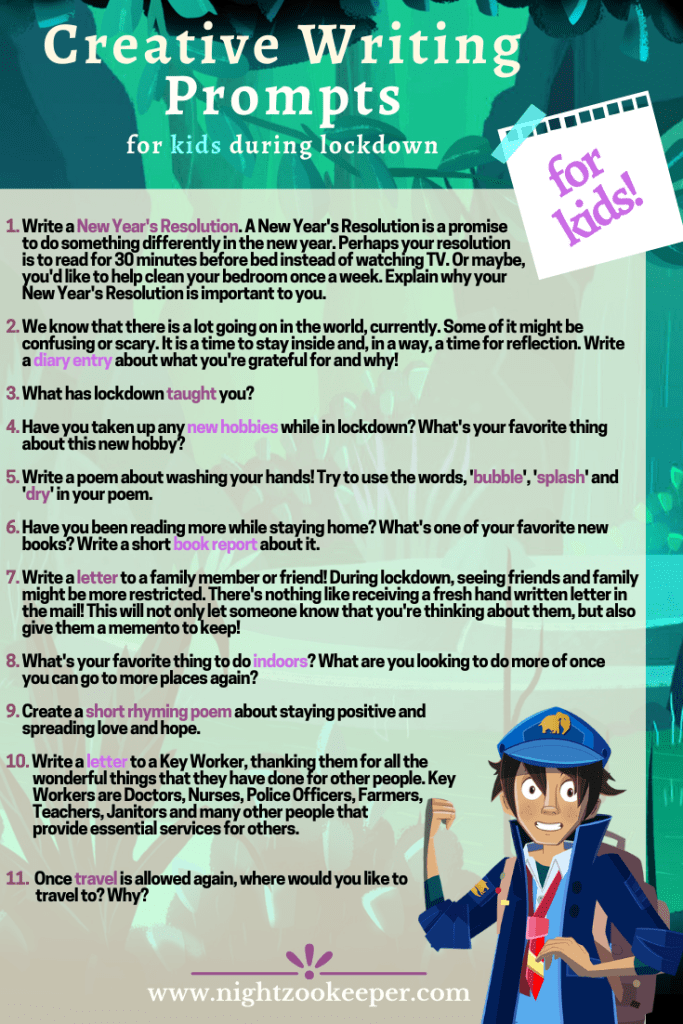 We encourage you to share any work produced from these prompts by your children! Share their work with us on Facebook, Twitter, Instagram and Pinterest using the #nightzookeeper.
There are thousands of writing prompts availabe on our program. Start a free trial of our reading and writing program today!
Follow us on social media: