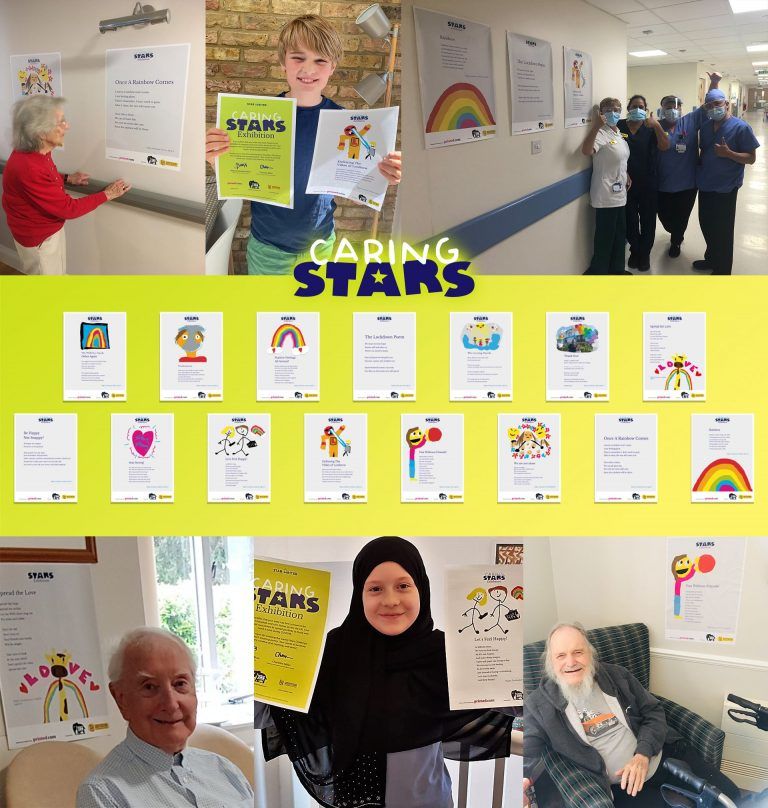 In light of the recent developments surrounding Coronavirus and potential school closures, we wanted to help support families struggling to provide educational activities for their children. For the children, we wanted to provide them with a creative outlet to express their feelings during a complicated time. We understood that having to stay at home and not see friends, family and loved ones could feel lonely for them. However, by staying home, it helped to make sure other people who need help can get it.
That's why in partnership with IMM's Care to Create and printed.com, we set out a very special Star Writing Challenge.
For this Star Writing Challenge, we asked our young writers to create a short rhyming poem about staying positive and spreading love and hope. We also wanted them to create a piece of artwork relating to positivity and spreading love and hope. The winners of this challenge had the chance to have their poems and drawings featured across different hospitals and care homes to help make Key Workers' and patients' lives happier.
There were hundred of incredibly thoughtful and beautiful entries. 15 winners were chosen and through printed.com were posted across different care homes and hospitals.
We wanted to highlight some very special submissions below. These are sure to put an enormous smile on your face!
Please give them all a read:
Positive Feeling All Around by Bluegecko19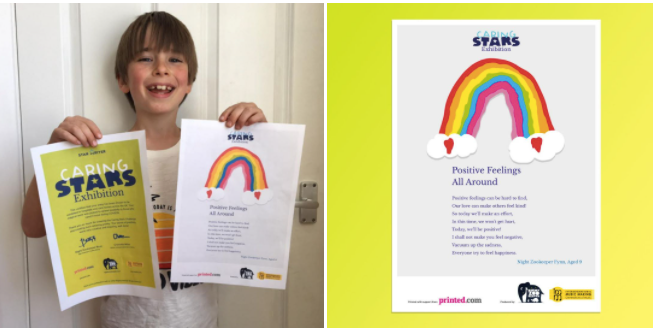 We Will See Each Other Again by Brownsquirrel92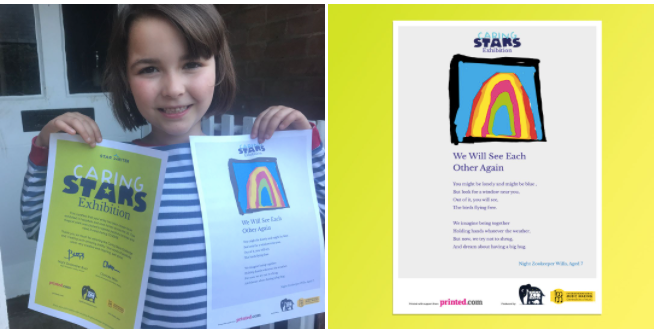 Thank You! by Shiningpanther60, Fun Without Friends! by Fuzzypika23, The Loving Hands by Silentbear05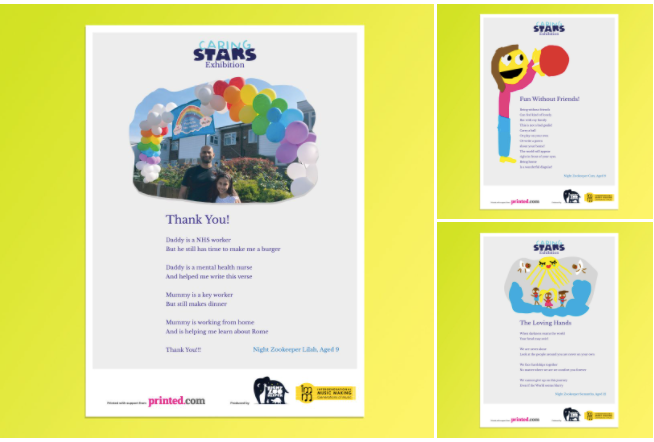 Let's Feel Happy by Icymoth90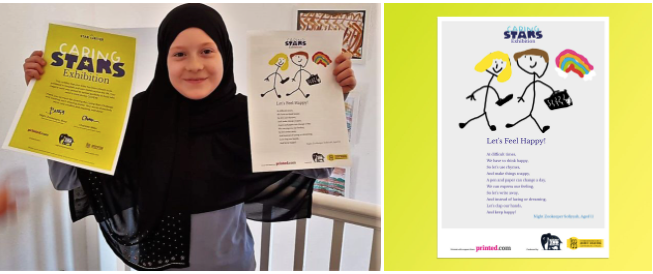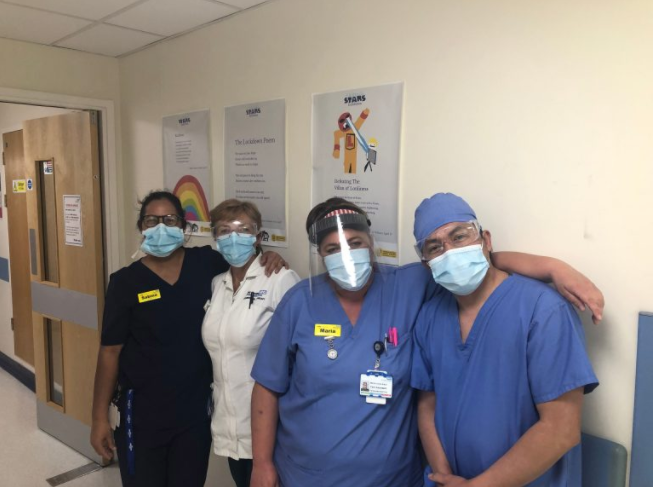 Nurses in front of the artwork at Farnham Community Hospital
"The posters have brightened up our ward and both the patients and staff love them. Thank you very much." - Sarah Fotheringham – Senior Sister at Farnham Community Hospital
Rainbow by Talldragon61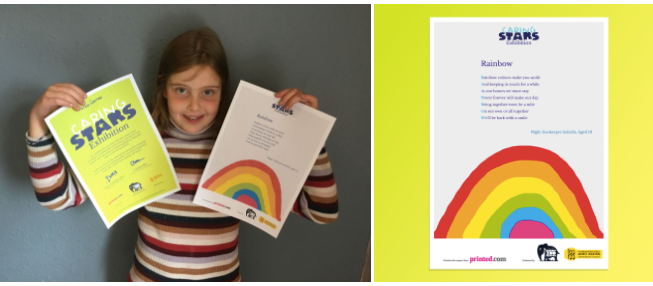 Underwear by Amazingsharkbird18, Defeating The Villain of Loneliness by Greenmoose62, The Lockdown Poem by Rarejellyfish31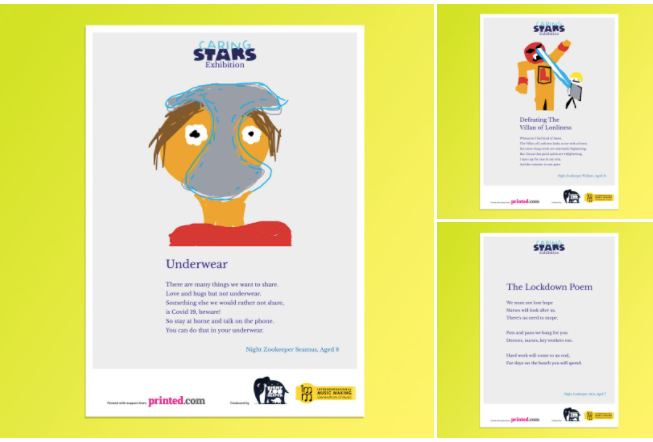 We are not alone, by Freshbuffalo30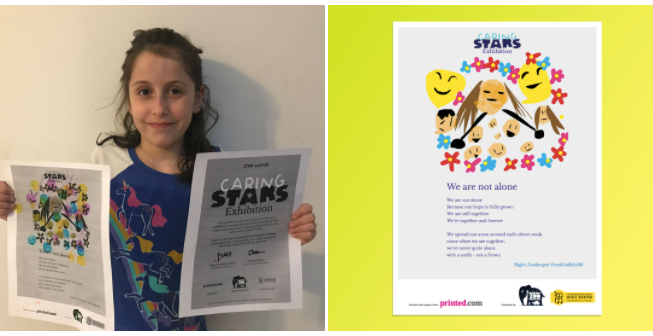 Be Happy, Not Snappy! by Messylionfish26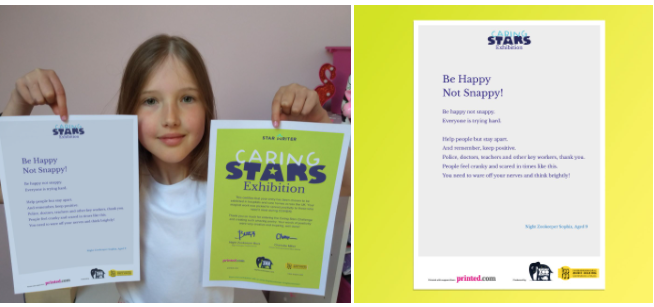 Spread the Love by Rainykiwi75, Once A Rainbow Comes by Neonelephant41, Stay Strong! by Lovelybobcat09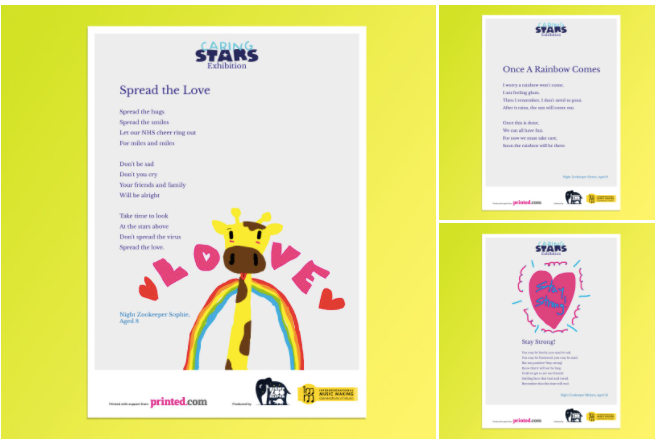 A big congratulations are in order for these fifteen participants, as well as ALL of the children who submitted. We absolutely loved reading them all. All entries have been shared across hospitals, and care facilities.
We'd like to extend a massive thank you to printed.com for working with us to print all of the beautiful pieces of poetry and artwork that were distributed to the care homes and hospitals. Without their generous printing contribution, this project wouldn't have been feasible. Read their interview with Night Zookeeper Buzz about the project here.
Finally, we'd also like to thank IMM, the charity behind Care to Create, for helping us share these wonderful pieces of artwork with care workers, health professionals and other key workers in their network.
About Intergenerational Music Making (IMM):

Intergenerational Music Making is one of the UK's pioneer of intergenerational music projects with over thirty years' experience of bringing local schools, colleges & universities together with their local care homes, community centres & geriatric wards to:
– reduce isolation/tackle loneliness.
– improve mental health for the older & younger generation.
– improve well-being for the older & younger generation.
– create a more COHESIVE community whilst tackling ageism.
– work creatively together to build positive relationships and core skills.
We wanted take another moment to congratulate and thank all the children who submitted letters for this challenge.
Please be on the lookout for more competitions and opportunities like this in the future.
If you'd like to get your child started with Night Zookeeper, sign up today for our reading and writing program for kids! In light of Covid-19 we're currently offering a free week's trial alongside 50% off our annual subscriptions.
Follow us on social media: