Reading is a challenging, yet important skill to develop early in your child's educational journey because it's something they'll use in their everyday life. We're here to support you and your child as they build their literacy skills at primary school level and further their understanding of the English language.
This guide will take you through the reading standards for each of the six primary year groups. It features simple advice and fun activities for you to use to help your child develop the skills they need at each stage.
Keep reading to learn more about primary reading, or click on your child's year group above to dive deeper!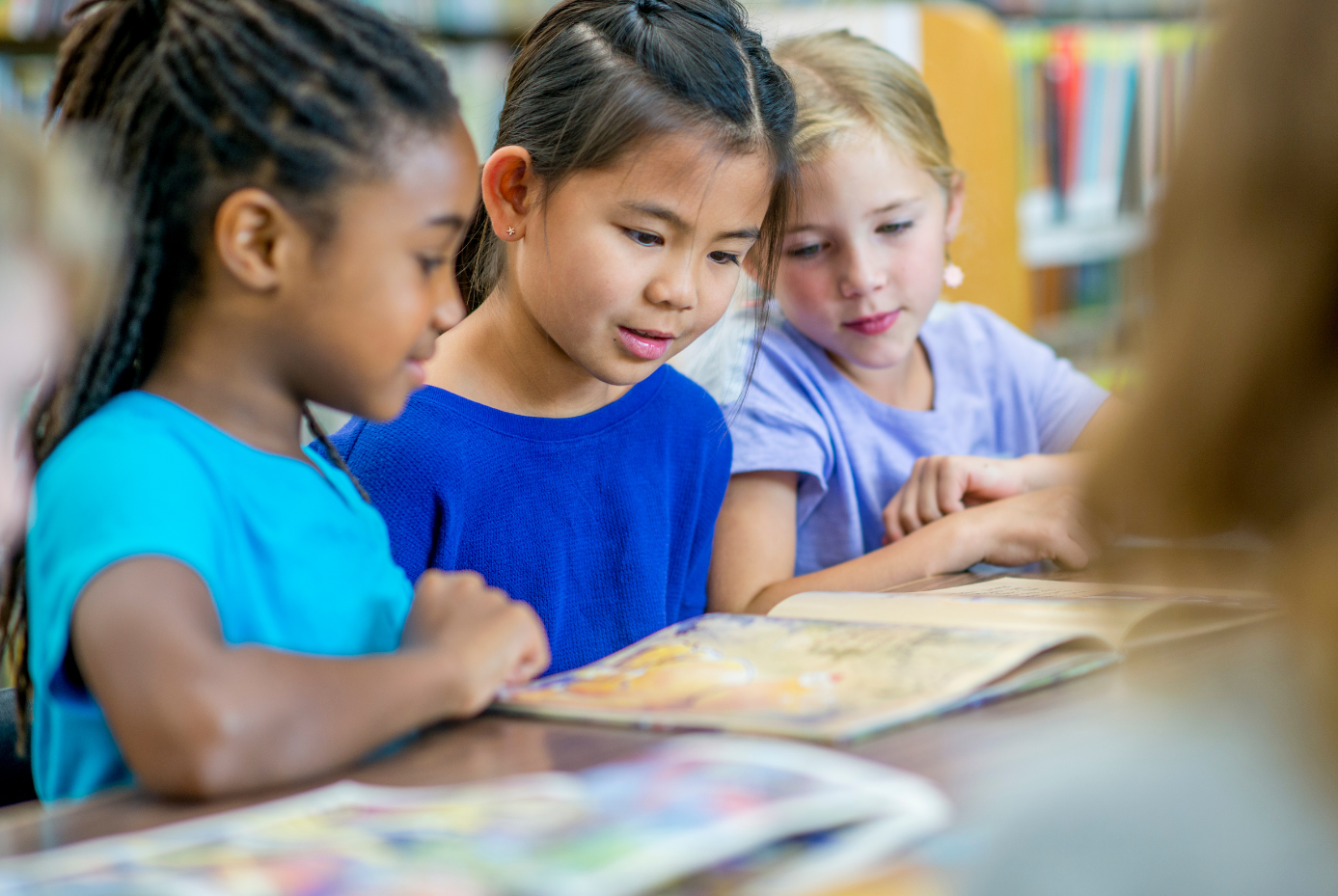 What is primary reading?
Reading at primary school level is all about developing the skills that your child needs to be able to read fluently. In primary school, children learn how to make sense of the alphabet in written and verbal forms by practising simple reading exercises, such as read-alouds. As they move on to Year 3 and Year 4, children learn more about decoding, and how to understand meaning behind what is written. In Year 5 and Year 6, learners must consolidate the knowledge gained in previous years and further strengthen their reading skills by consistently applying techniques they've learned.
What are the 5 basic reading skills?
In primary education, children must develop key background knowledge on basic reading skills. These are:
Reading comprehension - understanding the meaning of a written text
Listening comprehension/Phonemic awareness - being able to identify phonemes
Vocabulary - words that children recognise and understand
Phonics - matching sounds to letters or words
Fluency - general ability to read (which includes easily recognising sight words)
This guide runs through Year 1 to Year 6, identifying the key focuses of the reading curriculum and providing effective ways to develop the skills listed above. Reading strategies, practice tips, and step-by-step reading instructions are included to provide ways that you can help your child achieve their goals in each of the key areas for their reading level.
By what year should a child be reading?
Typically, children should be able to read short stories and other texts by the end of Year 1/beginning of Year 2. Nonetheless, every child is unique and learns at their own pace, so it's completely normal if your child takes slightly longer to develop their reading skills. Keep in mind that literacy skills are crucial for your child's later academic success and professional development, so be sure not to rush the reading process - gaining the necessary skills is the most important thing!
How do you teach primary reading?
There are many ways to successfully teach reading at primary school level, but it can be a challenging task to achieve on your own!
Our reading program for kids includes thousands of research-based reading development activities to level up your child's skills in a fantastically fun way! It uses gamification to ensure children remain engaged, focused, and entertained as they develop key reading and writing skills.
Our award-winning content has been created by experienced educators, who have focused on the art and science of teaching primary reading to help children develop their literacy skills, from word games about listening comprehension, to interactive lessons about reading & language comprehension, to challenges on text structure.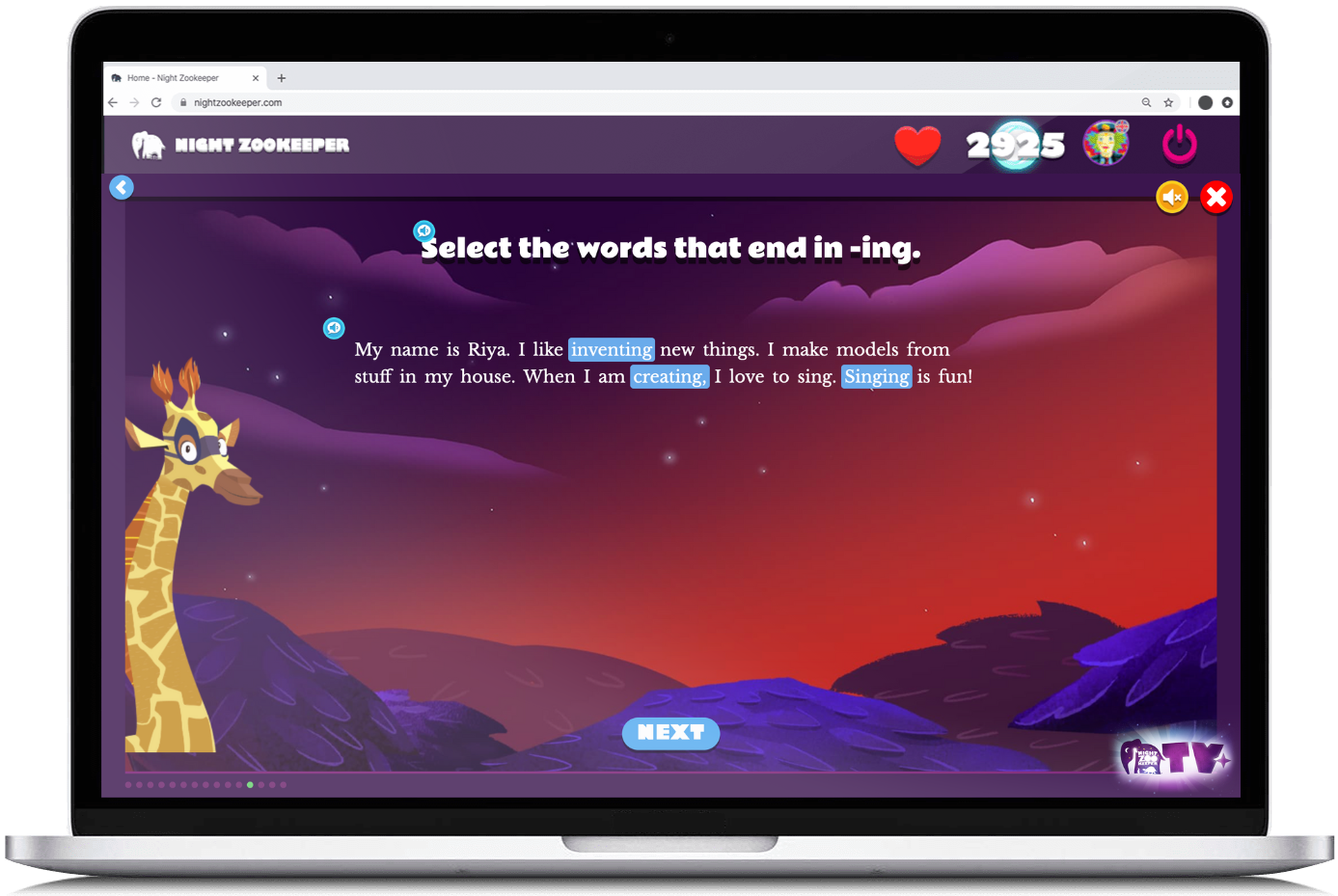 Night Zookeeper is a fully adjustable education program, which means that you can adapt the content your child has access to based on year group, age, or current learning ability! You can also decide the type of content your child has access to, to ensure that they get exactly what they need out of the program. For example, you can search for specific assignments that target reading if you'd like your child to focus on that! For more information on the program's key features, please visit our user guide.
These features also help to make our program very inclusive and accessible for as many learners as possible. Night Zookeeper has been proven to work well for SEN schooling, including many success stories from children with dyslexia, dysgraphia, ADHD, amongst many other special educational needs (SEN).
About the guide
This reading guide is here to help you throughout each school year, as your child progresses through different topics and the content becomes more challenging. Our aim is to provide a strong outline of how to equip your child with a firm grasp of the reading foundations covered across primary school.
Related Content
Grammar for Years 1 to 6
Spelling for Years 1 to 6
Punctuation for Years 1 to 6