Throughout March, we asked students to write about their favourite subject, topic, or interest that they were incredibly passionate about.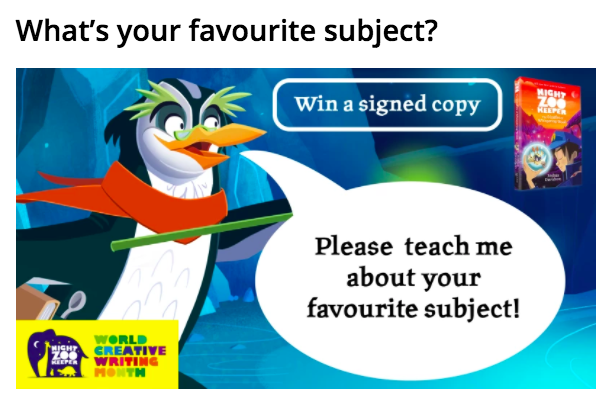 The challenge that students were presented with throughout March
They produced some amazing entries and I had the difficult job of selecting just one winner to receive a signed copy of 'The Giraffes of Whispering Wood'.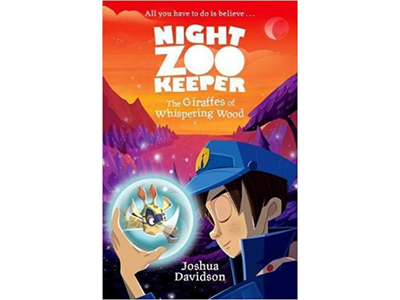 I am delighted to say that the winning entry was all about a love of reading. Something that we are all very passionate about ourselves here at Night Zookeeper HQ! Congratulations to Night Zookeeper Tiac, a year 6 student from Tauranga Intermediate School, New Zealand. You can read her entry below and follow her portfolio of writing on her profile here.
Reading is fun by Tiac (Tauranga Intermediate School, New Zealand)
Dear Penguin Professor, I am going to teach you about what type of book you should read.
Reading is fun if you find the right books but, you don't want to read a really easy book or a really hard book. You need to challenge yourself and find a book you will actually enjoy, or there is no point in reading it! You should look for different genres and authors and see what type of books you like.
I used to hate reading until I found the book called diary of a wimpy kid by Jeff Kinney. He made me like reading so much that in my spare time I read his books I even read them at break times and when I was walking home. I wished I found the right book before I was 8 because after reading my reading levels went up so fast that my mum wished my brother read books like me.
You can read the full post here, and leave Tiac a comment.
You can also take part in our current Star Writing challenge here.
Our writing program for kids continues to have fun Star Writing challenges to encourage young writers to keep writing amazing stories.
Follow us on social media: