Flowers are blooming, the temperature is rising, it can mean only one thing: spring is finally here! To celebrate the season, we've put together a collection of creative writing prompts to help you shake off the cold winds of winter and kick-start your young writer's imagination. Spring is a time of renewal, growing, and change: the perfect time to start sewing the seeds of a new story, play, or article!
Some of the writing prompts listed below encourage children to engage their imaginations and create adventure stories, poems, persuasive essays, explanations, plays and newspaper articles. Feel free to change the type of writing that's attached to each prompt if you'd like your child to explore a different category — especially if inspiration strikes and they're in the mood to forge their own path!
With these super springtime writing prompts, your young writers can continue growing their imaginations while they develop magical projects and new creative work. We hope these ideas blossom into strong pieces of writing, and we hope you and your children have a wonderful spring.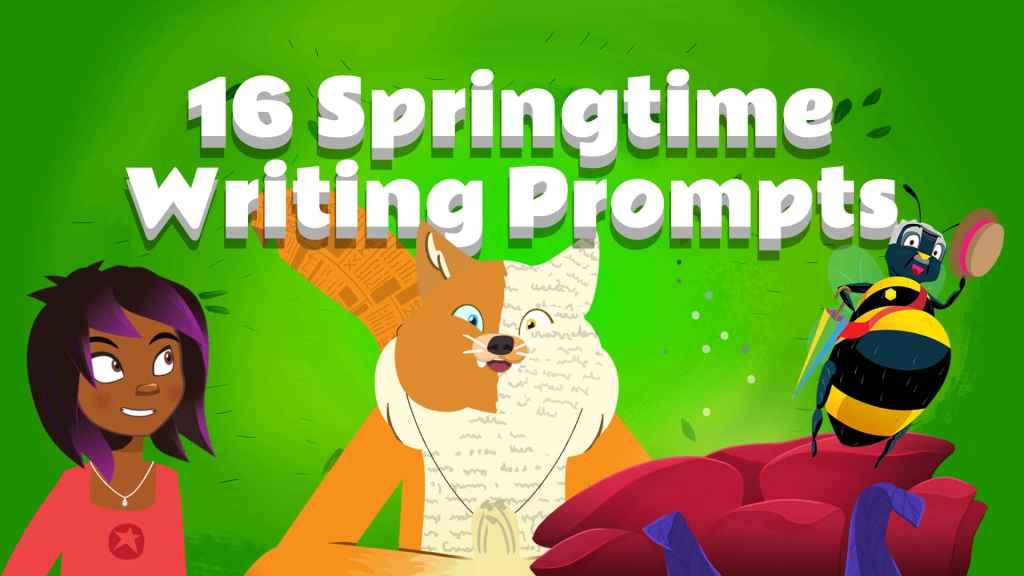 When you think of springtime, what images come to mind? Can you describe the scenery? What happens to nature?

What are the sounds of springtime? Is it the tweeting of birds, or of falling rain? Write a descriptive poem about the sounds of spring.

Write a report about a magical animal that would love springtime!

Many flowers bloom in the springtime. Write a short story about one that comes to life and begins to sing.

Can you write a play about a honey bee that is allergic to flowers?

A bunny has hidden a basket of eggs around the Night Zoo. Write an explanation explaining how to go on an egg hunt: what you need to bring with you, where you should look, and how to find the most eggs in the shortest amount of time.

Some people try to find four-leafed clovers in springtime to bring them good luck. Design your own good luck charm, and then write a report about what makes it special.

Have you ever splashed in a puddle before? Write a poem describing this.

Many hibernating animals awaken in the springtime. Can you write an adventure story about an animal that emerges from its sleep to find the world outside has completely changed?

Each spring we celebrate Earth Day. Write a persuasive essay about why it's important to be kind to our planet.

If you could grow a flower that smells like anything in the whole world, what would you make it smell like and why?

They say that April showers bring May flowers! How does your magical animal keep warm and dry when it starts to rain? Or do they love being caught in a downpour? Write a report about what your animal does when it rains.

Both Mother's Day and Father's Day are celebrated in the spring. Can you write a letter to your parents about why you're thankful for all they do for you?

A baby duckling has gotten separated from its mother and has joined a family of magical creatures. Write a song about what happens next!

Write a play that is set in a gigantic garden, where the plants are so big they make you feel like an ant!

Can you write a newspaper article about the best place to hear baby birds singing in the Night Zoo?
Please do to share any creative writing produced from these prompts! We take pleasure in reading your children's work and celebrating their imagination and love for writing. If you enjoyed these super springtime writing prompt ideas for kids, please share them on Facebook, Twitter, and/or Pinterest. Furthermore, if you're seeking more writing inspiration for your child, check out our reading and writing program for kids today!
Follow us on social media:
- Facebook
- Tik Tok
- LinkedIn
- Twitter
- YouTube