With the launch of nightzookeeper.com 2.0, we added our newest feature, short writing challenges, which are perfect for independent learning.
These new writing challenges are all focused on helping to improve the spelling, grammar, and vocabulary of students. They are all automatically assessed by our smart algorithm, so you don't have to moderate any of the writing that students produce. You can simply check in on their performance on your dashboard results table.
As students grow their Night Zoo they will start to receive these challenges directly from their animals.
Goal: Use the word "habitat' in your description.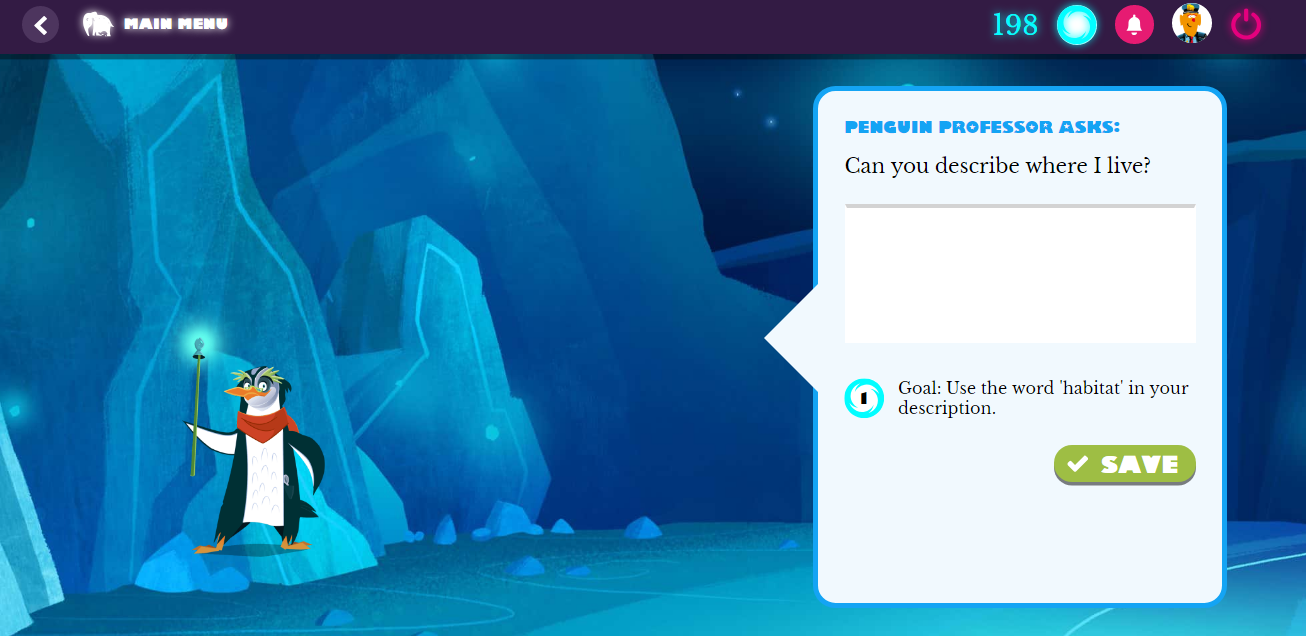 We have differentiated the difficulty level of these challenges, ensuring that your students are receiving age-appropriate content. The universal categories are as follows:
Easy = Age 6-8
Medium = Age 8 -10
Hard = Age 10-12
You can also adjust the difficulty level on a student-by-student basis. This is all accessible for you on your class settings page.
All the challenges are designed to get your students' imaginations flowing but also require them to include certain goals:
Use a capital letter to open the sentence
Use end punctuation, such as: . ! ? …
Include at least five words with correct spacing.
Include the specific writing goal.
If students aren't able to complete all the goals, they'll receive encouragement to go back and edit their work in order to complete the challenge.
Needs more work: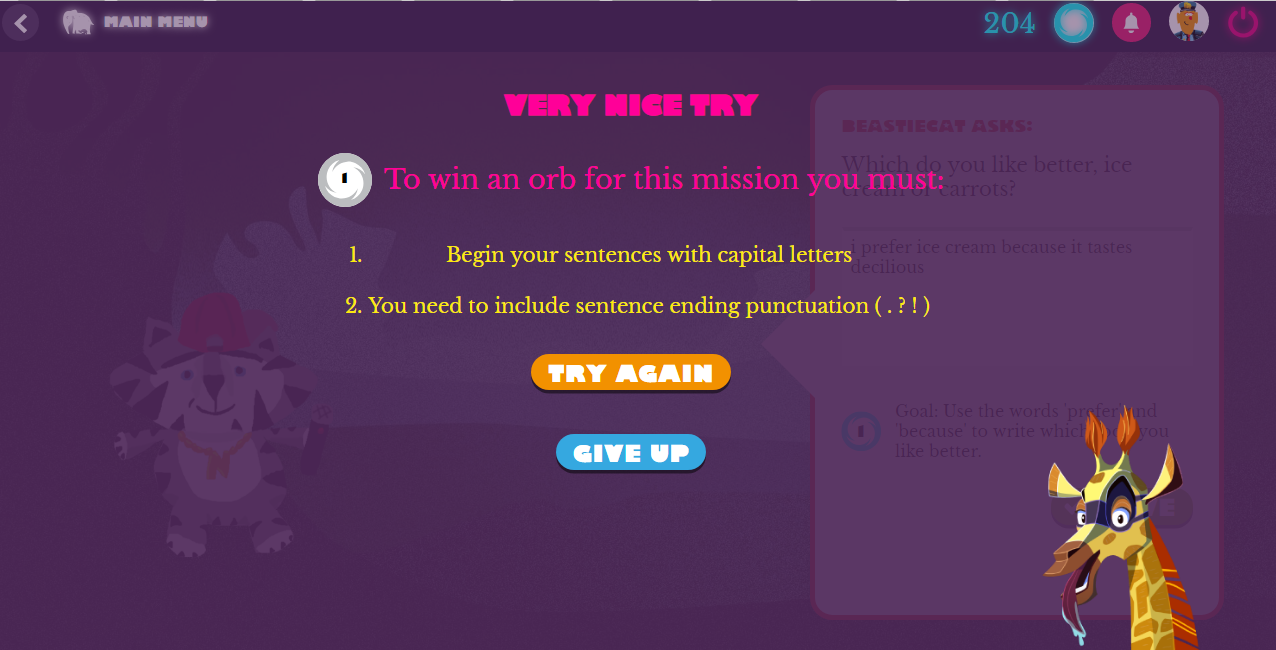 Once students are able to complete all the goals of the challenge and write a full sentence with correct sentence-ending punctuation, they'll get orbs as their reward!
Challenge successful!: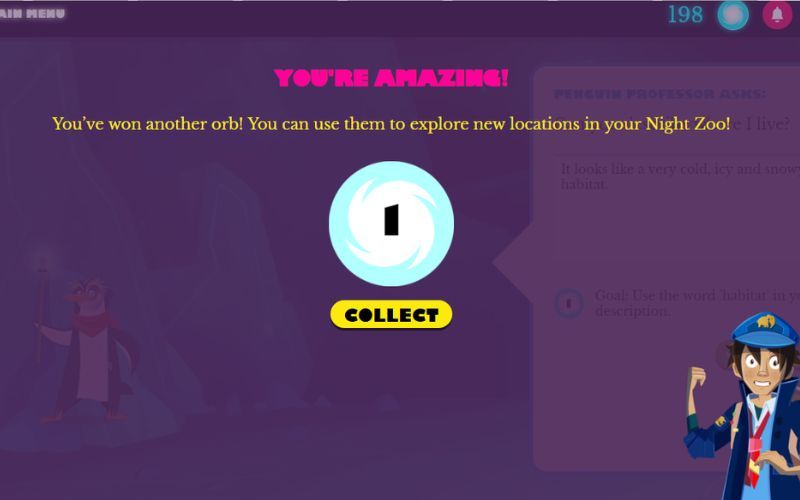 Some of the challenges will also require students to check word order, correct punctuation, and capital letters. All are designed to help students practice their writing skills so they become ready to take on longer writing challenges on nightzookeeper.com, as well as complete the lessons you'll be sending them from the Lesson Hive.
Goal: Correct the mistakes in this sentence: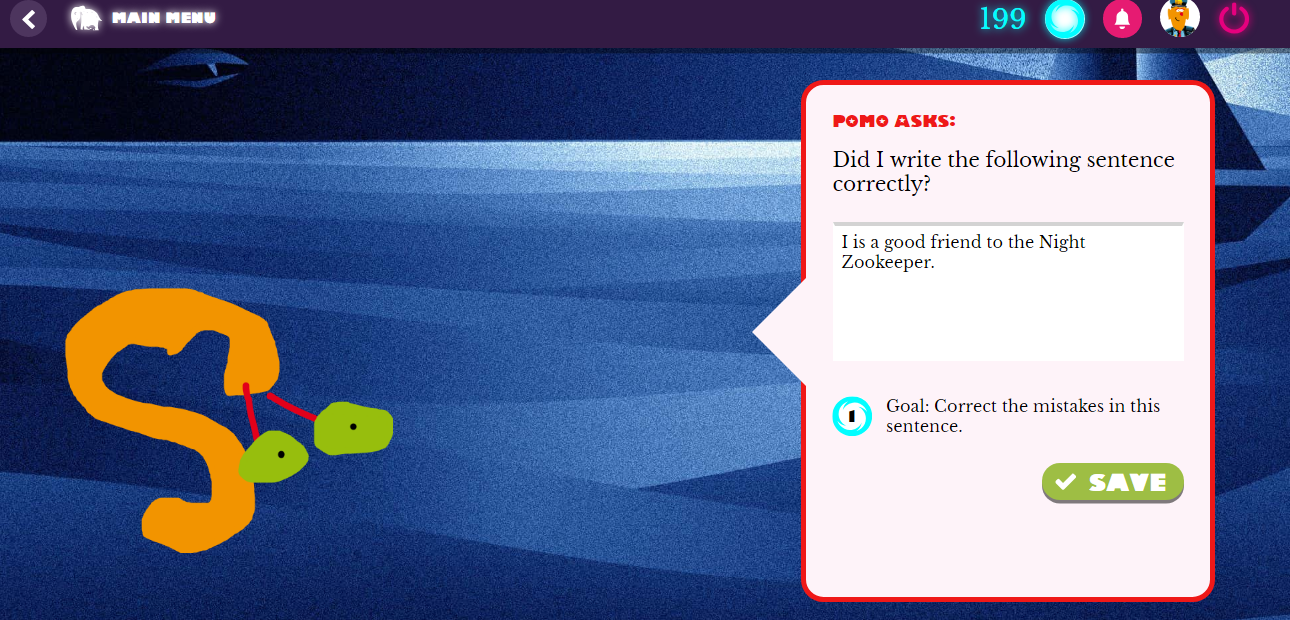 The short writing challenges will be perfect for when there isn't as much time in class to complete some of the longer challenges on nightzookeeper.com. Students can work through them independently, with each challenge taking no more than two to three minutes to complete. They'll be able to really practice basic writing skills, whilst expanding their vocabulary and will be motivated to keep working through the hundreds of challenges to get all the orbs they can collect!
We hope your students enjoy these new challenges and as always, please let us know if you have any comments or feedback below. Try Night Zookeeper's reading and writing program today!
Read On:
Can gamification improve writing skills?
- Facebook
- Tik Tok
- LinkedIn
- Twitter
- YouTube