As you may have seen, we recently launched a new look for the Animal Dens (where each animal lives) in Night Zookeeper. This aims to make it simpler for your child to use and to give them more choice in the activities they do. However, we know that with any change, it can take a little getting used to so we've put this guide together to help anyone who is wondering how to use it. Don't worry, all the same features are still there!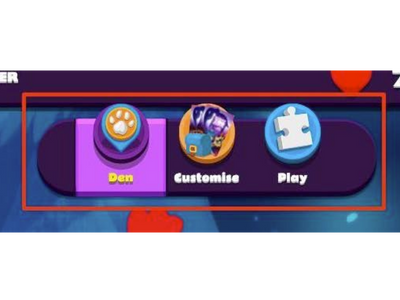 Each den now has a floating menu at the top – similar to the one on the map. Here's what each menu item is for:
Den: This is the den itself where the animal lives. Your child will be in this section by default.
Customise: This is where they can change things related to their animal – their skills card, the items that appear on their animal or even swap to a different animal.
Play: Here they will find a choice of activities they can do (one from each type of activity we have): games, challenges, writing, drawings, and lessons. Just click on the one they want to do, or go to the full activities menu to find something else.
Den
Your child will be in the den by default when they click on an animal on the map. In here they can see their animal, its level and any treasure chests they have won.
They will get a treasure chest each time an animal levels up. Tap the chest to find out what's inside. This might be an item (that you can add to your animal) or sometimes orbs. Tap 'Collect' to collect the item or 'View in items' to see that item inside the Items menu and so quickly add it to their animal.
Customise
Come here to change and personalise your animal. Here there are 3 sections down the left-hand side:
Skills: where they can add/remove points on their animals' card which helps them in card battles. They win a point each time their animal levels up.
Items: where they can add/remove/buy items to show on their animal (don't miss the link to the "Shop" within this menu at the top this is where you can buy items with orbs).
Swap: where they can create/collect a different animal to show in this den (any one den can have 2 animals but only shows one at a time – swap between the 2 in the swap menu).
Skills:
These are the card skills for this animal. Each time the animal levels up your child will get a new point to add to the card. These cards are important in card battles. At the top of this screen, it says (in yellow) whether they have any points to add. If they do, then just use the + next to each skill below to add the point(s) to that skill. At any time they can also move points from one skill to another by using the – to take them off and + to add it back on somewhere else.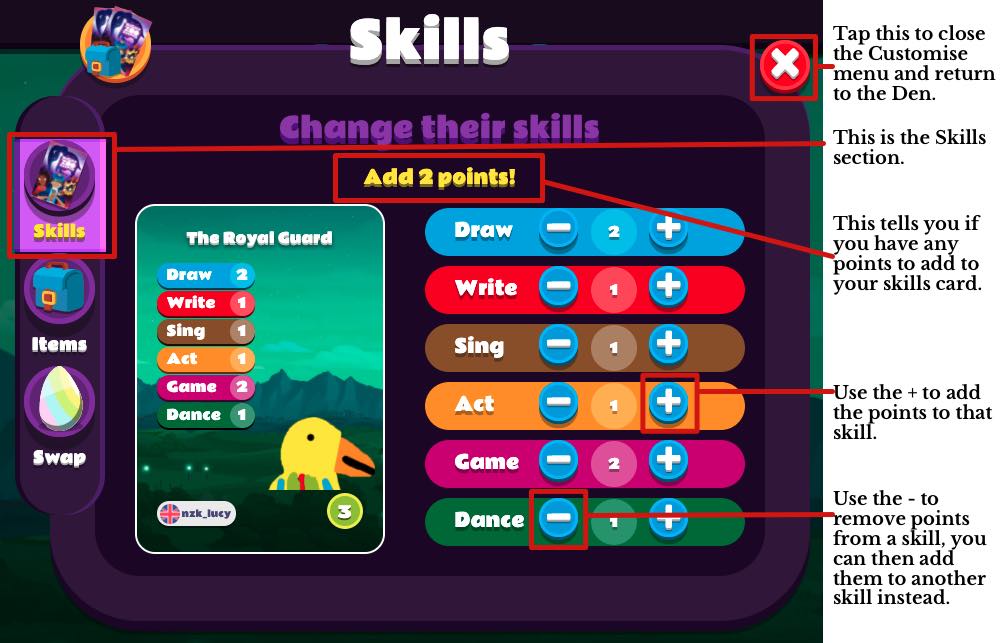 Items:
On the first screen in this section, they can see all the items they currently own. They unlock new items in treasure chests won via the spinner or each time they level up the animal.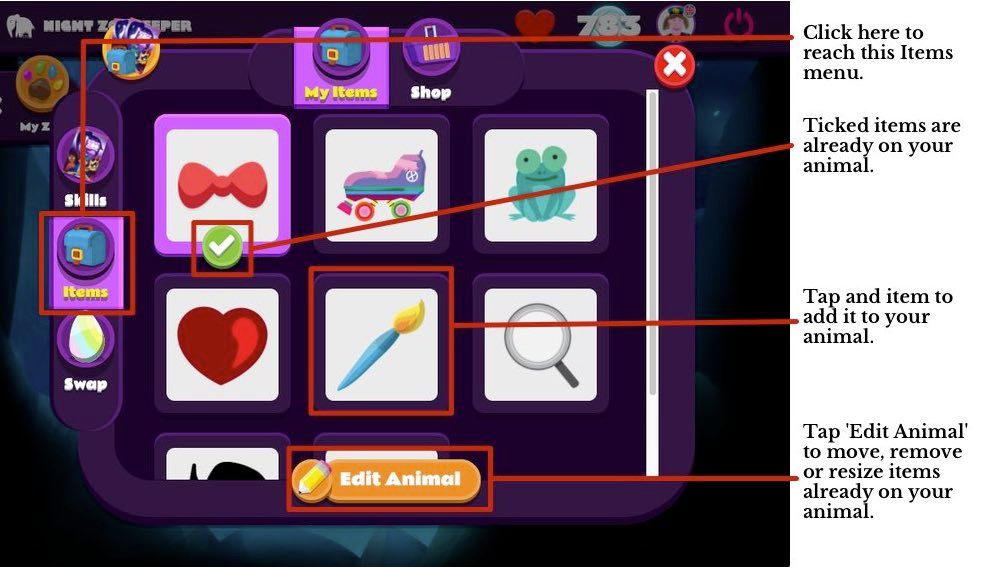 They can also use their orbs to buy items from the shop. At the top of the items screen there is a link to the shop – click this to enter the shop and tap items, then confirm to use orbs to buy them. Once bought these items will appear in the items menu.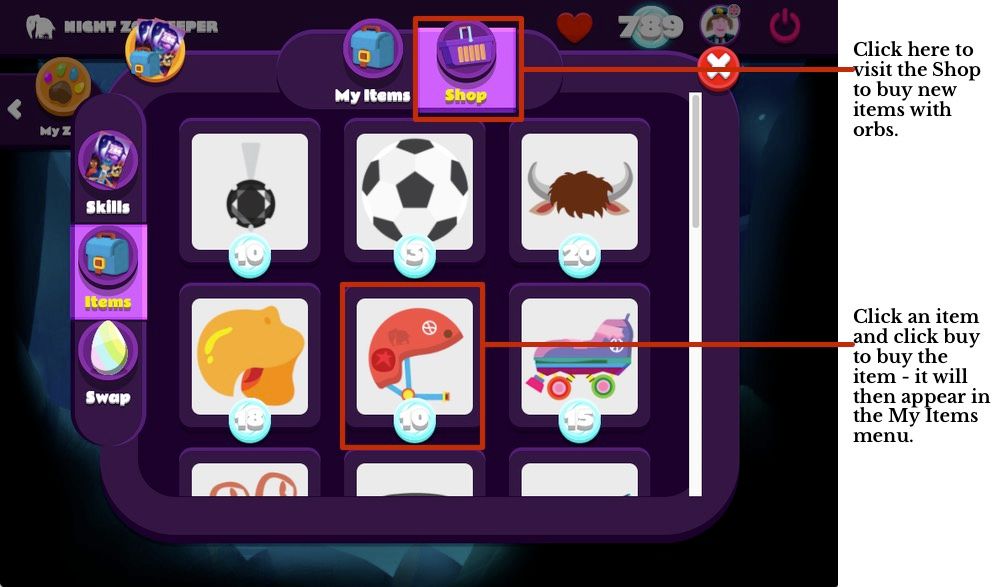 In the items section, click on an item to add it to the animal, your child will be able to move it around and resize it if they wish.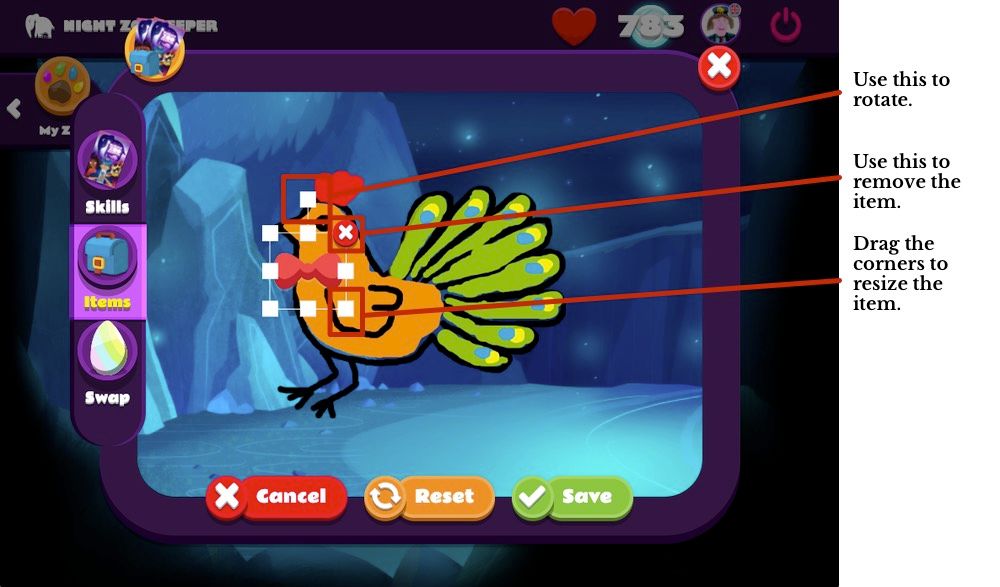 Or select 'Edit Animal' (on the main items screen) to see the items already on the animal and move, resize or delete these.
Swap:
Each den can be shared by two different animals but you can only see one at a time. Choose swap and follow the instructions to create/collect a second animal or to swap between two if your child already has both.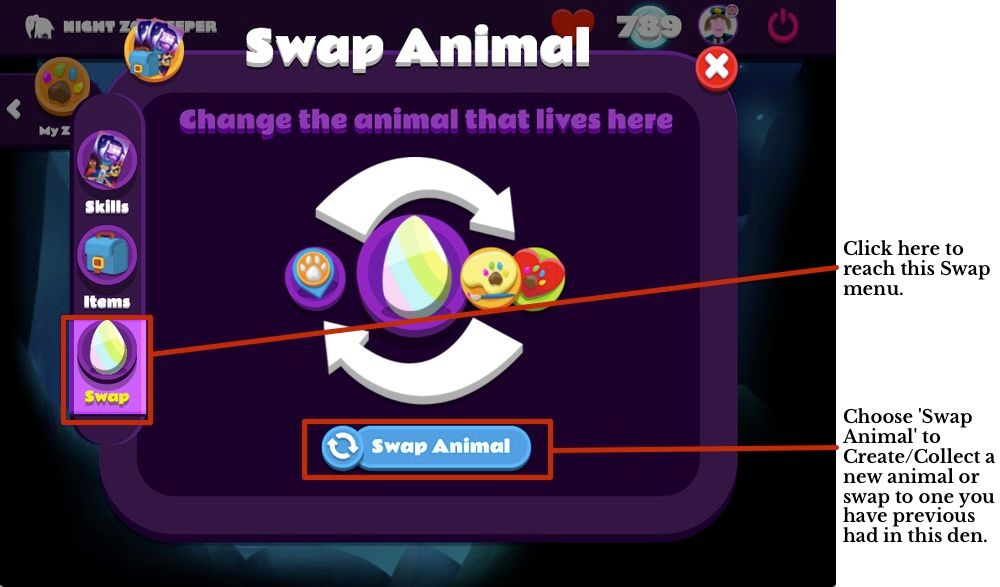 Play
If your child clicks on the "Play" icon, they will be given a choice of one of each type of activity we offer: a curriculum challenge, game, writing challenge, drawing challenge, or lesson. There is also a link to the full activities menu. They can use the arrow to see each option and click on the one they want to do.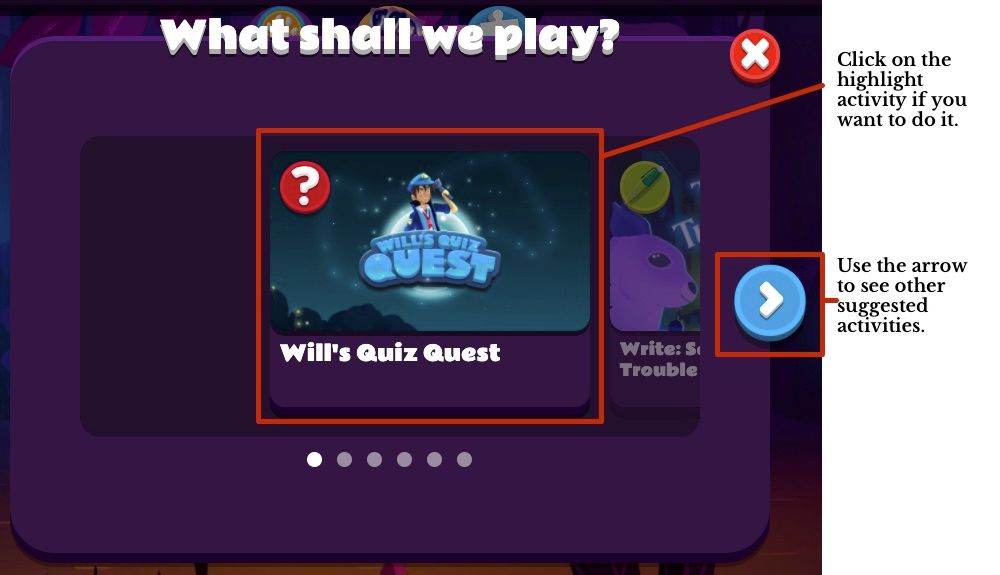 Remember, completing activities helps your child fill up their torch and to level up to get treasure chests and points to help them in card battles!
Use the X in the top right on either the "Play" or "Customise" menus to exit at any time and return to the den.
Please note, the platform automatically defaults to "Den" when a child first clicks into their animal on the Night Zoo Map.
Like what you've read but still aren't a Night Zookeeper subscriber? Check out our reading and writing program today!
Follow us on social media:
- Facebook
- Tik Tok
- LinkedIn
- Twitter
- YouTube