We've been working incredibly hard this summer to develop a new feature that will save teachers hours of marking and grading time this year.
Our new automatic feedback tool analyses all writing produced by students and then picks out a few suggested improvements for them to make. Teachers can review the comment, add or edit anything they wish, before sending it directly to the student. You can see it in action by playing the short screen recording below:
Night Zookeeper's Automatic Commenting Tool
Fast, effective, and personalised feedback can have a huge impact on students as they are encouraged to review and redraft their work on a regular basis. We hope that this feature, in particular, will have a real impact in classrooms around the world this year!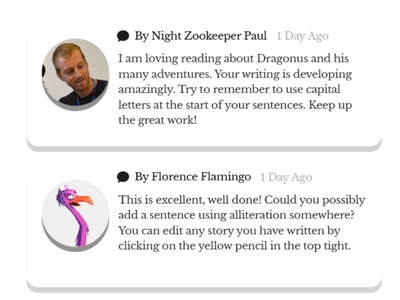 If you'd like a free trial of Night Zookeeper to try out this feature, then you can sign up for a teacher account of our reading and writing program today!
Follow us on social media:
- Facebook
- Tik Tok
- LinkedIn
- Twitter
- YouTube