Children are complex beings with a range of different kinds of emotions. Ideally, one would hope all of these emotions would be positive, however in reality kids have a lot on their plate! According to the CDC, 7.1% of children aged 3-17 years (approximately 4.4 million) have been diagnosed with anxiety.
If your child suffers with anxiety, there are plenty of coping strategies that you can turn to to help them, including encouraging them to take some time to breathe and offering them some reassurance that it will pass. Young Minds, a registered British charity specializing in children's mental health, have curated a wonderful list of different coping strategies to help your child who is experiencing anxiety. This includes ​​encouraging your child to partake in activities that help them feel calmer (such as writing)!
During the height of the pandemic, The Literacy Trust found that children were turning more and more towards creative writing. In fact, the study found that creative writing provided vital support for a child's wellbeing. The study states that 'children who agreed that writing makes them feel better were five times more likely to write poems (66.5% vs 13.4%) and four times more likely to write in a diary or journal (61.9% vs 14.8%) or write a short story or fiction (61.1% vs 15.1%) than their peers who didn't agree.'
Creative writing offers a bounty of support for children's wellbeing, be it through an increase in mindfulness and self-expression, limiting their passive screen time or simply spending time focused on creativity. We explore these reasons and more on why creative writing can be helpful for a child's mental wellbeing in this article.
Regardless of the reasons causing stress and anxiety in our children, creative writing can provide a safe, comforting release that helps them.
Here at Night Zookeeper, we've always believed in the positive impact creative writing can have on a child's wellbeing. As an online learning program that champions creative writing, our topmost priority is to promote acceptance for every child, particularly those with more unique needs.
In the ten years since we started, we have helped over a million children learn to become better writers. Within this time, it had become apparent that some parents were not only turning to us to help improve their child's writing skills, but also to help calm their children's anxiety and make them feel safe, happy and accepted. Part of this boost in their wellbeing absolutely lies in their ability to write creatively and express themselves in a safe and positive way through the program.
We took a moment to talk with one of our subscribed parents who reached out and let us know his daughter suffers from anxiety. She turns to Night Zookeeper to write, be with her NZK animals and calm down.
How did anxiety previously affect your child's learning?
"When my daughter is anxious she is on edge and everything is so much more difficult to focus. She forgets things, gets frustrated and can feel upset with herself because she knows she should be able to do work but just can't."
How did Night Zookeeper help with your child's anxiety?
"My daughter puts herself in the world of the animals. Rescuing Sam the Spying Giraffe or other Night Zookeeper animals becomes her focus for the time.
Night Zookeeper has calmed her down more than any other app. She never gets upset if she doesn't get something right and she loves improving on her work. The tutoring feedback, especially when provided fast, supports her learning and makes her think."
Do you have any tips for other parents using the Night Zookeeper program with children who have anxiety?
"For us, the problem was buying so many animals with orbs (points). She then wasn't able to level up as many animals she would like and got frustrated feeling that they were at a lower level.
However, when in a bad head space my daughter has enjoyed reading other students' work and in a way this has helped her develop her own ideas."
Are there any features of the program that are particularly helpful?
"She loves following other kids' work. She also loves different games; if she's not in the mood for writing then she can play a game. The punctuation and typing activities have really helped improve her writing."
_____________
We are so grateful to this parent for sharing his family's story, and we love hearing stories like theirs. Their unique experience adds to the vibrancy of our community, and motivates us to continue to provide useful resources to children across the world.
If your child has diagnosed anxiety, or is simply feeling anxious or stressed, we do encourage you to have them explore a creative outlet. Be it through creative writing, drawing, breathing exercises, or our online learning platform, these coping strategies can help them. Check out these additional resources:
Does your child use nightzookeeper.com and suffer from anxiety or stress? Please reach out and let us know how our writing program has helped, as well as if there are any areas we can enhance to support your child's needs.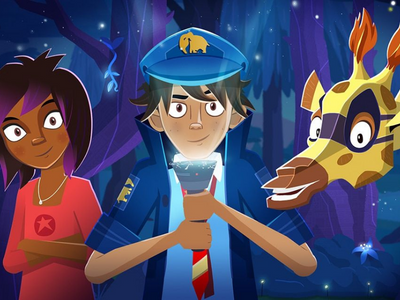 Follow us on social media: