Welcome to the wonderful world of Night Zookeeper. This blog post has been written to help you get to grips with nightzookeeper.com and give you support throughout your 14-day trial.
The perfect 14-day trial!
Day 1: Download and print your student invitations (15 mins)
These are emailed to your inbox upon registering. You can also download them from your class account page within your settings. They provide very clear instructions to help students get registered on the website, which they can either do in class with you or at home with their parents.
Day 2: Play this video to students and get them started! (45 mins)
We've created this fun video that explains the student side of the website very clearly. It will also introduce your students to our amazing characters and get them super excited to get writing!
Plan a session of around 45 minutes to allow your students to work through the tutorial on nightzookeeper.com. In this session, they will create their first magical animal for their Night Zoo and will be challenged to write a report all about it.
Day 3: Provide feedback on some of their work (15 mins)
Log in to your teacher account to publish some of your students' work. You will notice that we provide a suggested comment on each piece of writing. Therefore, it is really easy to provide lots of useful feedback on student writing when using Night Zookeeper. Students will receive these within their inbox on their account and redraft their writing based on your comments.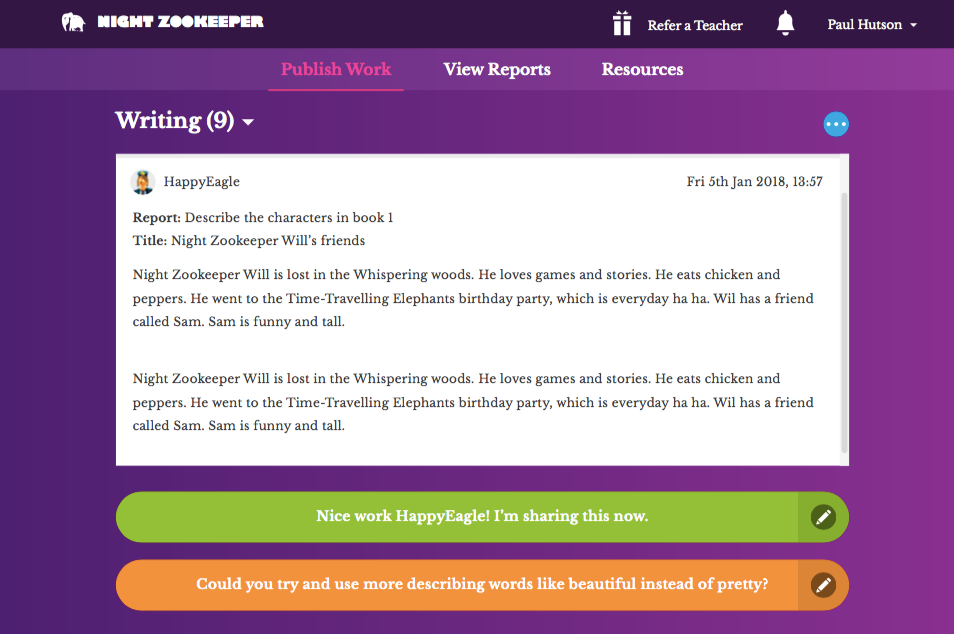 Day 4: Plan time for your students to respond to your feedback (30 mins)
Ask students to log in to their accounts and check their messages. Instruct them to redraft the article you have provided feedback on. Once they have improved their article, it will return to your account so that you can publish it on your class blog.
Day 5: Send your first interactive lessons (15 mins)
Take a few minutes to browse out Lesson Hive library to find a suitable lesson to send to your students. We recommend the following lessons on story writing: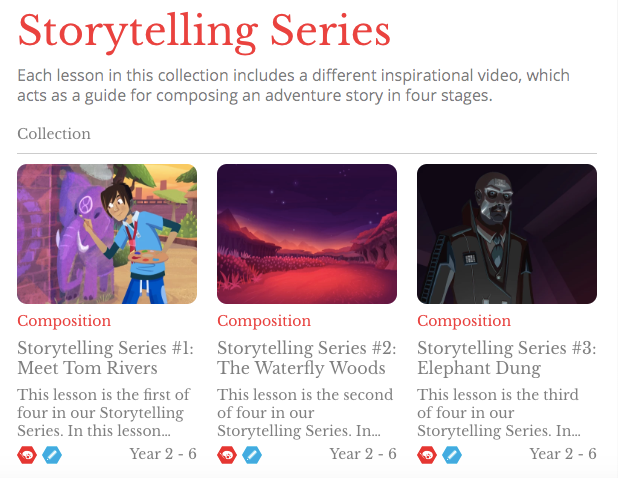 View and send the storytelling series of lessons
Day 6: Take a break!
Allow your students to experiment with the activities within our database. These are aged appropriately and children can work through them at their own speed. They will gradually become more difficult as they work their way through the levels of the game.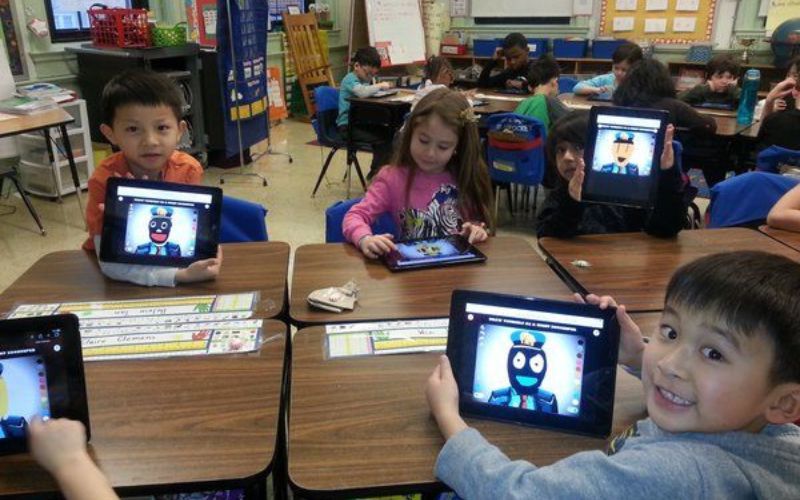 Day 7: Check in on your reports (15 mins)
Now that your students have been using Night Zookeeper for a week, you should have some interesting results to look through. We automatically track student performance on the website in the following three areas: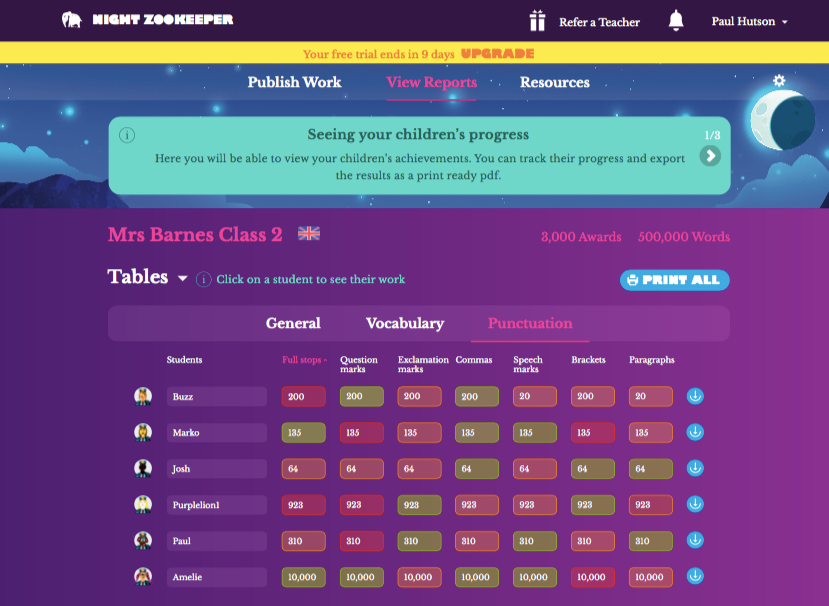 General Effort: This table will show you how many lessons, articles, and comments children have written. It will also show you how many awards they have won.
Vocabulary: This table will provide you with a vocabulary score for each student. We break this down into the following categories: Adjectives, Verbs, Adverbs, and Conjunctions.
Punctuation: On this table, you'll find stats on how the punctuation that students are experimenting with. For example, you'll be able to easily identify the students that need help using speech marks or commas.
Day 8: Plan time for students to work on your interactive lessons (45 mins)
Arrange some time in your schedule for students to play through the lessons you sent to them a few days ago. You may find that some students have already started some of these at home, but they can always work their way back through a lesson to redraft and improve any of the activities that they have previously completed.
Day 9: Take part in the latest Star Writing competition (30 mins)
We upload a new Star Writing competition every couple of weeks. This is a challenge that is available for students at all times from their main menu screen. They just need to look out for the tile displayed below.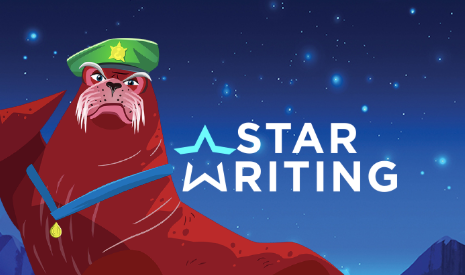 Day 10: Teach students how to send a great comment (30 mins)
Giving constructive peer feedback is a very important skill for all students to learn. It helps them to identify common mistakes their friends make in their writing and then apply what they have learnt to their own work.
Show your students this slideshow on peer assessment and great commenting. Have a discussion about what makes a helpful piece of feedback, and then ask them to post one great comment to someone on your class blog.
Day 11: Visit the Night Times (30 mins)
Ask students to visit the Night Times and leave comments for other students around the world to receive. You could get them to read the style of writing you're currently focussing on in class, and challenge them to leave constructive feedback for children within the Night Zookeeper community.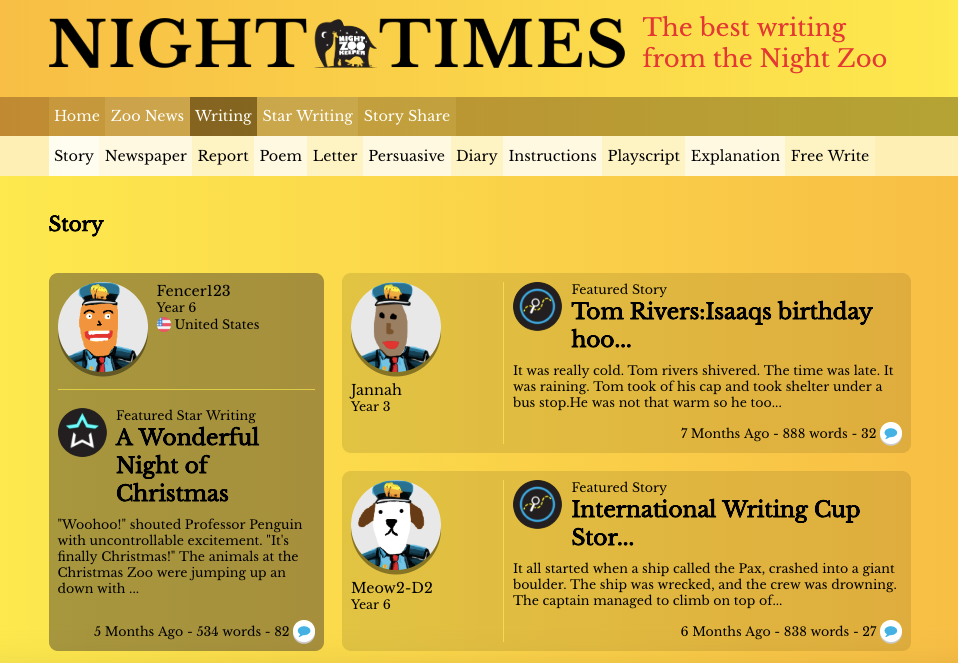 Day 12: Try one of our printable activity sheets (30 mins)
We have a whole selection of these activities available to download from the resources section within your account.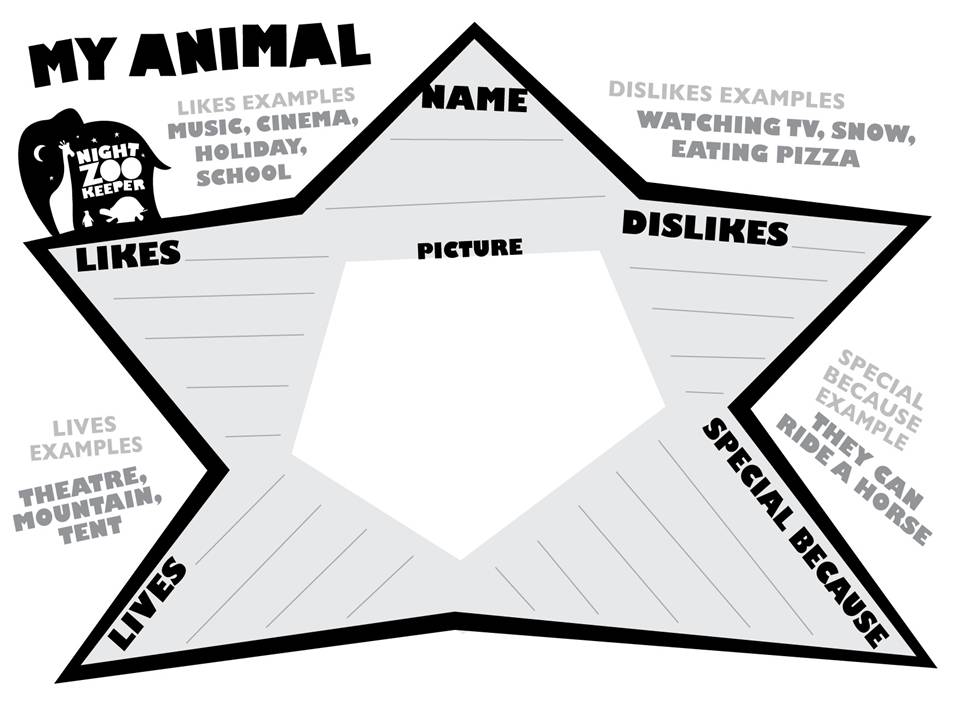 Day 13 & 14: Provide feedback on some of their work (15 mins)
Note that your students have been using the website for a couple of weeks, you will have lots more content to review. Log in to your account to publish articles and send feedback to your students. This should only take around 15 minutes of your time.
Day 14: Take a look at our subscription plans
We appreciate that all students, classes, and schools are different, which is why we're always very dedicated to finding a package that works for your situation. Simply email [email protected] for a bespoke quote.
Thank you very much for trying Night Zookeeper with your class. We hope you have really enjoyed the experience and you'll consider joining our community of teachers that are all dedicated to inspiring a love of writing in their students!
The Night Zookeeper Team