Welcome to the Night Zoo! We hope you will find answers to your questions in this guide. You can also watch our Welcome Video from the founder of Night Zookeeper and author of the Night Zookeeper books, Josh Davidson, to get an overview of the service.
Background
Night Zookeeper is not just an online learning platform but is a brand in its own right, with 5 books published and a TV series.
We have found that reading the stories and watching the show helps draw children into the learning activities blurring the lines between learning and play.
You can purchase the books from our shop and episodes from the TV show are slowly made available to children within the game. If you are in the UK you will also find them on Sky and Now TV and soon Amazon Prime.
What is the Night Zoo?: The Night Zoo is a place where animals and characters that children imagine and draw come alive! Will is the Night Zookeeper in our stories and, alongside his friend Riya and the magical animals, they explore the zoo and battle Lord Nulth and his army of voids (metallic, spider-shaped machines) and other monsters who want to destroy creativity and imagination.
What can a child do on the Night Zookeeper platform?
Night Zookeeper uses a range of carefully honed techniques to encourage creative writing. However, it doesn't just focus on the writing itself, it includes a range of activities to help develop literacy and creative skills more broadly. We offer a choice of activities to support different preferences and ensure there is no room for boredom! Here is a quick summary but you can learn more about each activity in our article Activities in Night Zookeeper:
Creating Animals: imagining, drawing and writing about any animal or character a child can come up with is central to the Night Zookeeper experience. Each time they fill their 'light' (by doing activities) they clear a patch of fog on the map to uncover a new 'egg'. They then transform the egg into any animal they can imagine, and slowly develop its character and stories through their writing.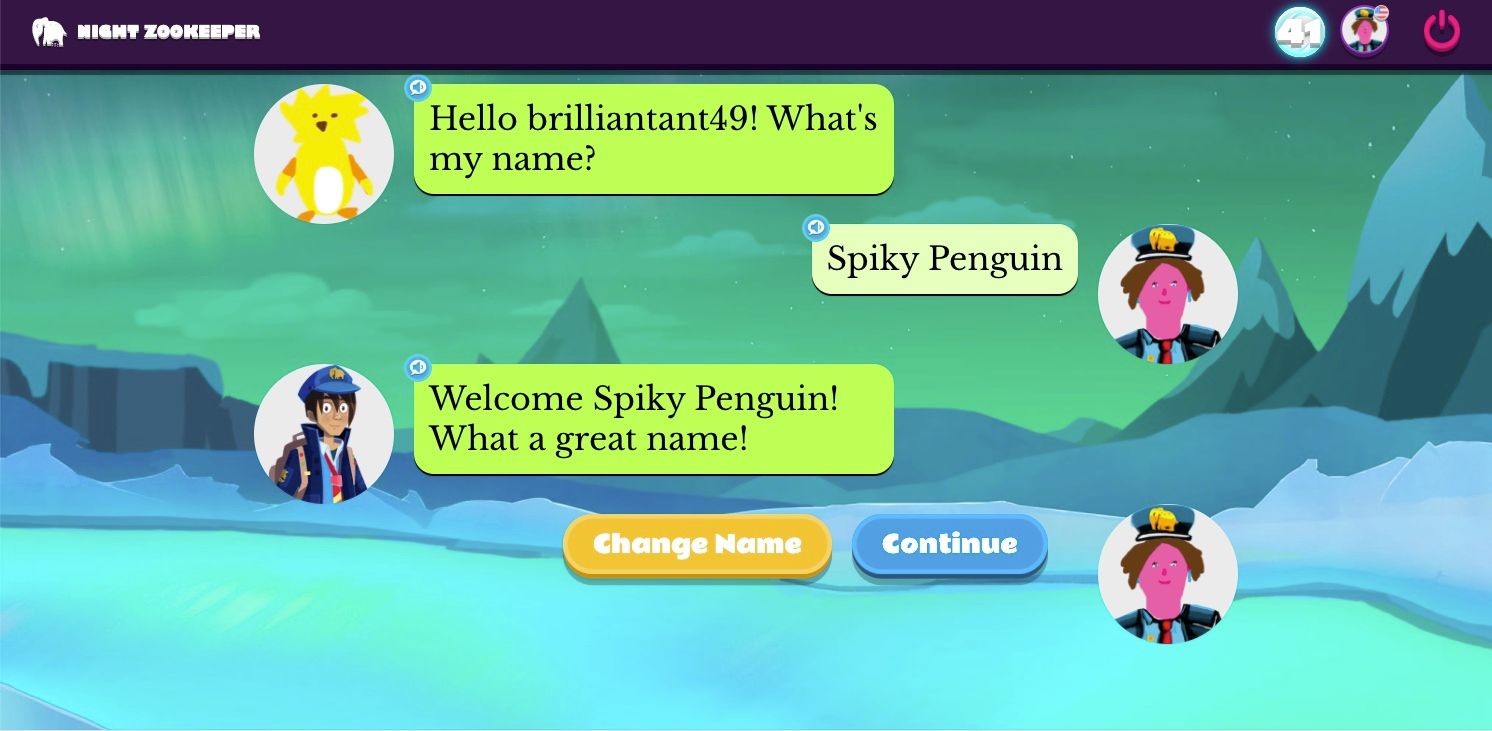 Battles: as they create animals and grow their zoo, occasionally they will encounter voids (bad guys in Night Zookeeper) on their map that they need to battle! Find out more in Activities in Night Zookeeper.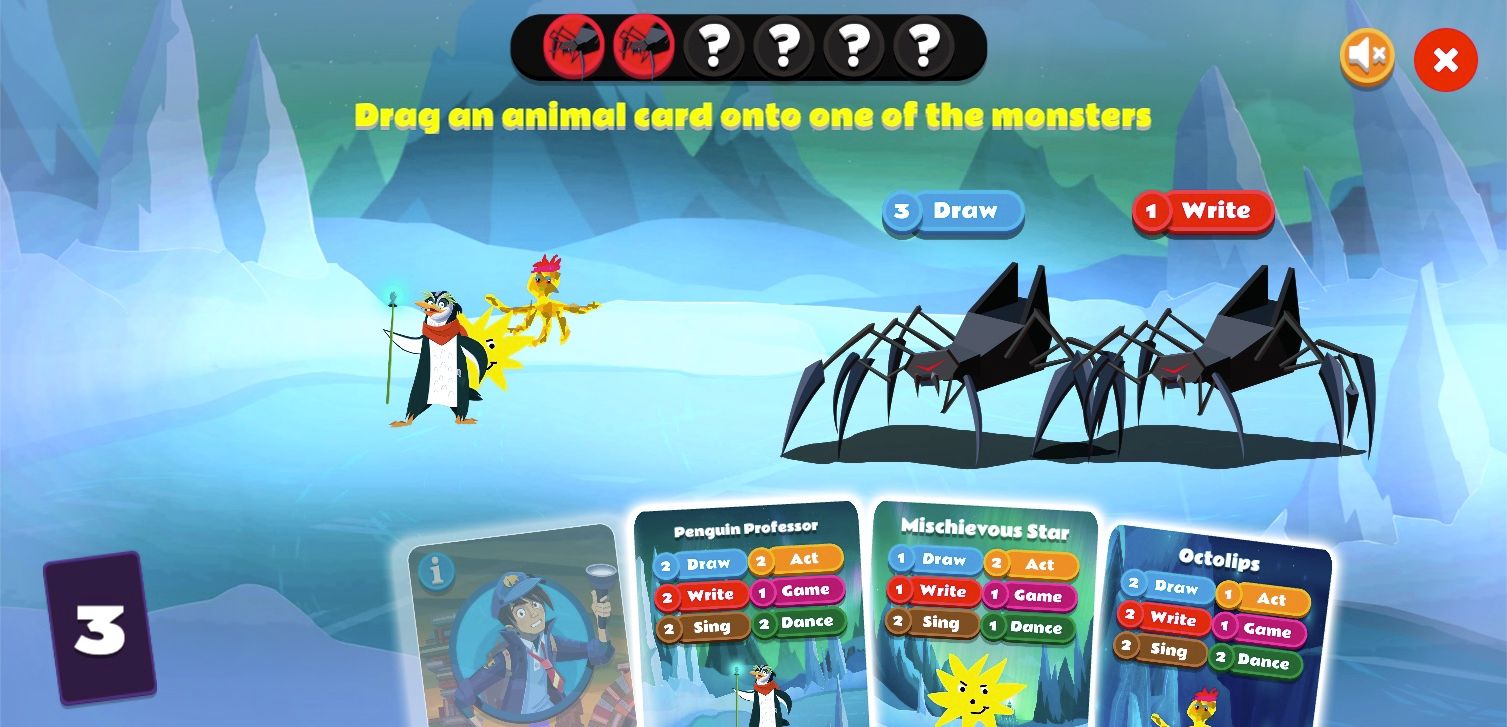 Writing: we inspire their writing through a range of writing prompts, challenges and competitions (including the weekly Star Writing Competition as well as other competitions across the year) or they can choose 'free writing' to write about anything they wish. They can also comment on work shared by others. Our tutors provide encouraging feedback on their writing as well as moderating everything that is shared to ensure the platform is completely safe.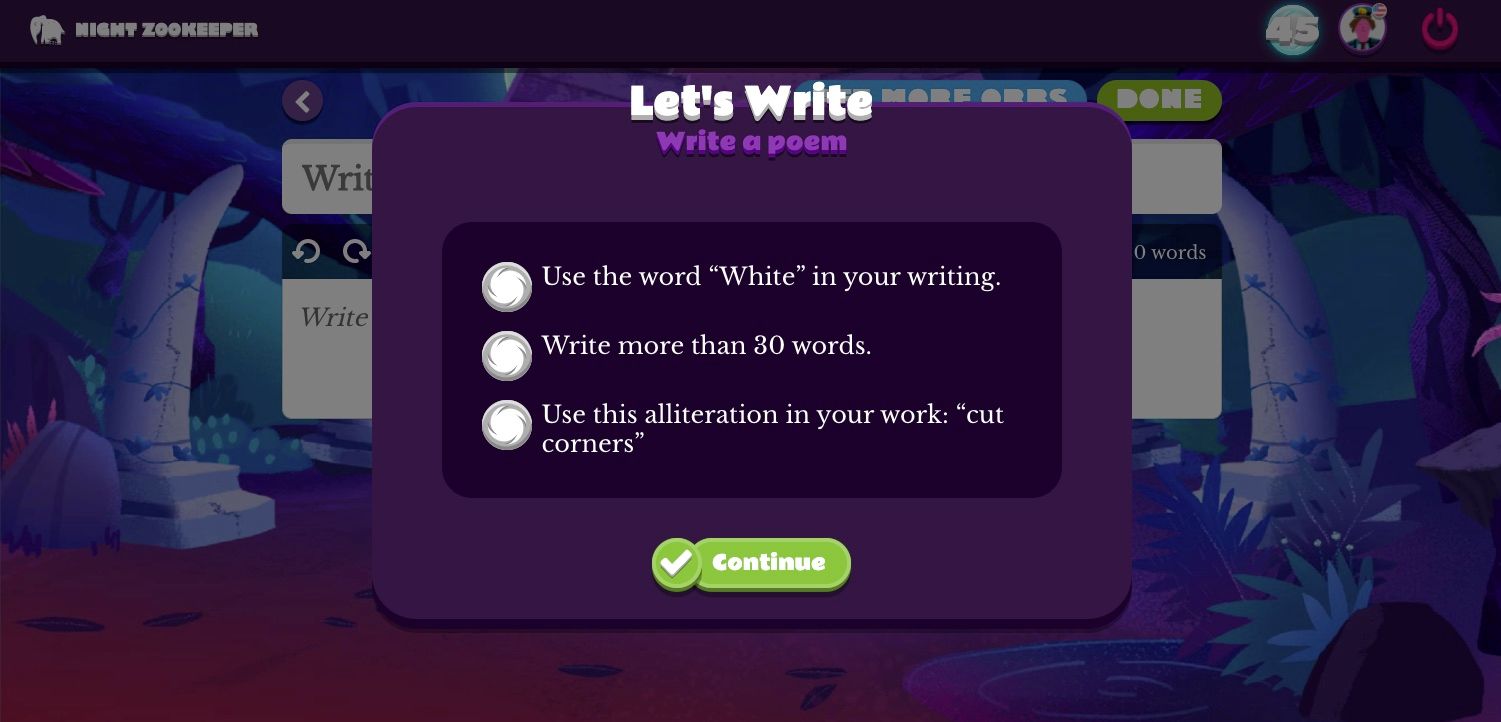 Star Writing Competition: Every week we challenge the children to take part in a different star writing competition, challenging them to write about a particular topic.



Lessons: these teach core literacy skills targeted at a child's age and combine video, quizzes, writing and drawing exercises (depending on the lesson). We publish new lessons every week to ensure there is always something new to try.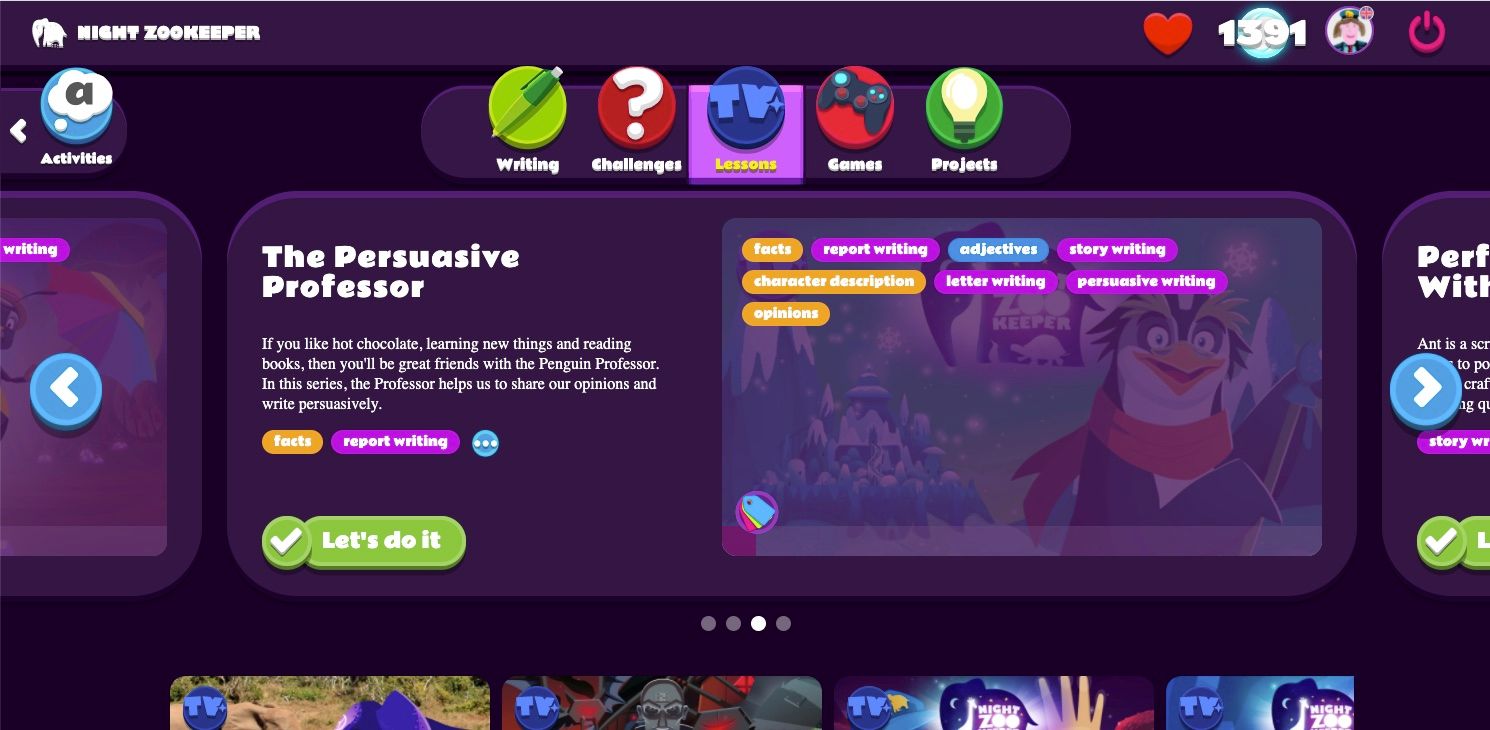 Curriculum Challenges: these are short games that follow a pre-defined curriculum based on a child's grade/year group, progressing in difficulty and covering literacy topics aligned with the curriculums in the UK and US. There are a number of different types of challenge from Eek's Word Code to Will's Quiz Quest.


Games: these are designed to practice key skills, such as recognising correct spellings, finding synonyms, improving typing skills or identifying verbs. They use vocabulary/content appropriate for the child's age helping children to slowly extend their vocabulary and skills.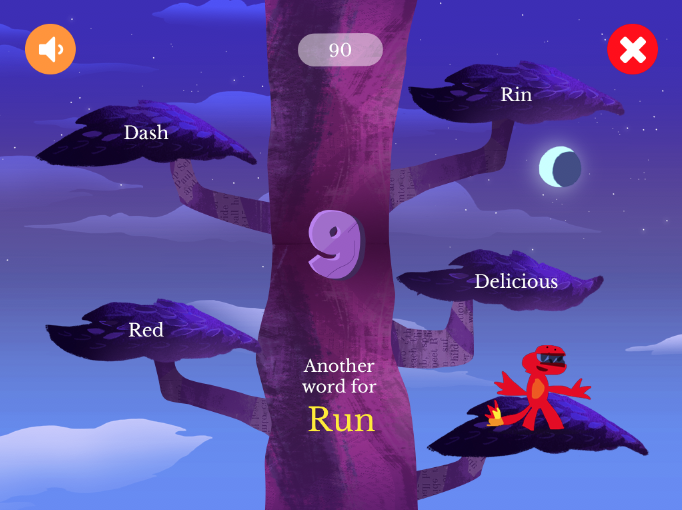 Drawing: as well as drawing their animals, within the zoo and animal dens children are prompted to draw accessories to go onto their animal. We often find this also sparks new writing ideas too.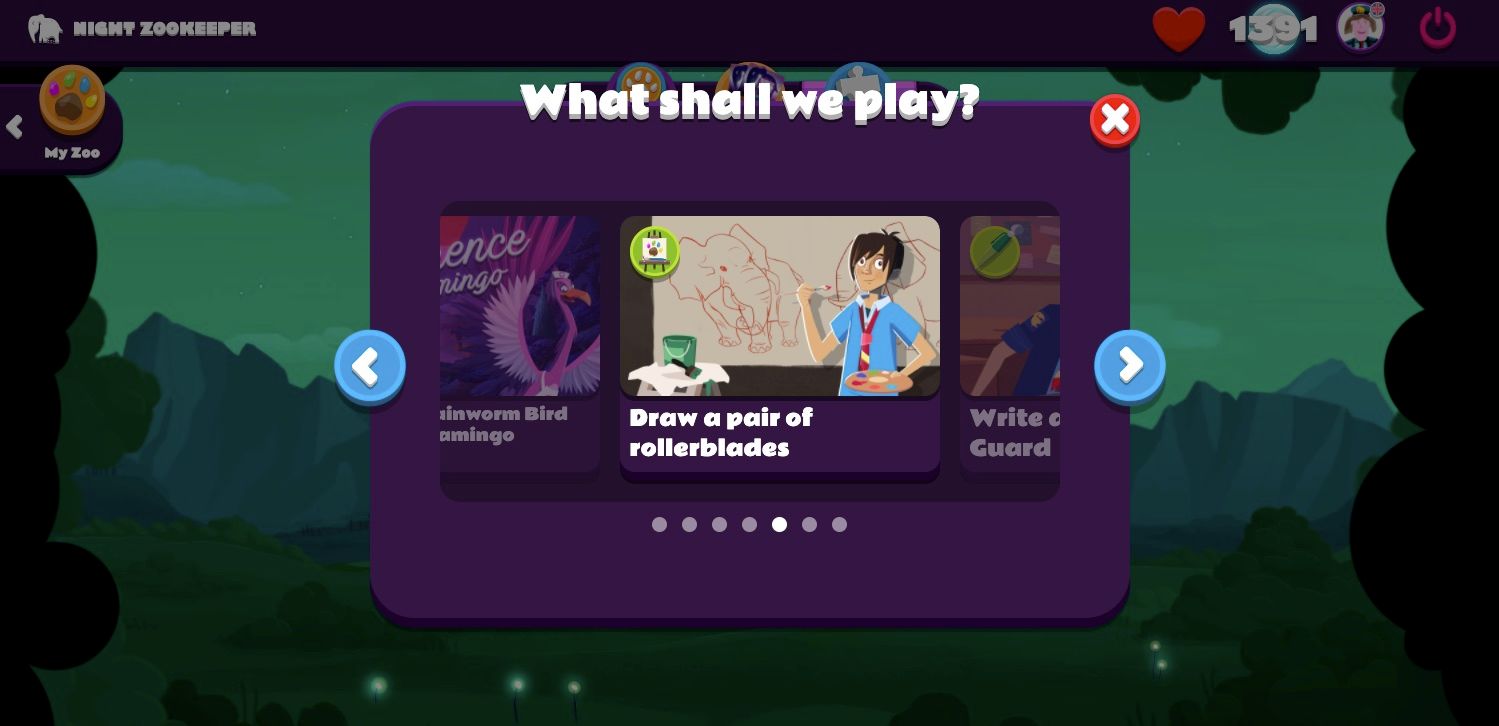 Social Features
There are a number of other social aspects to Night Zookeeper which, we find, help to encourage long term engagement whilst being designed to ensure your child remains safe. To enable/disable these visit Manage Features in your dashboard.

Projects: aimed at children aged 8 and older (these are hidden by default for younger children), projects provide a space to share writing or drawings on topics that interest them. These topics help to motivate more writing. Everything is moderated, ensuring it remains a safe space.



Examples include:


Night Zookeeper projects: to share ideas for our next book, game or how to improve the website,

Branded projects: e.g. sharing tips on Minecraft, Roblox or Pokemon,

Themed projects: e.g. writing about their love of animals, dinosaurs etc.

Blog: we showcase particularly good writing in one of our team blogs. This is a great reward for the child but also helps to inspire other children. Each child is automatically assigned to a team when they join so they will see their own team's blog and any of their work that is showcased will appear in the same team blog.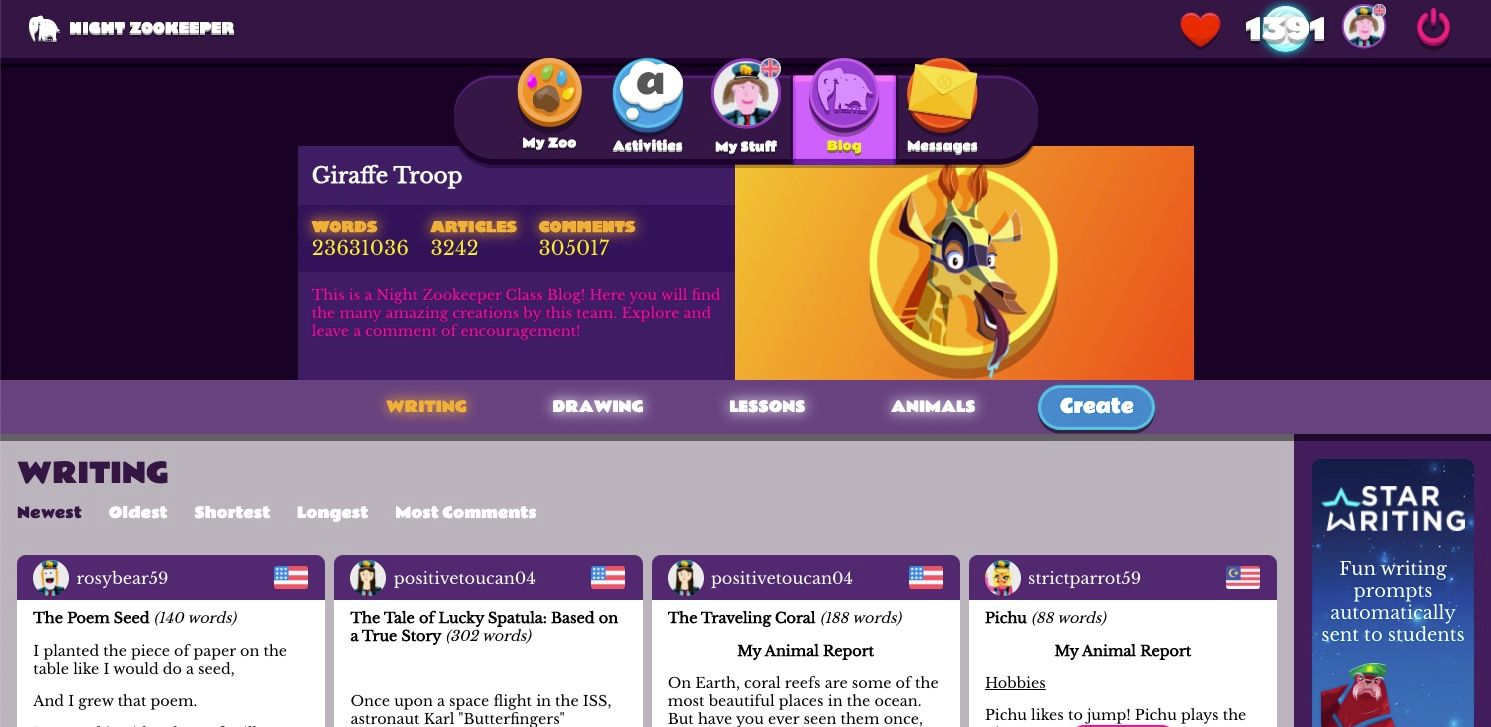 Comments: by default Night Zookeepers can comment on each other's writing, this feedback helps to encourage good writing skills and a positive community spirit. We moderate all comments and only allow positive feedback.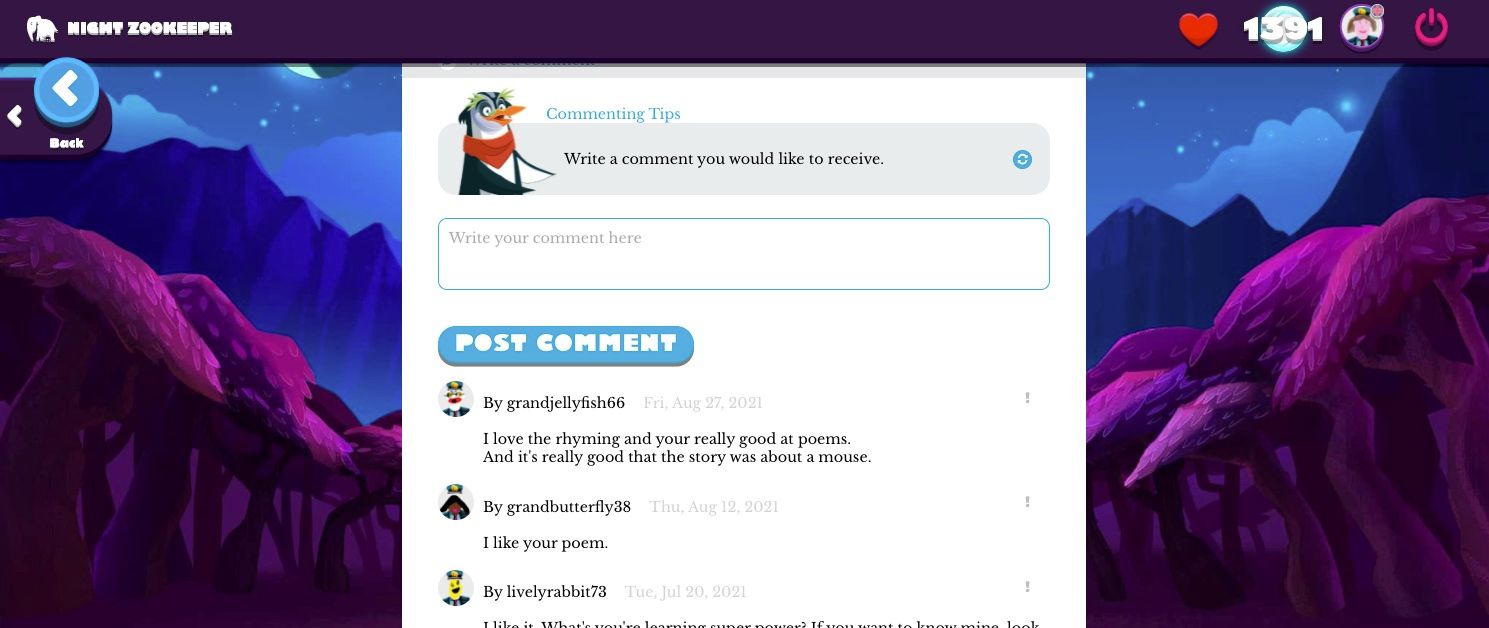 Friends: children can follow each other and others can follow them. Whilst any child can read any other child's shared writing, following someone means that a child will be alerted when they share something new, making it easier to keep up to date. You can check and manage their friends or turn this feature off completely from their dashboard.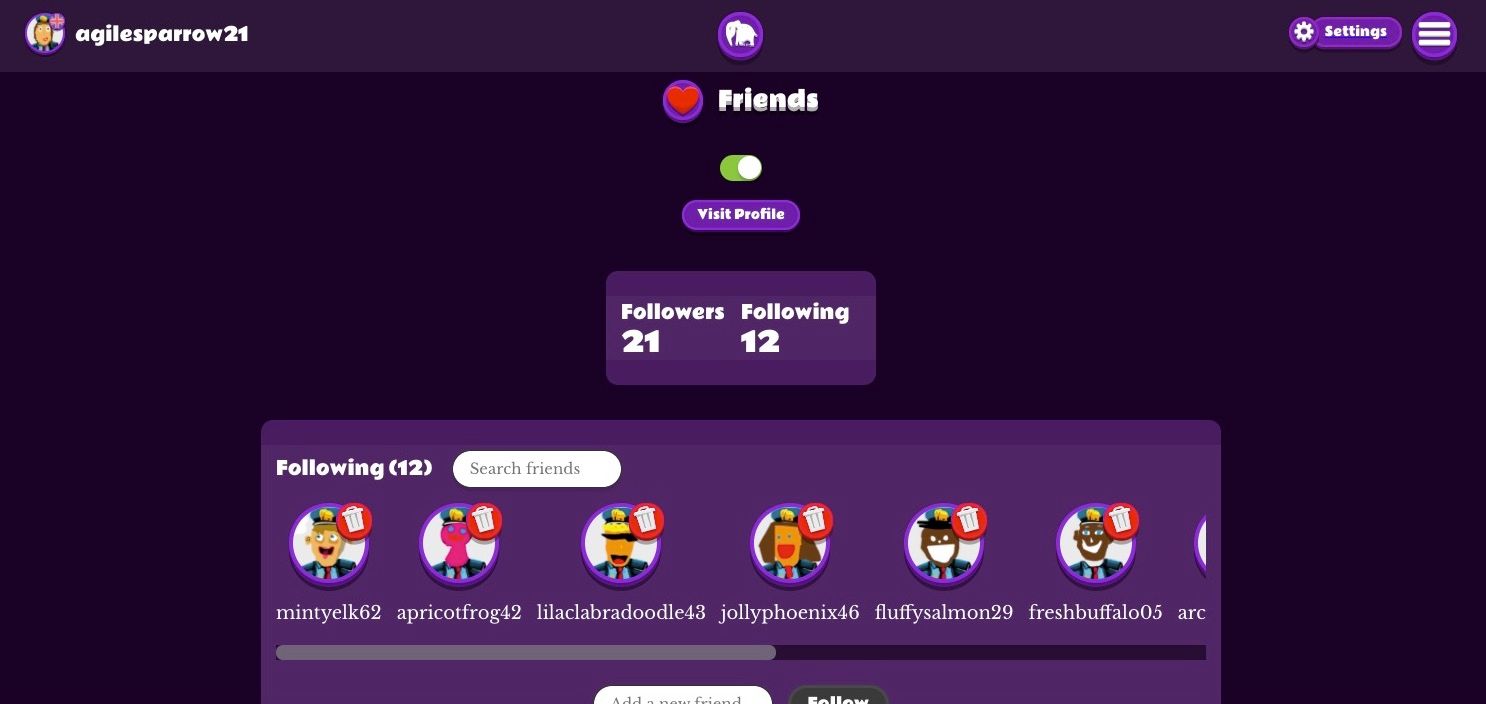 Multiplayer games: we currently have 2 multiplayer games: Sentence Dash (spotting errors in sentences) and Night Zoom (answer questions quickly to race for the finish). Children cannot communicate in the games but can see each other's avatars, ensuring a fun yet safe competitive environment.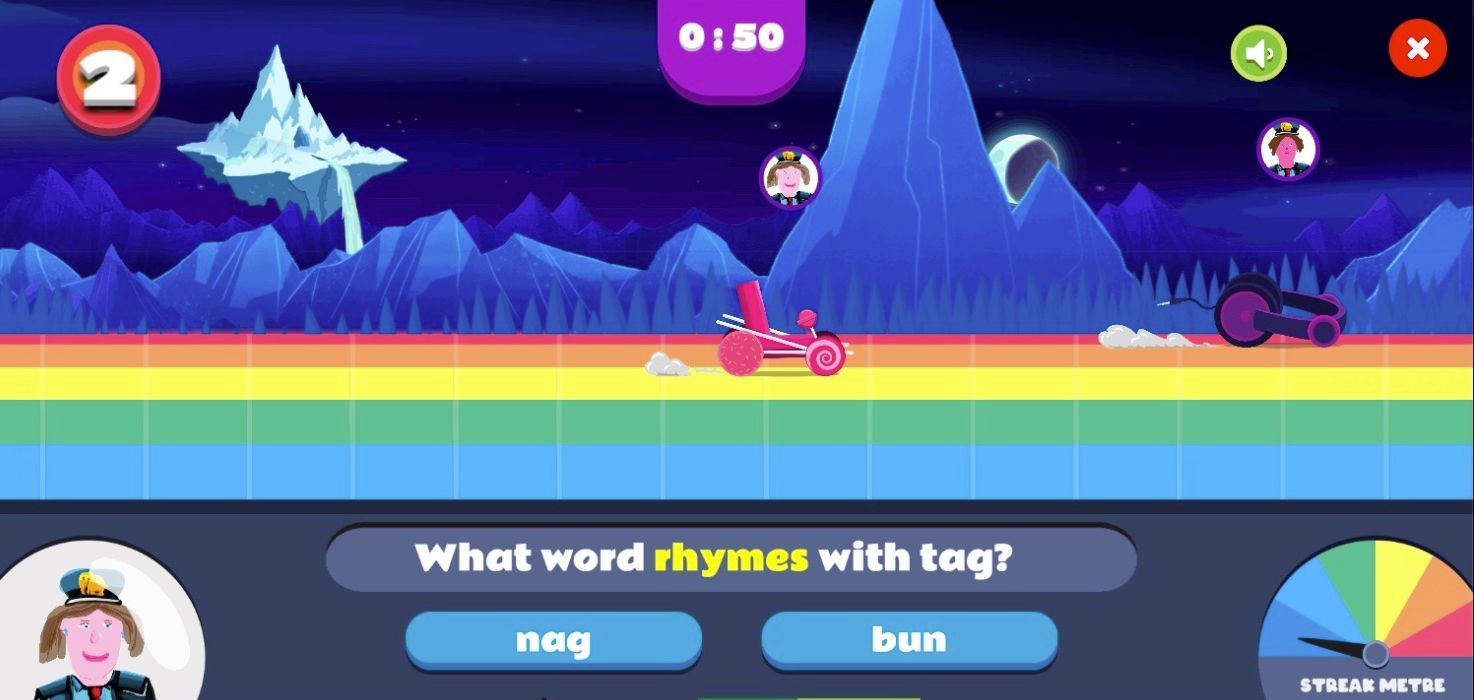 League tables: we have league tables that are reset at the start of each month that compare how Night Zookeepers are getting on based on their activity levels: write more, play more games and challenges or complete more lessons to move up the league.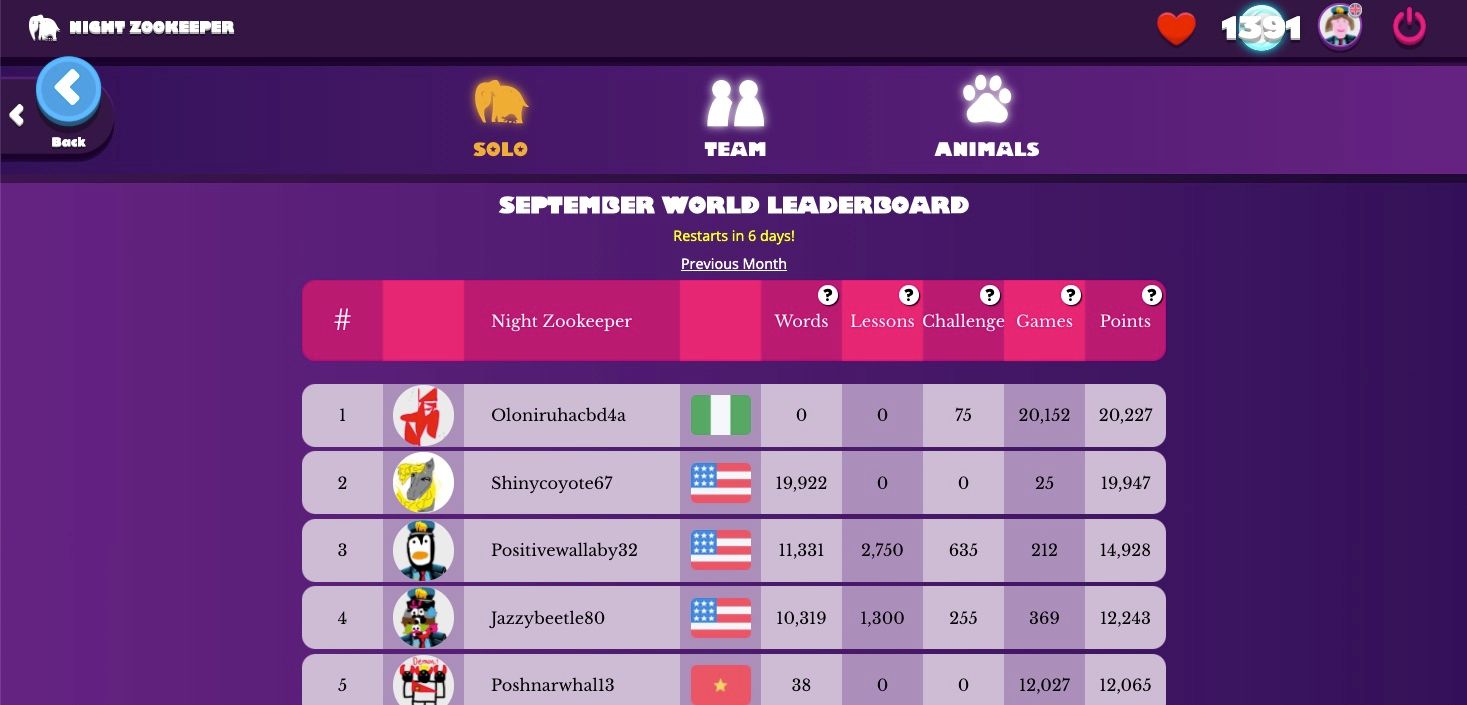 Getting the right setup
Level of difficulty
It is important to ensure each child is set up with the correct age to ensure they receive content of the right level. We provide content for elementary children from Kindergarten/Year 1 to Grade 6/Year 7.

Visit a child's settings page and ensure their month and year of birth are correctly recorded. By default, this places them in the grade/year group for their age and gives them content appropriate to that level. However, we also allow you to adjust the level of difficulty manually to make it harder or easier. Choose an option with a negative number (e.g. -1) to move them down one or more grades/year groups and make it easier, or a positive number (e.g. +1) to move them up one or more grades/year groups to make it harder.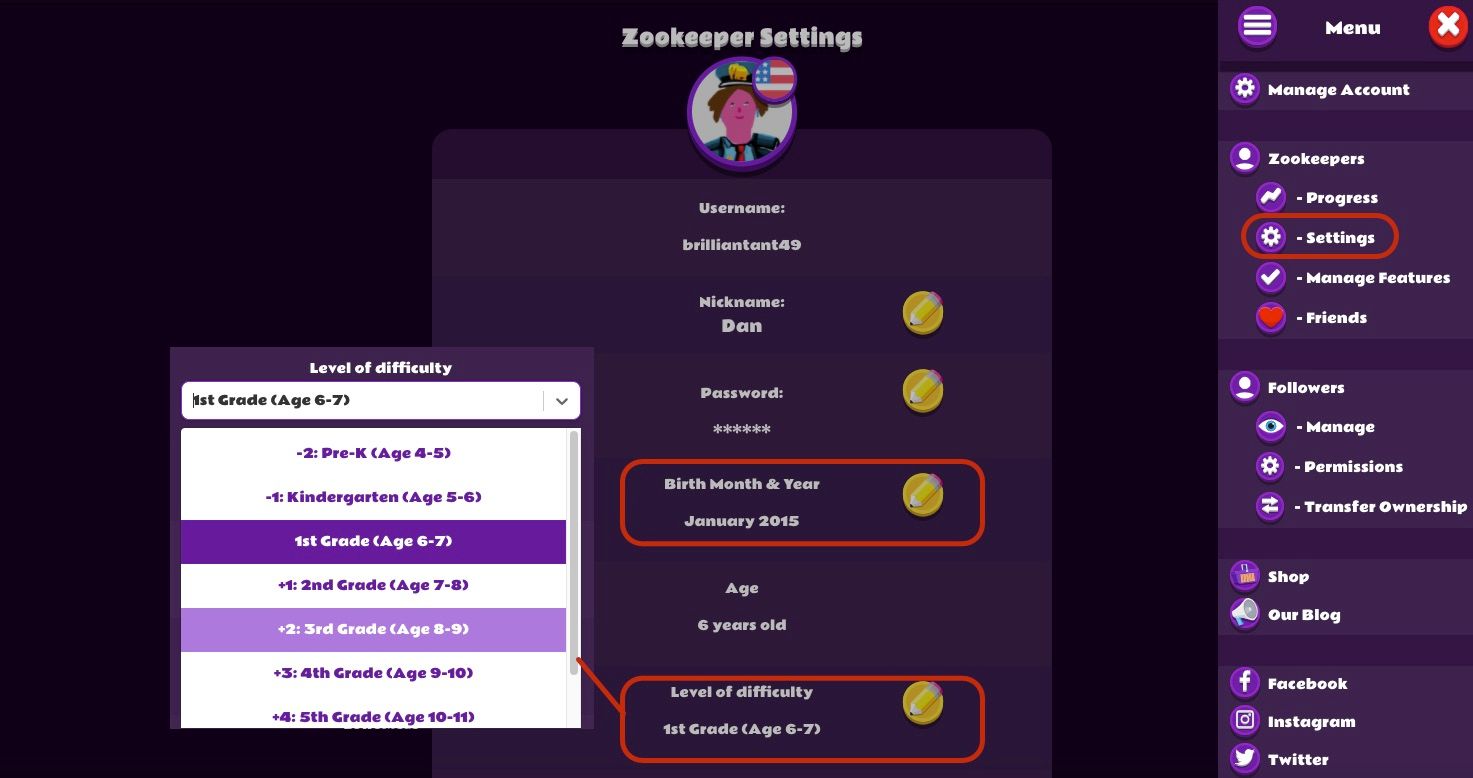 Usernames and Nicknames
Your child will be given a username when they join Night Zookeeper. This ensures the service is anonymous to retain privacy. The username and country is the only information other Night Zookeepers can see about your child.
Usernames cannot be changed but as a parent, teacher or carer you can set up and change a child's nickname within the Child Settings in your dashboard (or set up on the homescreen) to help you identify which child is which. This will only be visible within the dashboard. Typically people set up nicknames as the child's first name or a first name and initial of their surname but you can make a nickname whatever you like.

Manage Features and Privacy Settings
We realise that different people want different things from Night Zookeeper so give you the opportunity to tailor the experience to suit you, you can enable or disable features within the Manage Features section of the dashboard:
Managing privacy: social features (described above) help to encourage engagement in Night Zookeeper but we realise some parents or teachers may prefer to disable these. Friends, league tables and commenting can all be disabled within the Manage Features section. Understand more about these features by selecting the 'i' button on the feature's icon.


Please note: we are GDPR and COPPA compliant, we do not collect personal information such as names and addresses and block any writing from being shared where it appears to contain anything that could identify the child (in particular photos of people are not permitted). Usernames are used throughout the site to keep it anonymous.


Focus a child on specific activities: if there are particular types of activity you do not want a child to do or you want them to focus on a particular type of activity briefly or permanently you can turn others off within the Manage Features section and these activities will disappear for the child.

Hiding sections of the site: you can also hide areas of the site like the blog, messages or even the zoo itself.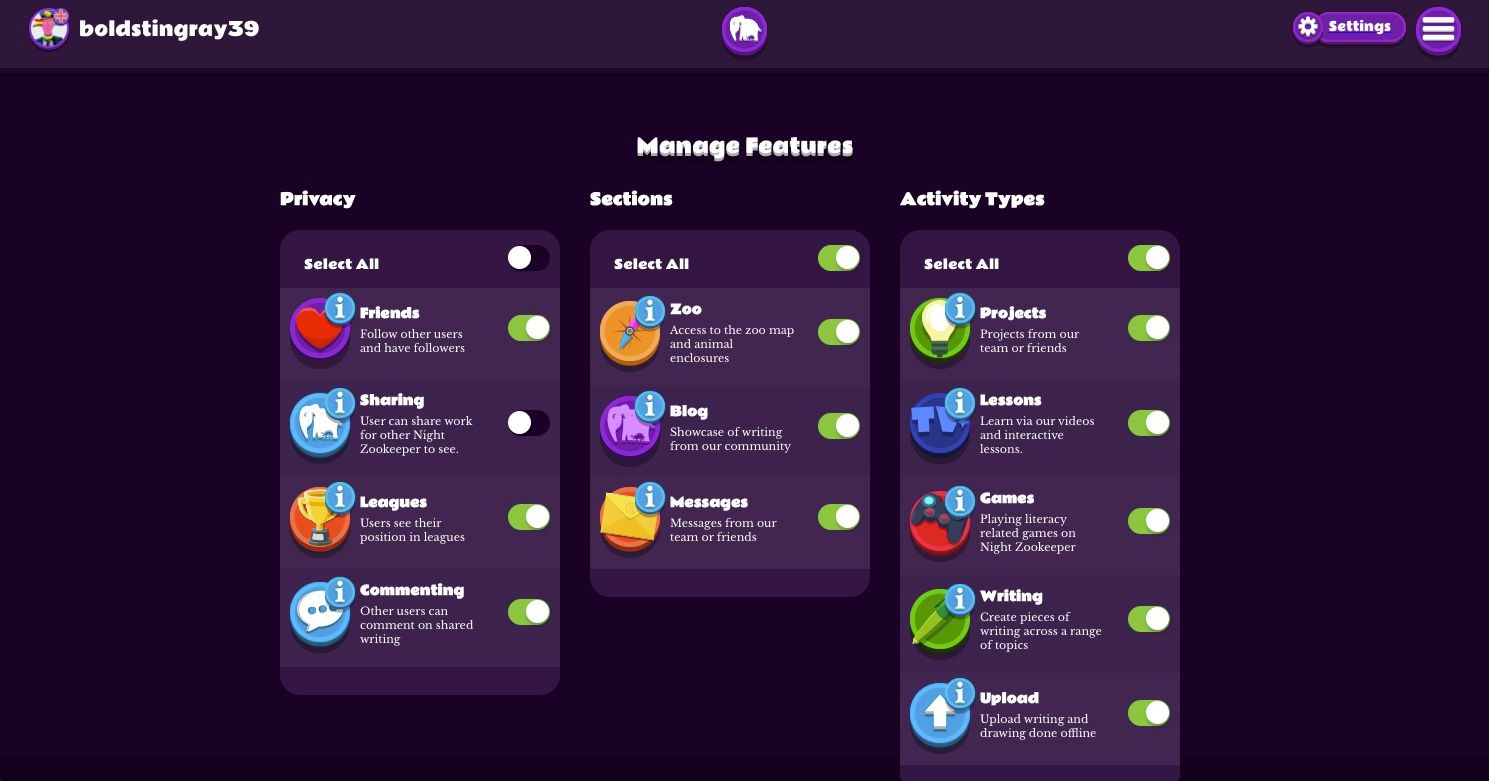 Monitoring Work and Progress
Tutors & feedback
Children will receive personalised comments from our tutors on some of their work (typically on at least one piece of writing per day). Our tutors love reading the children's writing and do their best to provide positive, encouraging feedback that will help children to improve.




It typically takes up to 48 hours to get a piece of writing moderated with a comment so please encourage children to be patient, our tutors work as quickly as they can. When a piece of writing is published they will be alerted next time they log back in, they also receive a message (in the Messages section) each time they receive a new comment.
Children may also receive some automated comments from the Night Zookeeper characters. Whilst these are not personalised, the friendly, positive comments are fun and help encourage children to keep writing!
Progress
You can track a child's progress in curriculum challenges, read their writing and look at their drawings and read any book reviews they have written from within your dashboard. You can choose to read a stream of writing from all your children at once or look at each child separately.
From a piece of writing you can add your own comment to help encourage each child too.
You can also visit the profile for one of the children on your account by choosing 'Visit Profile' from the progress section of the dashboard to view Night Zookeeper as children see it.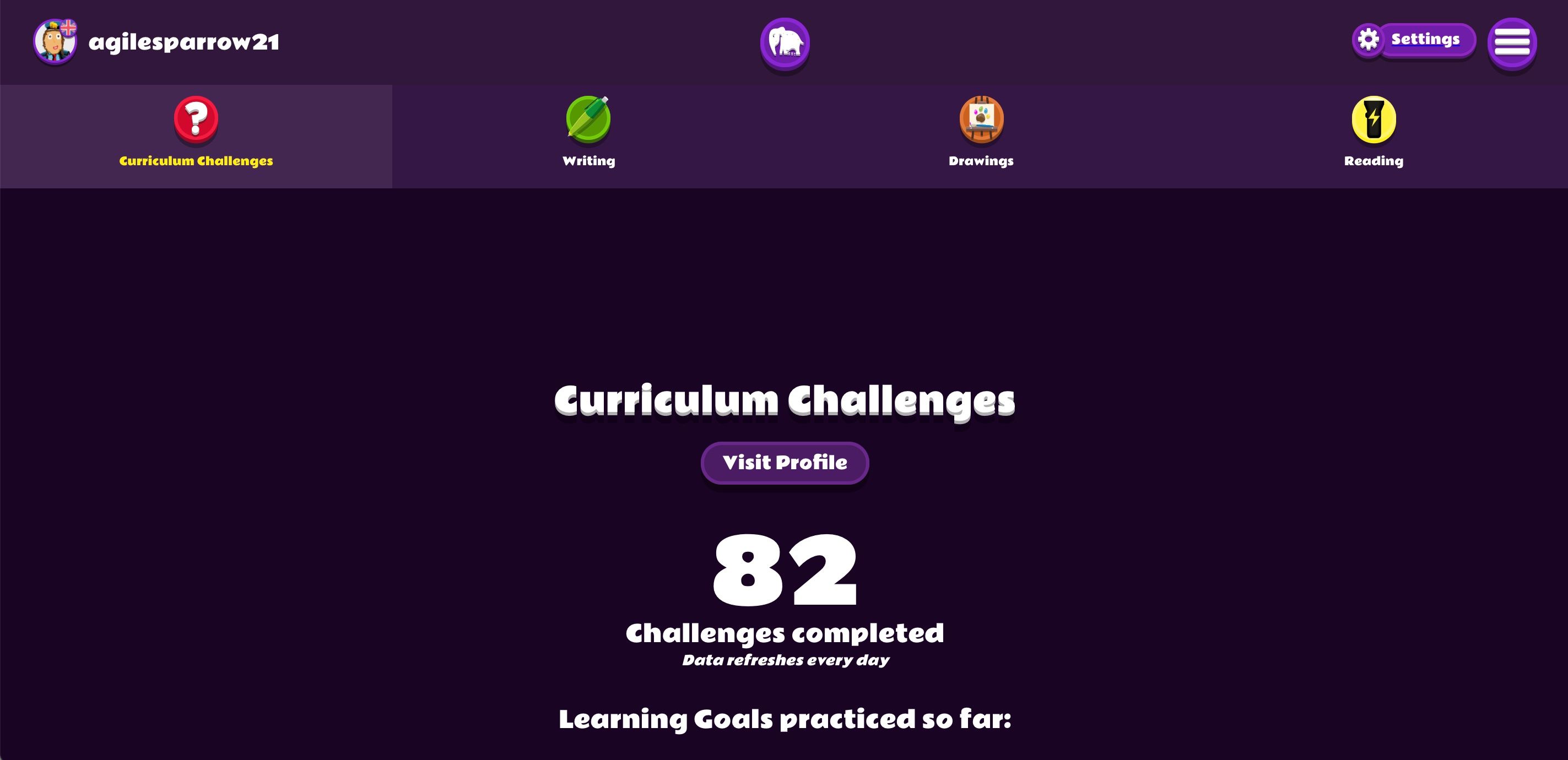 More tips
Managing Your Account
Visit Manage Account in your dashboard to check, cancel or change the plan you are on, amend your card details or check what discount you will receive on your next invoice from our Refer a Friend scheme. Cancellations and plan changes will only take effect from your next renewal date.
Moderation and Code of conduct
We take your child's safety very seriously and have created a code of conduct to provide clarity on the rules. Please ensure your child is familiar with these rules. All writing, drawings and comments are moderated before they are shared and anything that doesn't comply with our rules is made private so it is still visible to you and your child but not to other children on the platform and their rewards for that content will be limited. If you or one of your children come across anything that you feel should not have been shared (by your child or another child) then you can report it using the '!' next to every piece of writing, comment and drawing and we will take another look.
Offline resources
We offer a range of offline resources in addition to our online content, books and TV show. In particular, you will have access to 1 free offline resource as a downloadable pdf each month. We let you know about this in your monthly newsletter or it is downloadable from the helpful links section at the top of your dashboard homepage. Here are some other free downloads that may be useful for you:
Create Your Own Night Zookeeper Hat
Create Your Own Official Night Zookeeper Badge
To see all our offline resources and other items you can purchase visit our shop.
Enjoying Night Zookeeper?
Refer a friend and get rewards: We are proud of how many of our new customers first hear about Night Zookeeper through their friends and family. If your child is enjoying it, please do spread the word. Visit 'Refer a friend' in your dashboard to get your personal referral code and receive £5 off for each friend the becomes a paid subscriber.

Superfans: We have a superfan programme for those who particularly love Night Zookeeper. We're always looking to bring enthusiastic parents and children into our Superfan community. Being a Superfan is absolutely free. Sometimes we ask Superfans to share some special offers, or competitions we're running to their parenting or Facebook groups. In return we offer nice perks and merchandise and sometimes early access to new features. Basically, we just want you to sometimes share that Night Zookeeper is useful and fun (especially if your child is enjoying it). If you don't want to share a particular thing, you don't have to! But you'd be included to have a chance to!

Got any issues or questions?: We are a small team who really care about our service and are keen to help. Please do contact our customer service team if you have any issues: [email protected]