Want to learn more about what your child can do on Night Zookeeper? Choose one of these quick links to find out!
Creating Night Zoo Animals
Creating and growing their 'Zoo' is one of the most exciting features of Night Zookeeper - every activity a child does gives them 'light', and each time their light is full they clear some fog on the zoo map and unveil a new 'egg'!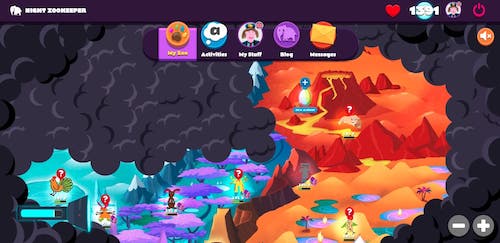 Your child can then transform the egg into any animal or character they can imagine! Once they have drawn their animal, we encourage them to write about it: describing what it looks like, telling us about its character, family, super powers etc.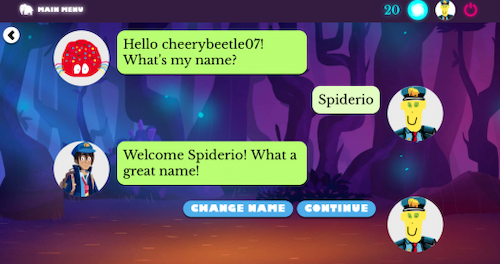 Within the animal's den, your child can continue to add to the animal's story through writing suggestions and other challenges. The sense of ownership of their animals and the ideas this sparks acts as a wonderful motivator for your child's creative writing! They can also collect animals drawn by other children instead of drawing their own if they prefer!
Pro tip: encourage your child to scroll down on the collect animals page to find even more animals to choose from!
Games and Curriculum Challenges
We have 2 different types of 'game' within Night Zookeeper. We refer to one set as 'Games' and the other as 'Curriculum Challenges' but both are designed to teach literacy skills!
Challenges
Challenges are curriculum-linked and aligned with the grade/year group of your child (up to end of elementary/primary school). These progress in difficulty in a pre-defined order, covering a wide range of core literacy topics.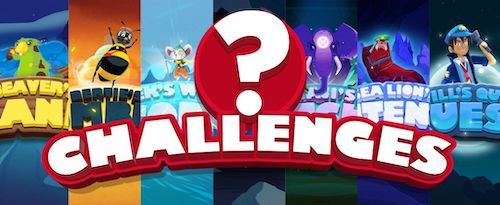 Tracking your child's progress: In your dashboard, take a look at Progress -> Challenges to see how many challenges your child has completed, dig down into the topics covered and how they have done!
Setting the correct age and level of difficulty: Visit your child's settings page in your dashboard to change their age by entering their month and year of birth. Their grade/year group will be automatically updated, however you can adjust this at any time using the 'Level of difficulty' option which will move your child to a different year group/grade, e.g. +1 to move them up a grade/year group or -1 to move them down a grade/year group.
Types of challenge: we have a number of different types of challenge from Will's Quiz Quest to Greedy Guglums!
Finding challenges: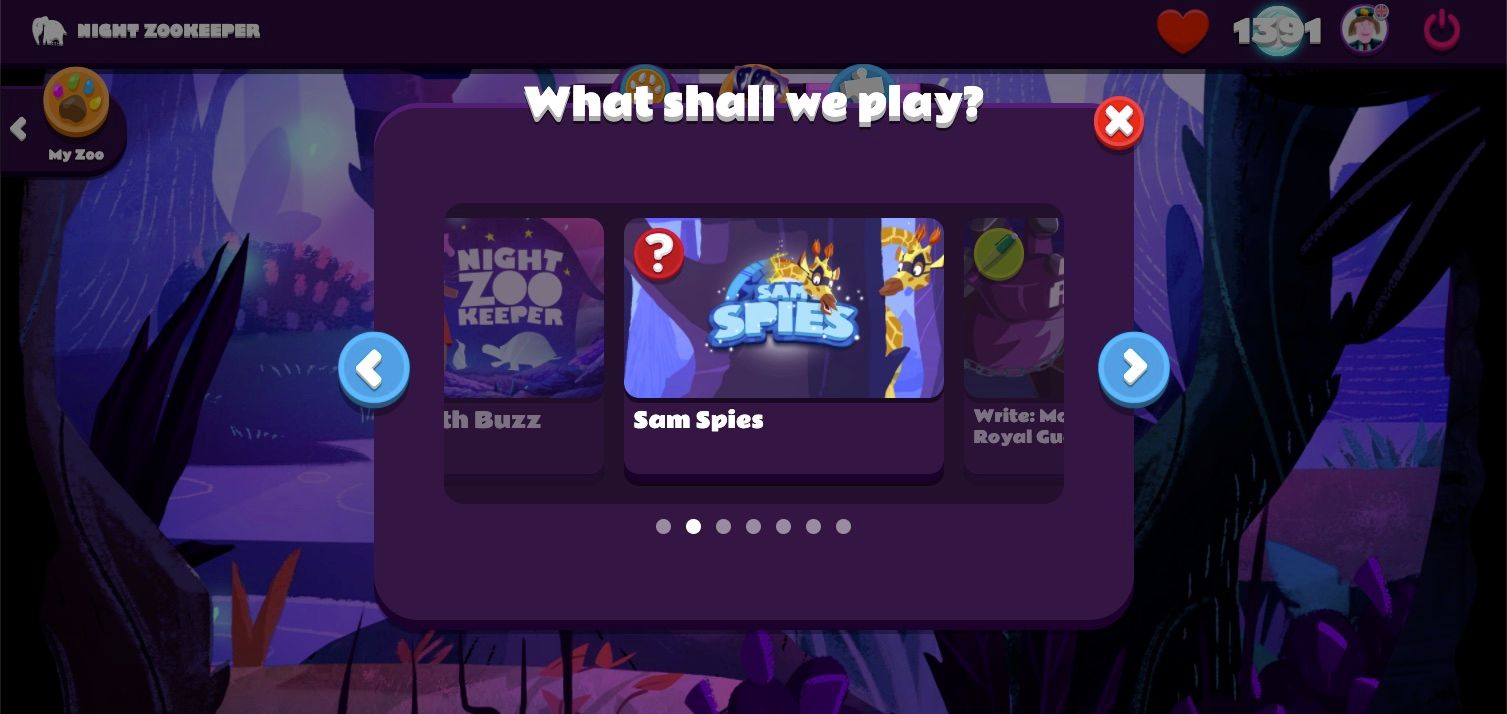 Games
Our games are educational and designed to practice key literacy skills! They use vocabulary/content specific to your child's age and can be played at an 'easy', 'medium' or 'hard' level. Unlike challenges, they're not part of a linear curriculum and the level of difficulty remains consistent.

Lessons
New lessons are published every week and are carefully designed by our tutors to teach core literacy skills in a fun way. They combine video, quizzes, writing and drawing challenges for a truly interactive experience!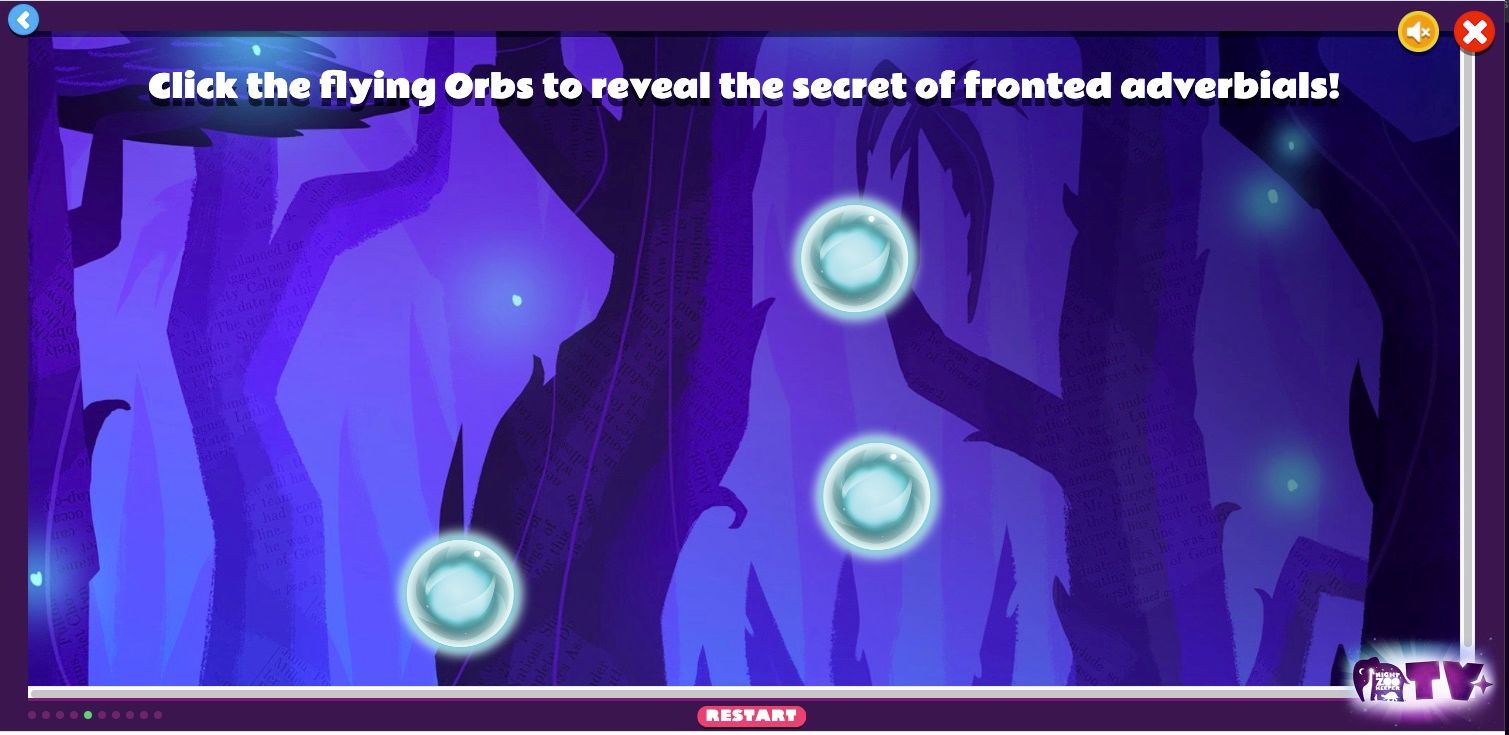 Lessons are suggested via the 'Play' menu in each animal's den but a full list can be found in the Lessons menu within the Activities section. The tags shown on each lesson show you what skills are covered in the lesson or lesson series.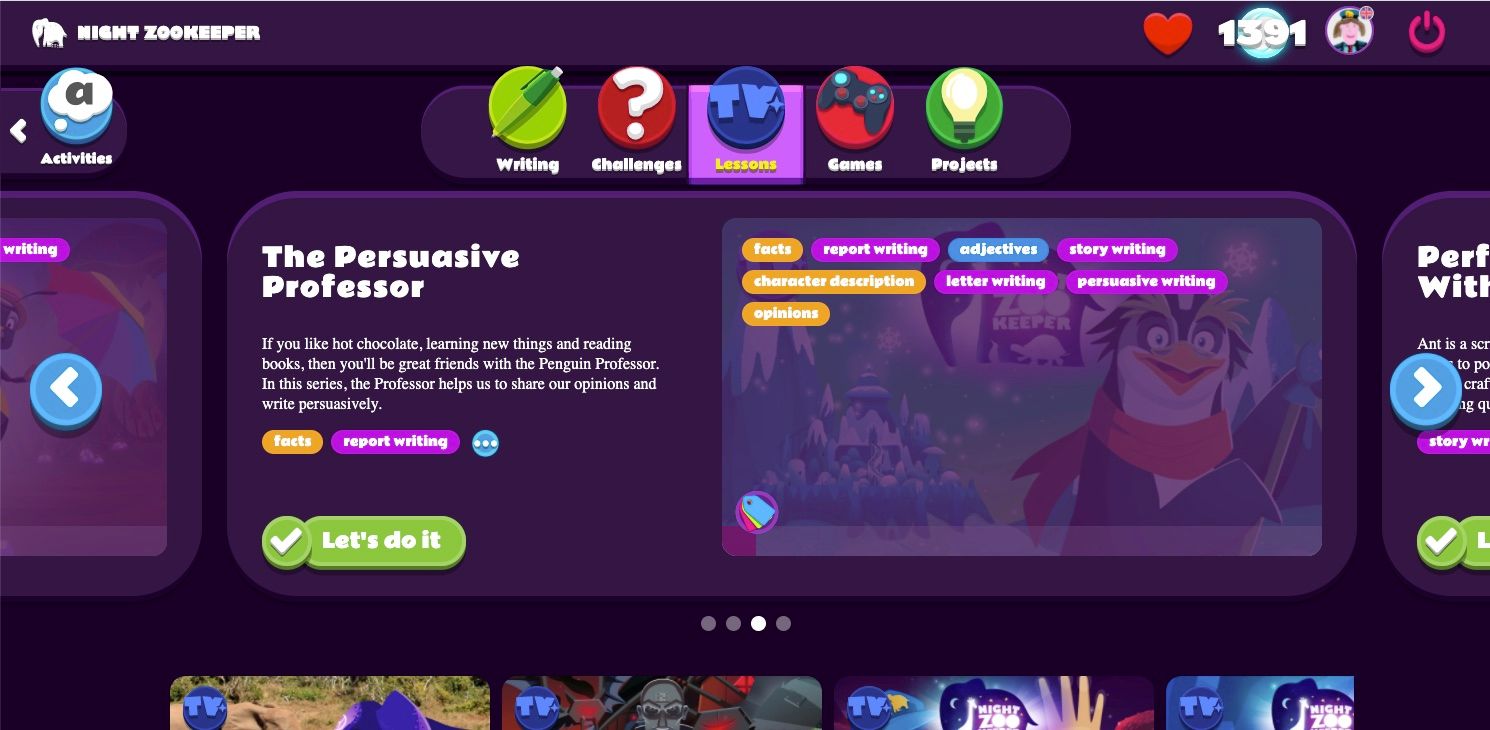 Writing
There are plenty of opportunities for writing within the programme, including the guided writing within some lessons, the weekly Star Writing challenges, writing reviews of books and writing they can do within projects. Here are some of the main writing opportunities:
New Animal Reports:

Whenever a child creates a new animal they will be encouraged to write about it. They are guided through this process using a dialogue question and answer based system to help inspire them on what to write. When they finish the Q&A based approach they can edit what they have written as a document before submitting it for moderation and review by our tutors.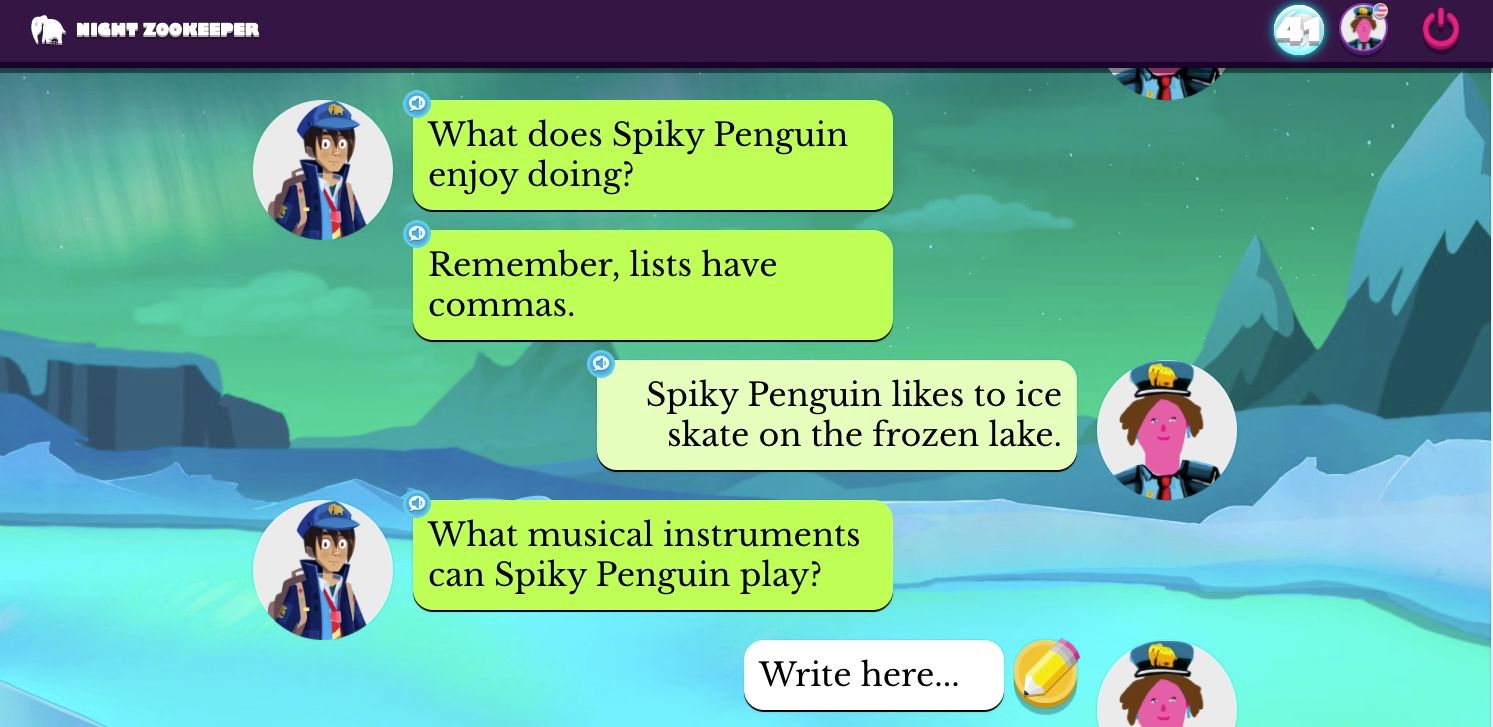 Writing Challenges:

We have a wide range of writing challenges that use a similar question and answer approach to inspire writing. The topics for these can be found in the Writing menu within Activities but these will be suggested regularly on zoo map and one will always be suggested within each Animal Den in the 'Play' menu.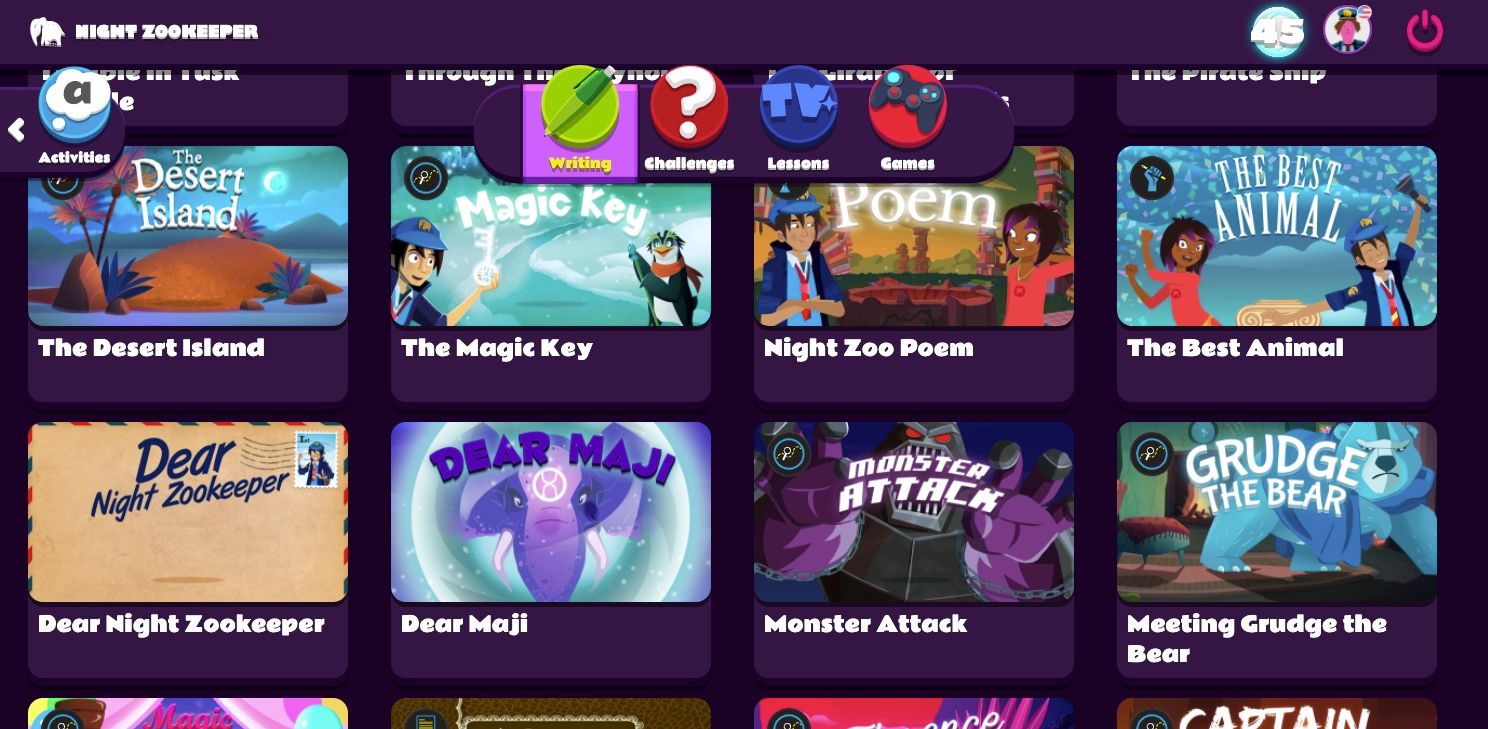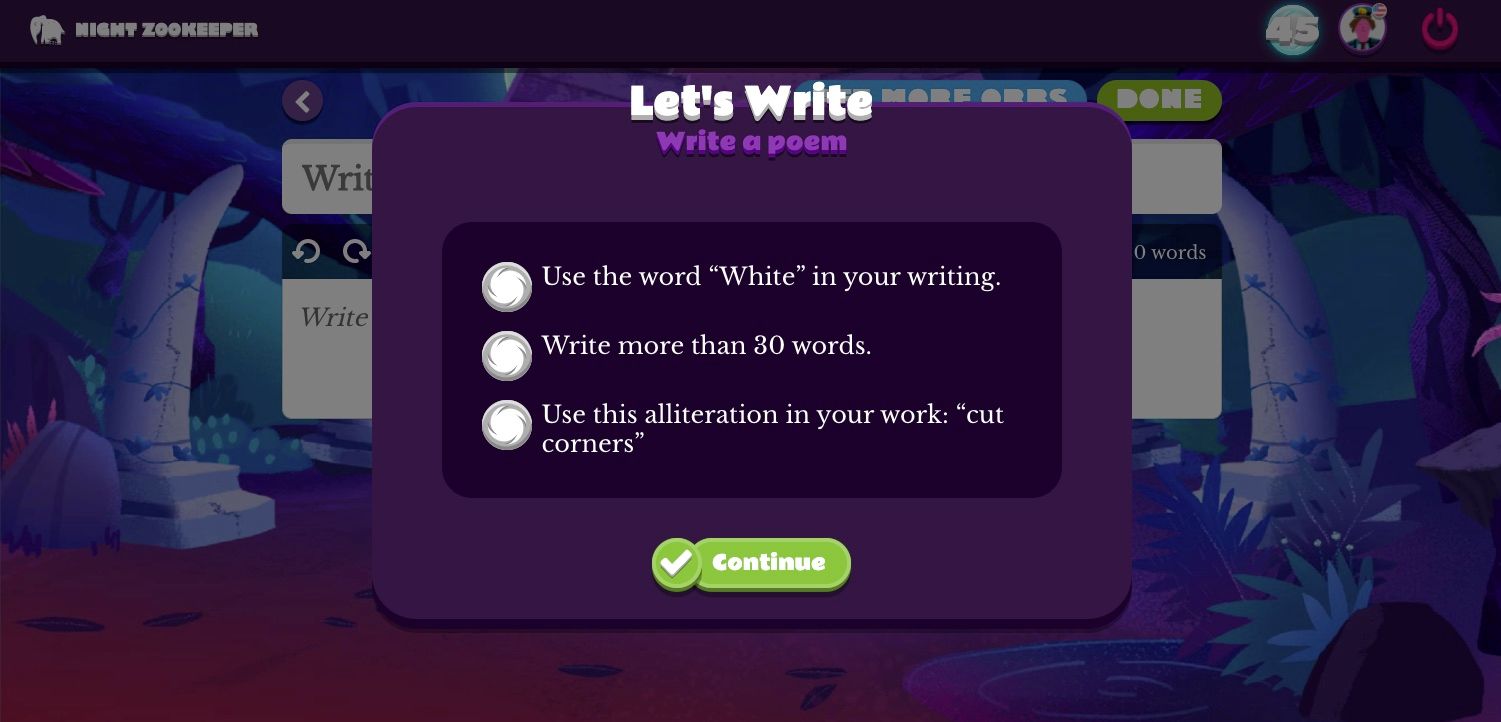 This is a fantastic way for children to take control and write about whatever interests them. They can choose at the start which type of content they are writing (e.g. a poem, report, story, newspaper article etc). It's great to see the variety of content we receive.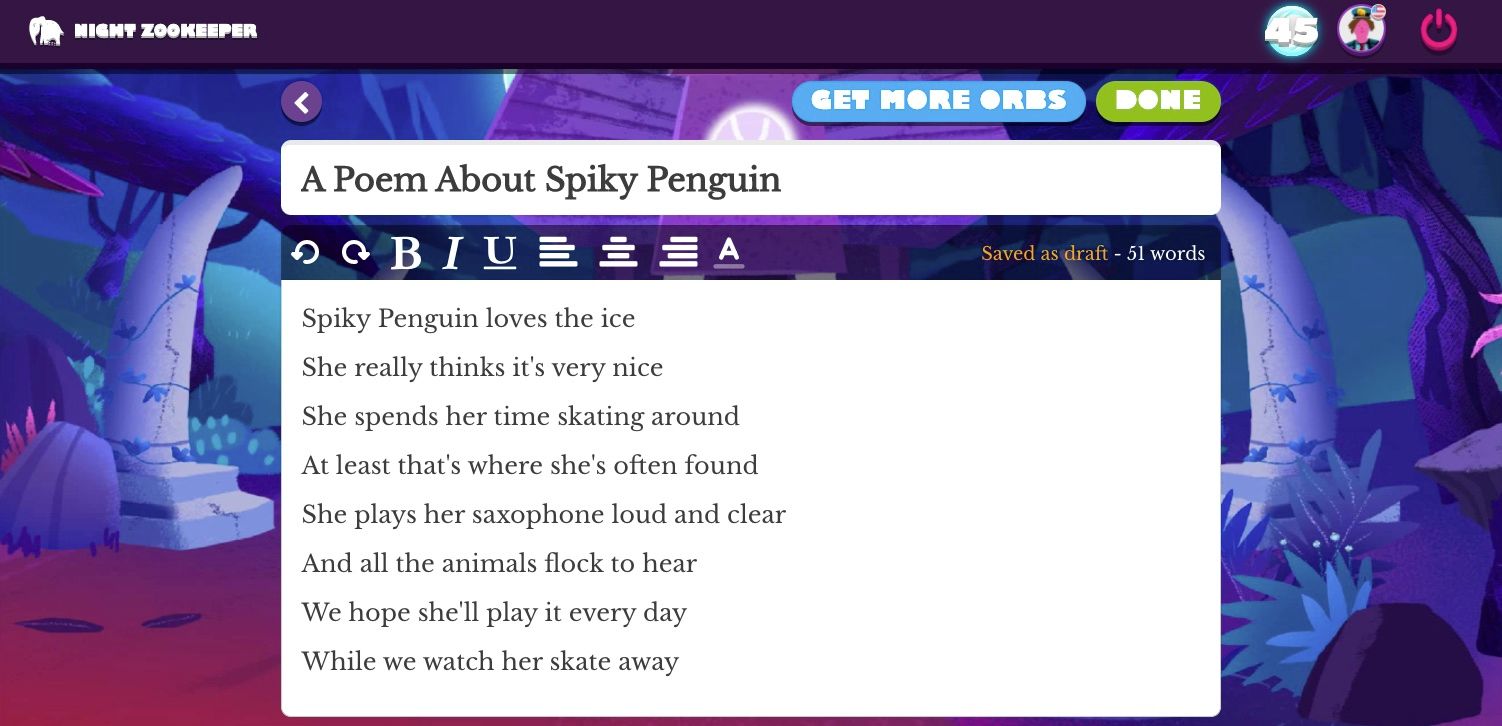 Uploading offline writing:

Within free writing, they can also choose 'Upload' to upload a picture of writing they have done by hand offline (please do not upload anything other than pictures of hand written work or hand drawn pictures). Go to Activities -> Writing -> Free Write and upload is the bottom option in the pop-up.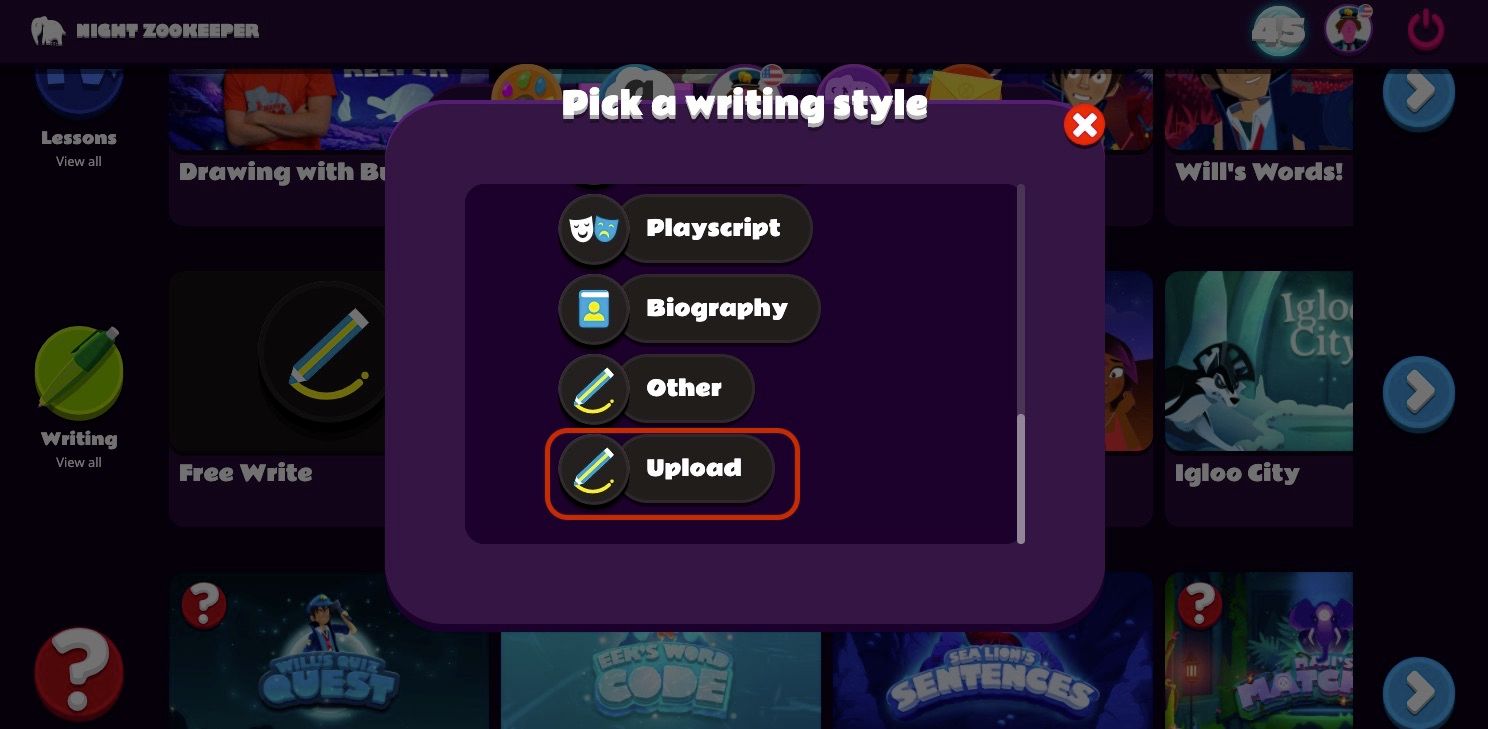 Writing is also included in some lessons, particularly for older children, this uses a question and answer approach similar to writing challenges.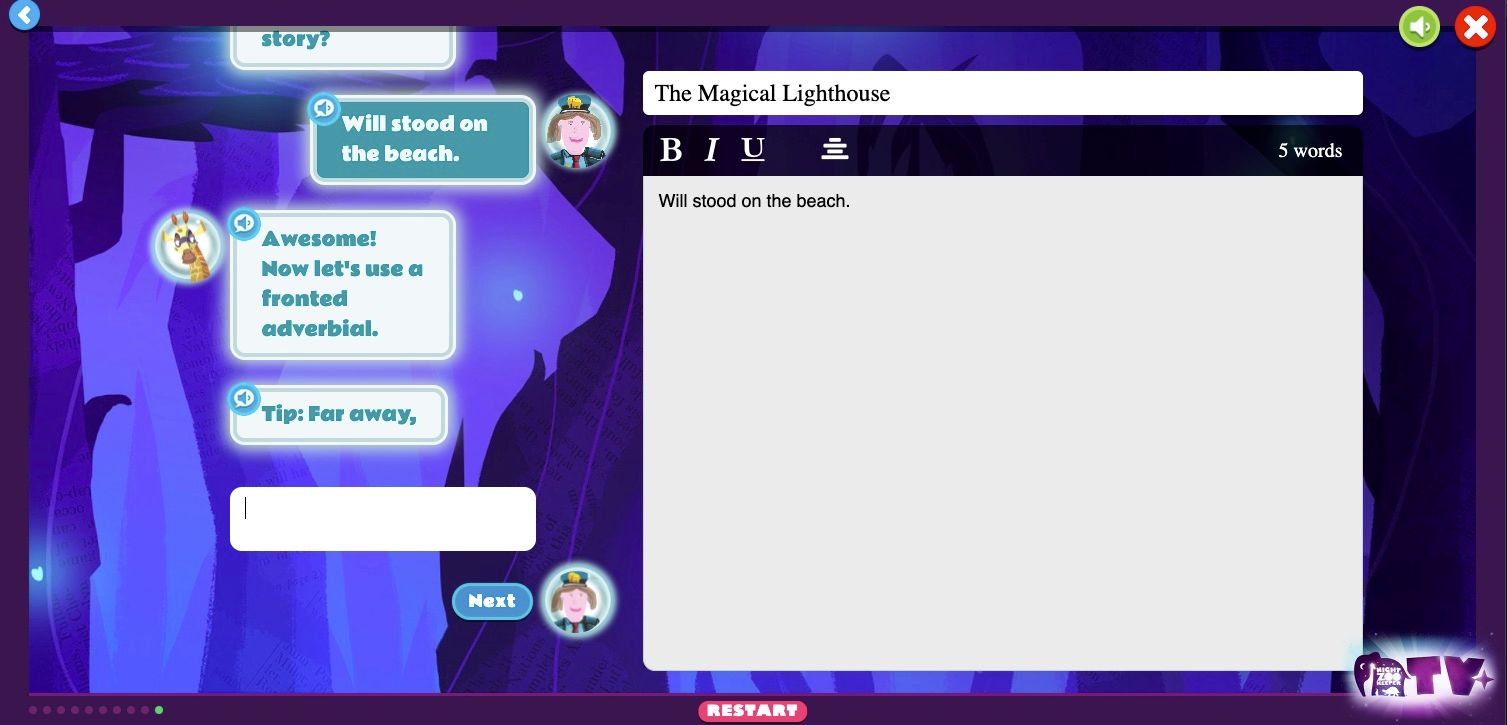 Star Writing competition

We also run a Star Writing competition every week, the winning article is shared to all Night Zookeepers in a message and the winner receives 'orbs' that they can use within the Night Zoo as a prize. Topics vary from 'Write about the world's WORST superhero' or 'Write about a magic creature that is half animal, half flower'! For example, this week the challenge is to write about this Rhinopeacock:

Children (age 8 and above) can also write about topics related to a project on a vast range of themes (see Projects below).
Drawing
In addition to drawing animals, children are given challenges to draw accessories for their animals (e.g. within the 'Play' menu in the animal's den).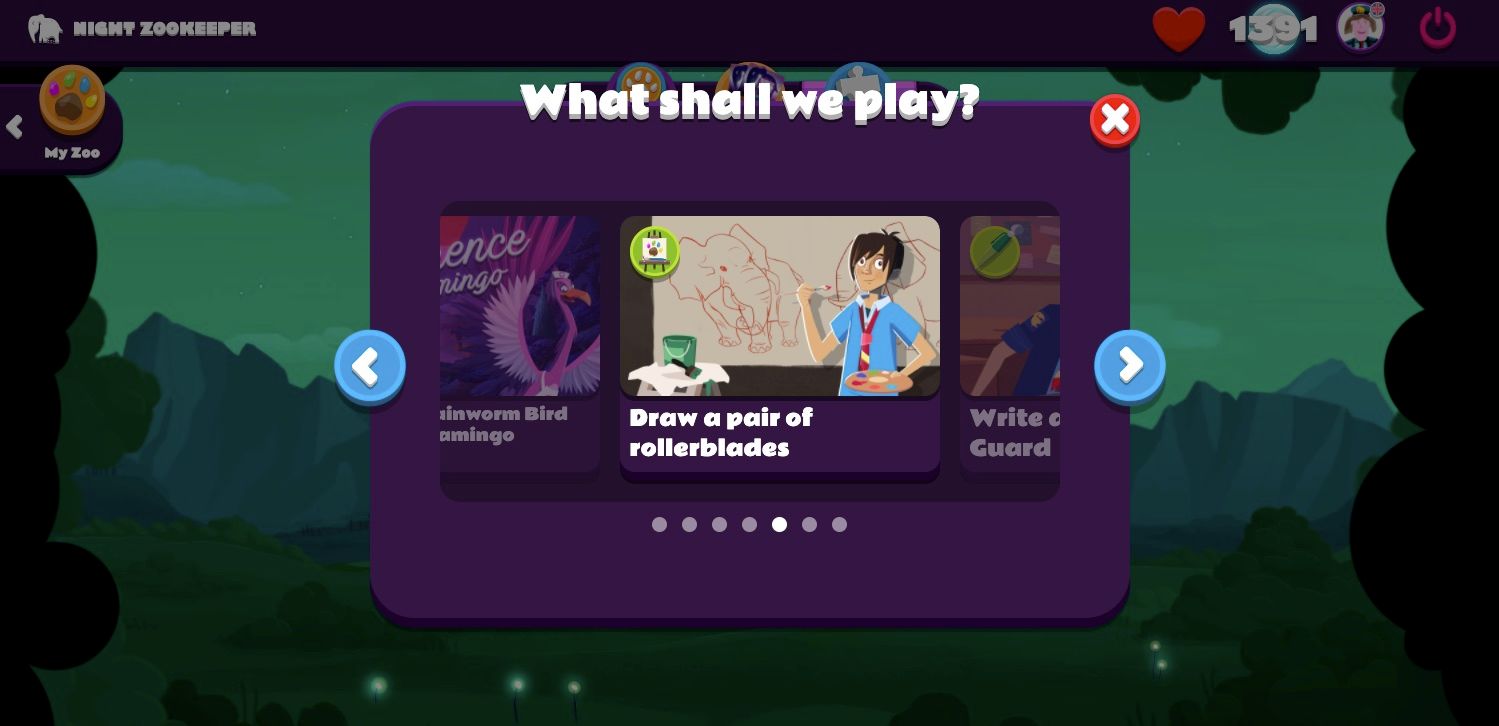 Within Projects (see below), there are also opportunities to draw.
Within Lessons, there are also a couple of drawing tutorials from Night Zookeeper Buzz, our lead designer who created all the Night Zookeeper characters and artwork for the books and website. This will help children make best use of our drawing tools.

Projects
Aimed at children aged 8 and older (these are hidden by default for younger children), projects provide a space to share writing or drawings on topics that interest them. These topics help to motivate more writing. Everything is moderated, ensuring it remains a safe space.

Examples include:
Night Zookeeper projects: to share ideas for our next book, game, Alexa skill animal or how to improve the website,
Branded projects: e.g. sharing tips on Minecraft, Roblox or Pokemon,
Themed projects: e.g. writing about their love of animals, dinosaurs etc.
Battles
Watch out for voids! As your child creates animals and grows their zoo, occasionally they will encounter some of the Night Zookeeper villains on their map that they need to battle! Battles can also be triggered via the spinners on their map too.
Before you play:
Every animal in the Night Zoo has it's own skills card. Take a look in the Customise menu in any animal's den. Each time the animal moves up a level it will get a new 'skill point' to add to the skills card to increase the animal's skill in one area. These skills help them in card battles so do encourage children to assign the skill points they win - some of the older children get quite strategic about it!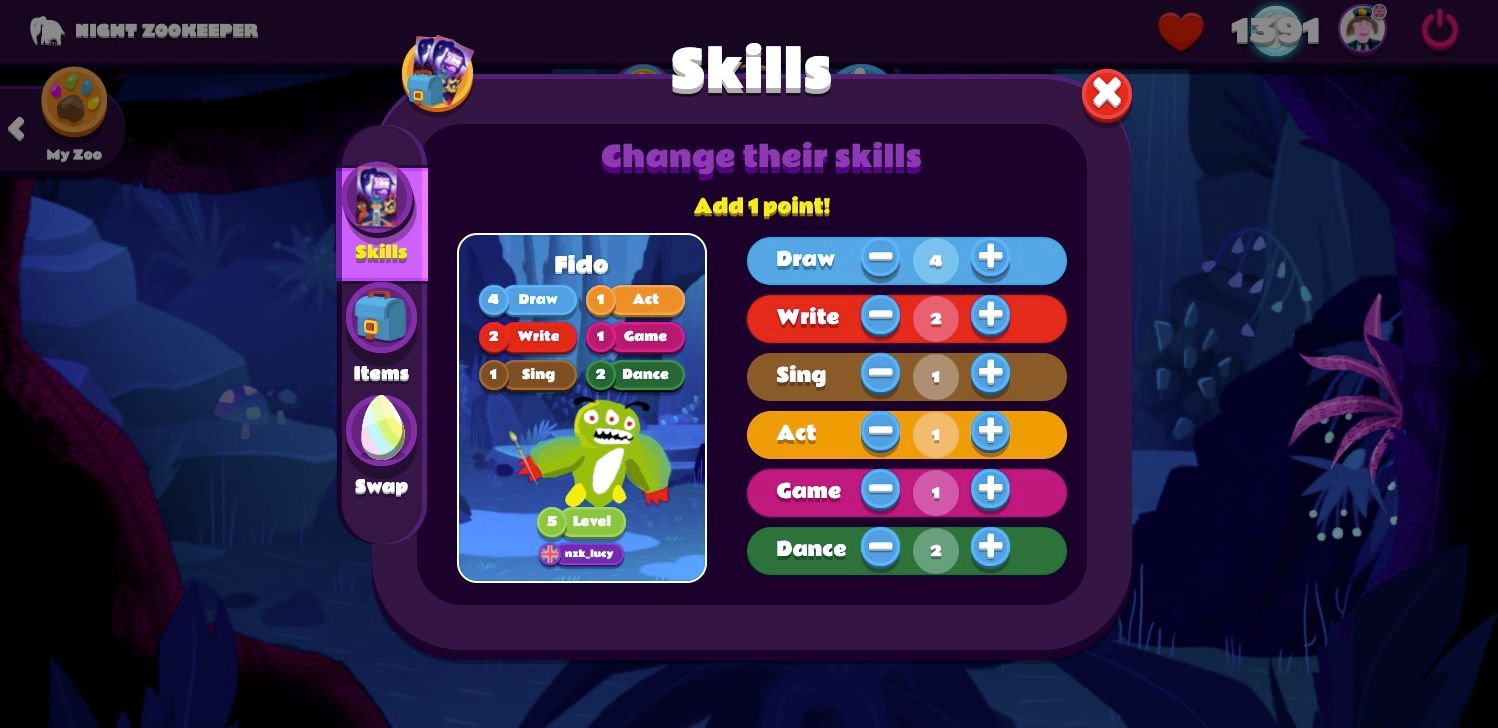 In card battles, some of your child's animals will go up against a series of monsters (Voids or Bosses). Each monster will have a number and skill name above its head. This represents the monster's weakness, the number indicates how much of that skill your animals will need to defeat it.
To win each battle, your child must drag one or more of their animal cards onto the monster. The monsters skill number will decrease by the amount that animal had in that skill. When the skill number reaches zero the monster is defeated! They can use multiple cards to defeat a monster but they lose any card that doesn't defeat a monster (they get to keep any card that wins and can reuse it).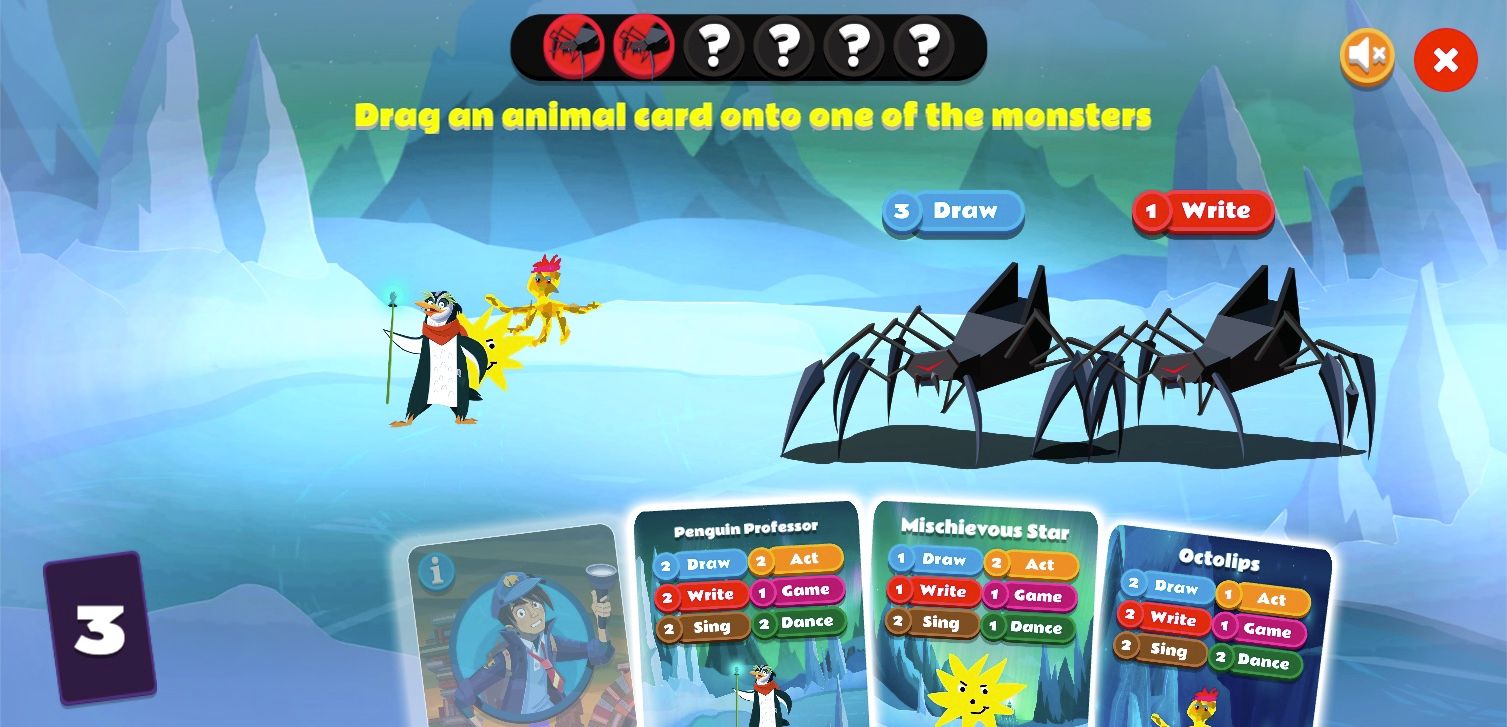 Some of the cards in their hand will be Special Cards, each with its own power. Tap the card to flip the card and read about it's power (on the back). Drag the card onto a monster to use it. They have to answer a literacy question correctly first. More special cards are unlocked as children progress in the Night Zoo, these special cards also get increasingly powerful.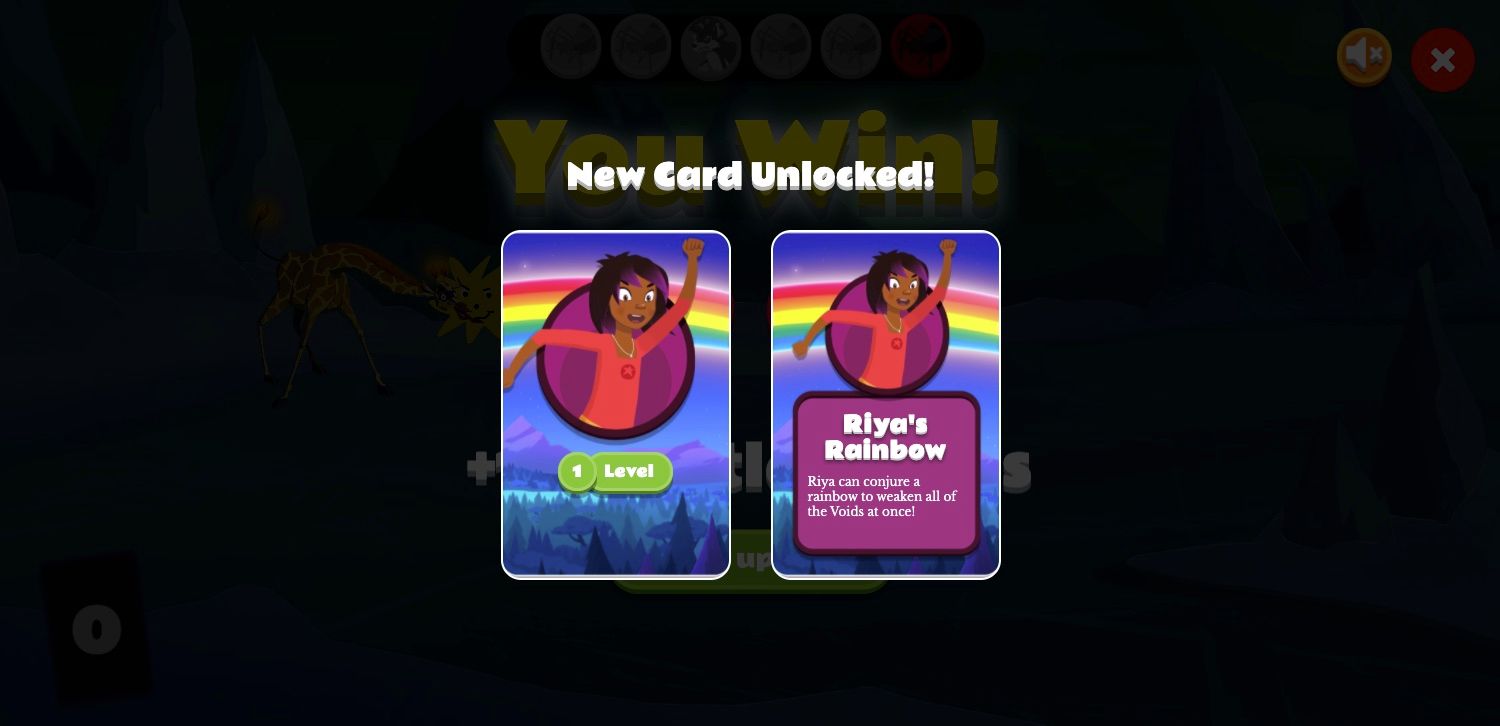 The number of monsters they have to defeat to win extends as children progress in the Night Zoo (up to 15). Some of the monsters will be Bosses which each have their own special power too.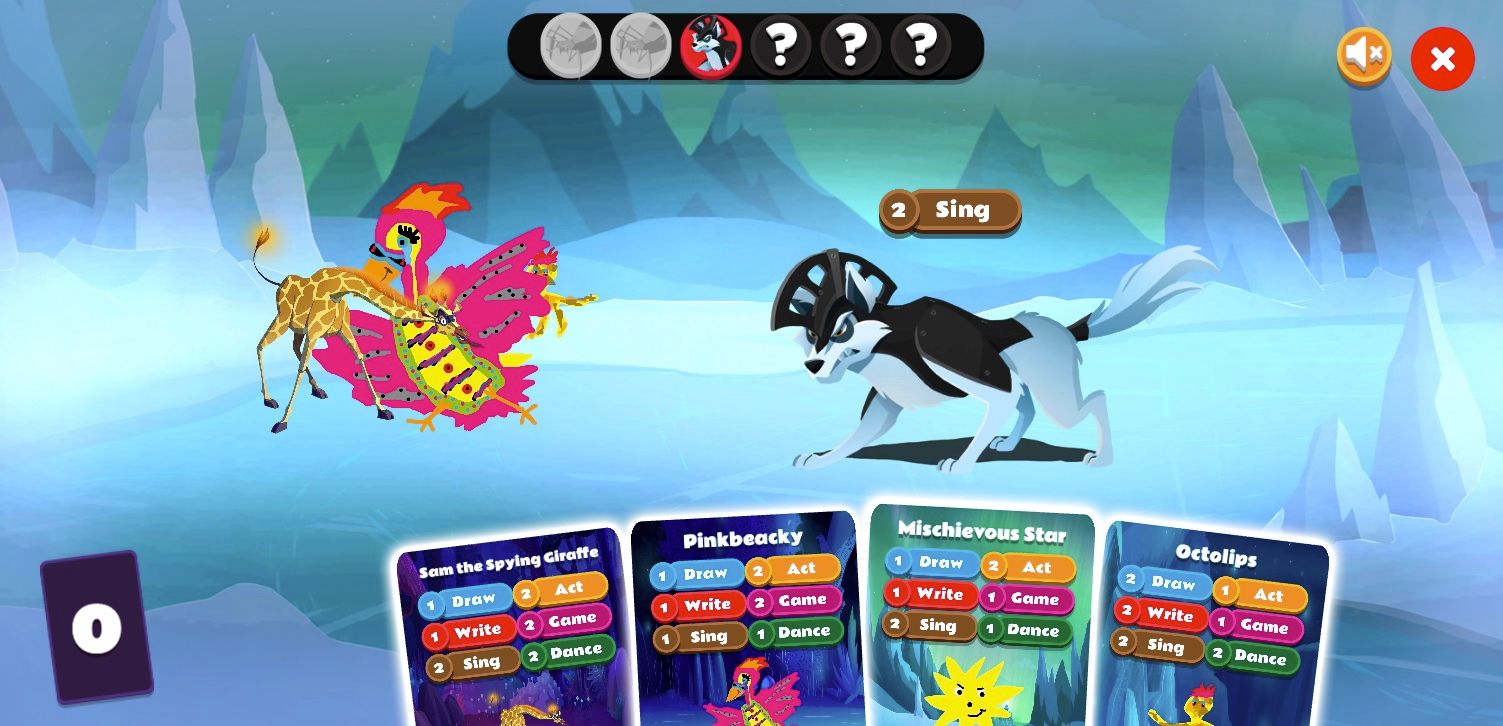 Blink and you'll miss it: The more your child plays with an animal across Night Zookeeper the more its creative skills will grow! Your child gets to customise each animal's skill card in their animal's enclosure, assigning new skills across Draw, Write, Sing, Act, Game, Dance. Keep an eye out for the chance to level up!
Pro tip: If a weaker animal in your hand can defeat the current monster (due to having a high skill level), use it and hold onto your stronger animals in case more difficult Voids appear!
Enjoy!
Visit your dashboard to check out your child's progress or log in with your child to see the activities for yourself. You may also find our Night Zookeeper User Guide written for parents, teachers and carers useful.